The A's will look to keep the bats nice and toasty as they send right-hander Jesse Hahn to the mound against Josh Tomlin and the Cleveland Indians at Goodyear Park. Hahn, who figures to be a lock for the number 3 spot in the A's rotation, will look to battle back from a shaky spring outing against the Cubs in which he yielded three hits, two runs (both of them earned), along with a walk and a home run while striking out two. He's carrying a 7.20 ERA allowing four earned runs in five innings in his first two starts.
He'll be opposed by righty Josh Tomlin, who will also be looking to rebound from an outing where he allowed three hits, two runs (both earned), and one home run to go with four strikeouts in a loss to the Milwaukee Brewers. Tomlin will look to outshine his teammate Cody Anderson in his third start of the spring, as there is but one vacancy in the crowded Indians rotation, which already promises to have Corey Kluber, Carlos Carrasco, Danny Salazaar, and Trevor Bauer in the first four spots. Tomlin will attempt to stake his claim on the number five spot against the A's.
Today's Starting Lineups:
For the A's:
1. Billy Burns CF
2. Sam Fuld RF
3. Chris Coghlan 2B
4. Mark Canha 1B
5. Yonder Alonso DH
6. Josh Phegley C
7. Andrew Lambo LF
8. Max Muncy 3B
9. Eric Sogard SS
For the Tribe: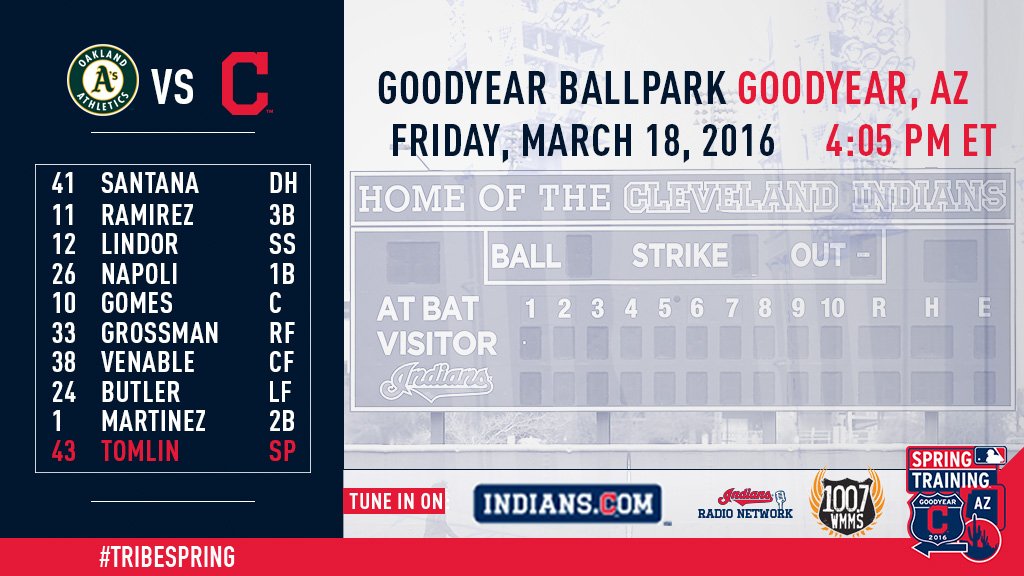 Lambo Battles for 4th Outfielder Role
With only ninety four major league at bats over the span of three seasons, Andrew Lambo has not had a opportunity to stick with a big league club for more than a cup of coffee, but he's no longer off the radar of the A's front office. After being claimed off waivers from the Pittsburgh Pirates back in November, it still may be a long shot to crack the 25- man roster, but he's making the case for a mid season call up.
Lambo has had more at-bats than any other player this spring, slashing a .431/ .476/ .842 during his short time with the A's. Look for the Southern California native to continue to make the fourth outfielder spot a difficult decision for the A's brass.
Alonso Getting Reps at DH
Bob Melvin has been outspoken about getting Mark Canha as many plate appearances as possible, and Alonso's time at designated hitter could be a solution to getting him more playing time on both sides of the ball. Butler still seems to be the primary DH for the A's, as he's owed a hefty twenty two million dollars over the next two seasons, but Alonso presents an interesting option there. He too has proved to be a formidable on base threat at the plate while batting a whopping .444 this spring.
First pitch is at 1:05 p.m. PST. Follow my Twitter feed @What's On Second for live in game highlights and commentary.