"A's still winless since Kazmir trade."  This was the title of John Hickey's Sunday column. The somber tone, one that will echo far and wide in the coming weeks, is symbolic of the cynicism, disbelief, and -- more generally -- the disappointment A's fans feel about the 2015 season. Perhaps it's fitting that Tuesday evening, in the midst of a flurry of other unrelated trades, the A's will encounter a Ghost of Seasons Past, Brett Anderson -- the first time they've seen him since he was sent packing two offseasons ago.
The silver lining, of course, is the A's farm, arid from years of trading and poor draft position, needs replenishment. The Kazmir trade netted the A's two solid prospects in Jacob Nottingham and Daniel Mengden. I wanted to find out exactly how solid this duo was, so I emailed Baseball Prospectus's Wilson Karaman, who covers the California League for BP's Prospect Team, and asked him about them. This was our conversation:
(Warning: 20-80 scale and scouting jargon used liberally. Check out this FanGraphs primer if you're confused.)
Jacob Nottingham
Can you slap some present and future grades on his hit/power/run/arm/blocking-receiving? (Also, feel free to lay down some general thoughts on his game.)
WK: 50/60/30/50/50. The raw power's 60-plus, and he should be able to get to the vast majority of it in games. Swing's highly leveraged, takes a big stride and creates extreme separation. That'll make him vulnerable to quality off-speed and breaking stuff, as it creates some balance issues in his weight transfer. But he already shows an advanced ability to track and let the ball get deep, and he's strong enough to take it out to right.
To read what Baseball America had to say about the trade, click here. 
In your transaction analysis at Baseball Prospectus, it's clear you love Jake's: body, athleticism and raw power. The tools, however, sound like they still need some serious burnishing. Given the presumed gap between his present and future grades, what makes you confident -- or not confident -- he hits that 55/60 ceiling (i.e. above-average, possibly impact regular)?
WK: He's already made a ton of strides from where he was this time last year. He was drafted as a long term project, and especially given that he's a catcher these things take some time. The raw physicality is enough for me to be optimistic, but I've also gotten great reports on his makeup and intelligence. He's a hard-working kid, and when you have that kind of physical toolbox to mix with some #want it allows for projection with at least marginally more confidence.
Can you describe his approach at the plate? You say he's aggressive in the zone and shows some swing-and-miss. Do you think the swing-and-miss is due to: long levers, inability to recognize spin, hand-eye coordination, bat speed... something else? Does he appear to make adjustments well?
WK: He tracks well and has plus bat speed, it's more a product of the length in his frame and approach he takes. He's best when he's getting extended and taking balls to right, and he can be beaten with good in-out sequencing. He'll also get after fastballs early in the count in parts of the zone where he'd be better served taking the strike and working into the count. Certainly not uncommon for hitters at his level.
Thoughts on his defense?
WK: He's got everything he needs to become an average defensive catcher. The blocking and receiving are both still fairly raw, he struggles to get all the way across his body on balls down low, etc. For the most part it's mechanical stuff that he'll improve on as he goes. Similarly his raw arm strength is a plus tool, but he throws with a lot of length in his motion and he's not compact enough in how he loads it up. I'm not sure it ever plays to anything more than average. But given the bat profile, an average defensive projection makes him a potentially very valuable player.
Where would you rank him in the A's system right now?
WK: Not familiar enough with the full system to put a number on that, sorry. He'd be my No. 2 prospect in Stockton right now though, behind Barreto and ahead of Chapman and Overton.
Did Lululemon change his life?
WK: I wouldn't be surprised, never underestimate the power of comfy clothes.
Daniel Mengden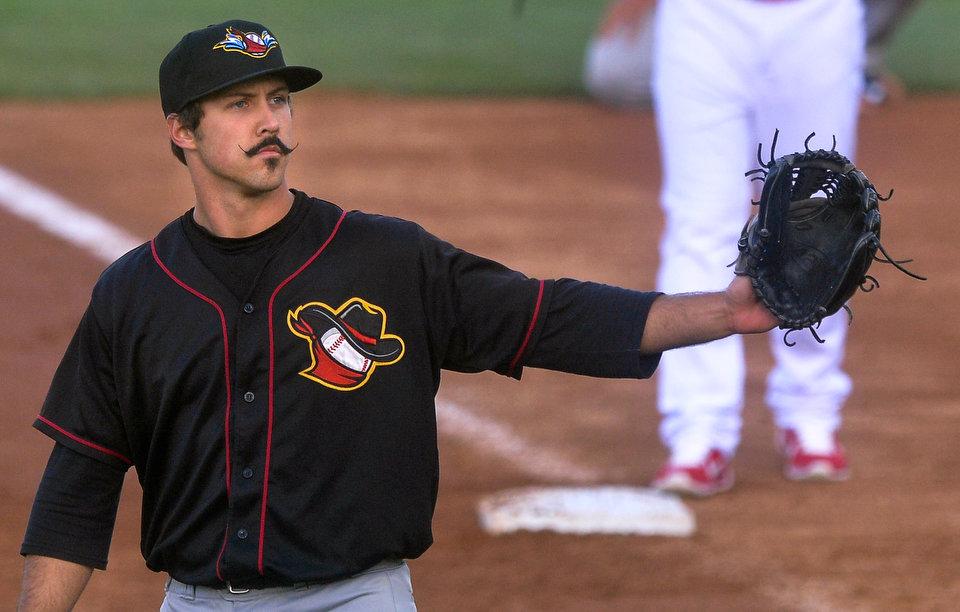 Daniel Mengden, wearer of the handlebar mustache
General thoughts: grades, floor, ceiling?
WK: I put him as a 5 OFP (overall future potential), 4 realistic, and I might adjust it to 45/4. I like his fastball; he gets good plane and some sink on it with low 90's velocity - touched 95 once for me - and he's got some deception in the delivery that helps it play. The rest of the arsenal is usable but lacks a real out pitch to pair with it, and the delivery gives him an uphill climb towards refining his command all the way, which he'll need to do to stick as a rotation guy. The A's are a solid developmental organization for him, so I wouldn't rule it out.
Is he a starter?
WK: He's probably a middle reliever in the end, but I think he gets some Major League hitters out when all's said and done. I wouldn't be shocked if he sticks as a starter with some adjustments. He should certainly continue to be developed as one.
Can you describe his delivery?
WK: Like a Phoenix, rising in Arizona. Slow takeaway and cadence, really yanks the leg kick up high and turns his back into kind of a herky-jerk drive, bunch of arms and legs at and after release. There're a lot of parts to it and a lot of opportunities for pitch-to-pitch variance.
Mustache, 80-grade?
WK: I'll hang a 60 present on it with some projection remaining. I'd like to see it filled out a bit more north-south on his lip, and I think he's got the kind of growth potential to make that happen, though maybe not until the second half of his career.
What are your overall thoughts about the A's haul?
WK: Very solid haul for a two-month rental of a pitcher they had exactly a 0.0 percent chance of re-signing. There'll probably be some perception that they didn't get any premium prospects or whatever, but a) impending FA's have limited value to begin with, especially when the selling team has no leverage as a potential player in FA negotiations, and b) Nottingham's stock is way up from where it was at the start of the season, and every bit of it has been earned. He's going to be a good player, so from that standpoint I think Oakland did quite well for themselves.
***
For Cal League scouting info, follow Wilson @VocalJavelins on twitter