New Athletics everything-man Ben Zobrist spoke to reporters in a conference call this afternoon to talk about his new teammates, his defensive versatility, and his chance encounter with the Coliseum fauna last year.
New clubhouse
Susan Slusser of the San Francisco Chronicle asked Zobrist about how he felt moving from the Tampa Bay Rays to a new major league clubhouse for the first time in his career. After talking about leaving "behind a lot of friends and relationships" in Tampa, he talked about the players he did know and the players he had played against that he was excited to meet, like Billy Butler:
I've played with Fam Fuld and Stephen Vogt in Tampa and know those guys very well. I look forward to getting to know certain guys. Now I get a chance to build an everyday relationship with these guys.
Slusser also asked about coming into a club that has made so many offseason moves. Zobrist replied:
Every year there's a little bit of a culture change in a clubhouse. Certain guys are staples in Oakland that have been there for a few years and we'll take our cue from the way those guys do things. At the same time there's a new dynamic and a new culture and chemistry they've cultivated from not having the same starters every year.
Versatility
John Hickey of the Bay Area News Group and Joe Stiglich of CSN California asked quesitons about his defensive versatility. Hickey asked about the narrative that he was seen as being the "perfect A's player." Said Zobrist:
From what I know about the organization and the way they've done things in the past it seem like they do things very similar to Tampa Bay in that they do a lot of matchups and find ways to be creative with the lineup. I know that Oakland thinks the same thing about me [that Tampa did.]
Stiglich asked how Zobrist came into his defensive versatility, and Zobrist mentioned that at the start of his major league career he did not play shortstop well enough to get in there everyday:
I had to keep an open mind early on because I wasn't playing well enough as an everyday player at shortstop to stay in the lineup. Once I find my comfort level starting everyday then I was already in that role of utility. I had already come to grips with my importance in flexibility.

I've always looked at that as a positive thing for our club, giving our manager the flexibility to put the matchups on the field. It's a little bit more difficult to prepare because of that sometimes but I think it helps during a long season to not get complacent. It helps to see the game from a different point of view and have to stay on my toes and think ahead before plays happen.
Yunel Escobar
Slusser asked about playing with Yunel Escobar as a double play partner:
Yunel and I are very different in the way that we field ground balls. Yunel is a slick-fielding Latin guy who makes it look pretty and I am not that. I get to the ball and get rid of it and hopefully it's on the money and it's not necessarily going to look pretty but it gets the job done. It will be a good comfort level in spring training knowing Yunel is there.
Got it, Yunel makes it pretty, the Zorilla just flings it at first base, like so: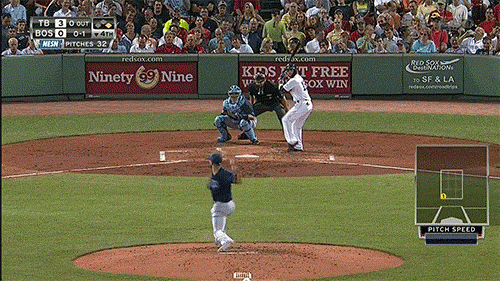 (h/t to AN member duballers23)
Rally Possum
Slusser asked Zobrist about his encounter with the Athletics Rally Possum. First, a reminder of that incident:
Zobrist recounted that he had gone a long way to chase a foul ball to left field when he saw something out of the corner of his eye:
I thought what in the world? . . . I looked over and there it was this baby possum just staring right up at me. I stood frozen for a second thinking, "Where in the world did this possum come from?" And I looked at the bullpen and they were laughing at me and they looked just as surprised as I was and apparently it was a good omen for the A'd and maybe not so much for [the Rays.]
Welcome aboard!