Does a ballpark have a culture? If so is it an extension of the fanbase or is it somehow manufactured by the stadium atmosphere? Maybe a mix of both?

We have been to a few big league parks. We plan on adding a few to our list next season (see June trip to the Midwest inter-league style).

Before last season, when the frog in my pocket and I journeyed to Fenway Park and Yankee Stadium, I was not really sure that a ballpark had a culture.

But we now know that there are definitely some characteristics we would like to see in a new Bay Area ballpark. And we think those characteristics would go a long way towards creating the best culture in the big leagues.

Below the fold, we shall bloviate on how a new stadium should look and feel (special thanks to cityplANner and vertig0 for their assistance, even if they didn't know they were giving it).
Some parks we have visited and some of those we plan to attend, well they have a real unique feel. Some things we like are the Milwaukee Brewer's fans and their proclivity for tailgating. Fans in Wrigleyville like to have a block party in support of their Cubs. Much like the Yawkey Way experience, where a city street is shut down and becomes an extension of the stadium, in Boston is like a Red Sox themed carnival with street vendors and booze a flowin'. In the capital of Yankeedom there is this bar that looks like doubles as a mechanics shop in the off hours.
These environments represent two distinct pregame atmospheres that many would argue are mutually exclusive. You can either have the large parking lot with barbecues (as exists here in Oaktown) or you have no "sea of asphalt" and bars where yuppies meet up and pretend to like baseball.
Additionally, in these places you have stadiums with quirky dimensions and interesting architecture. In some cases the quirky dimensions are the result of necessity due to the lot they were built on. In others, not so much. In all cases, cool architecture is welcome.
In our opinion, the pregame activities are not mutually exclusive. The architecture is important for setting the tone. And, the quirky dimensions should only be present when necessitated by the lot. These three aspects are central to our plan for creating the coolest culture in all of baseball.
First, how would we manage to capture tailgating and yuppie bardom in a single bound? For illustration purposes I have included a photo of the proposed development at Diridon: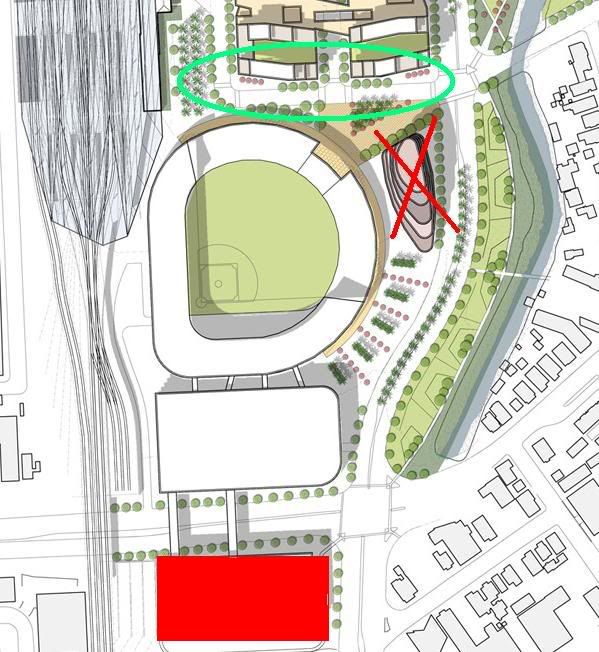 This image is from Andrew Watkins, you can read more about him and his plan for Diridon here.
Admittedly, fellow A's fans, this will take some imagination on your part. The whole stadium will actually need to be moved to the right because there is a power substation under the left hand part of it and the current plan is to keep it there. Because of this, the weird looking pyramid I have crossed out will be non existent. Which is good cause it kind of looks like a futuristic pyramid inhabited by an evil race of faux Egyptians right out of a Tom Swift series 4 novel for young adults. Additionally, the stadium pictured is just a place holder. The repositioning would potentially create the need for some quirky dimensions.
The areas to focus on are the green oval behind left field and the red rectangle in the bottom. First, for the yuppies the green oval represents pregame snobville at it's best! A walkway between the back of the stands in left. If it is done right, the top floor of the building and the roof could peer over the bleachers down onto the emerald hued heaven we refer to as a baseball field. Incidentally, pregame snobville serves another purpose in my rambling fantasy of a new stadium... the Yankees are in town, 32,000 seats are sold rather easily. $4 dollar cover charge gets you into the roof top bar (if you are over 21) or the Skyline club on the top floor of the building (for all ages).
Now for the "blue collar barbecue crew." In the original plan that red rectangle would have been team offices. In the new and improved version that has taken shape in the Diridon Good Neighbor Meetings that will be a park. Why not "tailgate" on grass rather than a sea of asphalt? Sure you have to be able to park somewhere nearby to carry all the tailgating stuff and what not. It would be more like tailpicnicing, but does it not have a similar potential?
The green "future park" is the same as my red rectangle.
I understand these ideas are fairly specific to the Diridon plan. So not to hurt any of my Oakland Only friends feelings, let's pretend the City of Oakland's plan involved a site mentioned on Marine Layer's blog a while back. What about the Oakland Fire Department training site. The City owns a portion of it and it is zoned in a way that could be used to build a ballpark. An illustration:
From Oakland's City Zoning Map
So where would the tailpicnicing happen here? How about the yuppie zone/overflow seating? In the picture below the area outlined in red would be the park with barbecue pits and the area outlined in green would be for the ballpark/ancillary buildings. For this to happen it would require some existing business to move, which may or may not be a big deal. I imagine the roof top bar and top floor club over looking the outfield would be near 880 and the ballpark would have home plate in the general locale of the intersection of Oak and Embarcadero. Again this is just my concept to show a spot where it is feasible to build something like this in Oakland. I am not sure about infrastructure improvements/parking, but as you can see from that big ugly white box, Lake Merritt BART isn't that far of a walk down Oak.
OFD Training site and my highly technical rendering.
Slight detour time for me and the frog in my pocket. Who knows which franchise was the first to have a steel and concrete stadium? The kind everyone is trying to replicate these days with the funky looking short distances and high fences? Well, none other than our A's. I think the new stadium, any new A's stadium, should pay some homage to the historical precedent set by Shibe Park in Philadelphia. Look at it's splendor:
I love that tower looking thing and those arches.
So what is the appropriate way to pay homage to this place? Since we have other ideas for the outside of the stadium to discuss here in a minute, we think it has to be something inside the stadium. So what did the inside look like? Like this: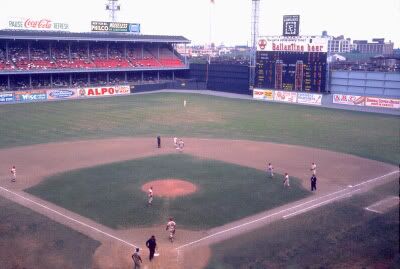 Picture courtesy of ballparksofbaseball.com
So what stands out to you? Besides the Alpo ad, I mean. And besides the cool upper deck and roof in Left Field which we already know can't be there if there is the roof top bar and such. How bout the whole Right Field wall? Scoreboard and all? It was 34 feet tall when the stadium eventually closed, while the scoreboard was 50 feet high, not counting the Ballantine Beer sign (wouldn't it be cool if that said Pyramid Ale instead?).
So what about the outside architecture? We have two ideas for that. First, let's assume the ballpark is being constructed at the OFD Training Site... Basically in Oakland and near the water. I say inspiration should then come from this: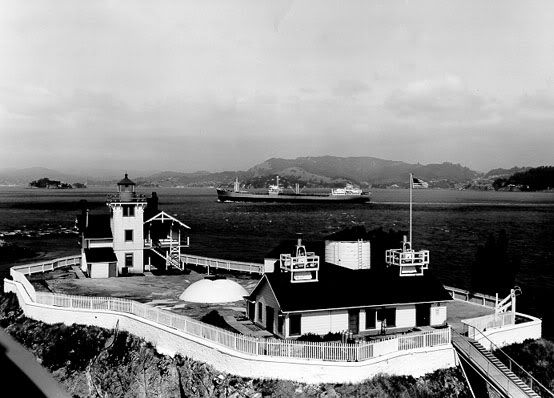 East Brother Island Lighthouse
and this:
There is also a cool Maritime museum in Vallejo that could serve as inspiration. The general idea here is to pay homage to the Port of Oakland and the nautical environ of the stadium. Imagine that tower behind home plate of Shibe Park replaced with a light house. And when of the Green and Gold hits a bomb imagine a cannon firing as if it was on the Admiral's ship in a fleet hunting pirates in the old world. It sure as hell would beat that damn fog horn in San Francisco.
But what if the A's end up near Diridon?
I imagine something like this: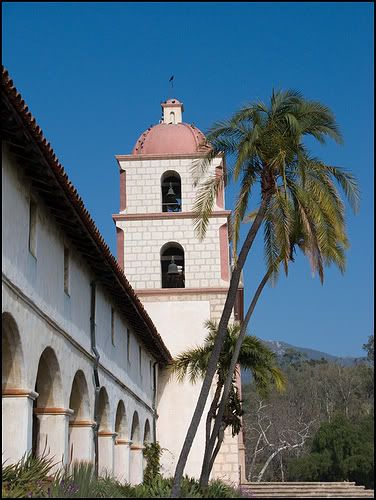 Or from another angle:
Maybe not with the crosses but one heck of a home plate gate, eh?
The idea here would be to pay homage to California's Missions from an architectural perspective.  Think arches, adobe bricks and Spanish tile roofs.
So there it is in a large nutshell. A yuppie zone with a roof top bar peering over the outfield that doubles as overflow seating. A large park for "tailpicnicing." A right field fence and scoreboard that pay homage to the A's history as stadium pioneers. Architecture to pay homage to our port or the missions. All that is missing is strategically placed statues of Rickey Henderson, Dave Stewart, Catfish Hunter, Dennis Eckersley, Rollie Fingers, Walter Haas, Reggie Jackson, Jimmie Foxx, and Connie Mack.
That, my friends, would be the building blocks of the coolest fan culture in all of baseball. At least I think so. And so does the frog in my pocket. What ideas do you got?