I know that we've discussed this topic at length just two days ago here, but I thought this was worthy of a new thread for two key reasons:
1.)  Two days ago, it was a verbal agreement, which is always tenuous in the Wild West that is Latin American prospect signings, rife with broken promises and questionable information.  As of tonight, it's an actual announcement from the 6-foot-7, 16-year-old Inoa himself that he and the A's have reached an agreement.  Beane and A's director of player personnel Billy Owens have a press conference scheduled for today in Santo Domingo to announce the deal.
2.)  The negotiations got a heck of lot more interesting than they were just two days ago in the last 24 hours.  According to Inoa, the Rangers offered him a $5.2 million signing bonus, and the Reds offered him $5 million and a major-league contract.  (More on that below*).
You can read the ESPN article with a quote from Inoa here, and Mychael Urban has a related article on the team site as well.  Here is a scouting report on Inoa from Kiley McDaniel at saberscouting.com.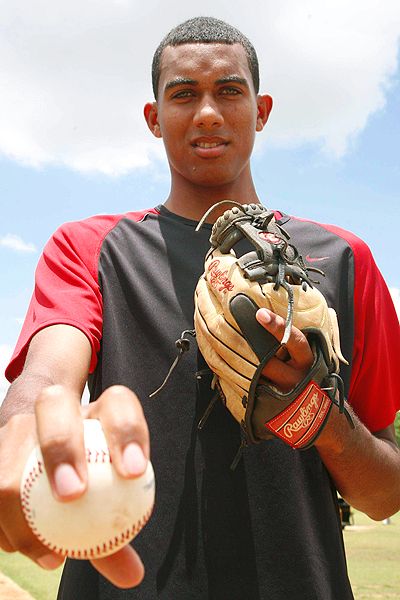 ANALYSIS:
While the A's paid $4.25 million to sign Michel Inoa - nearly double the previous high for an International signee of this type - it's noteworthy that they were actually outbid...and still won.
This was like a high-profile, blue-chipper college football recruiting pitch, and the A's played it perfectly.
Beane and several other front office personnel came out to see Inoa personally several times, developed a personal relationship,  and clearly invested a lot of their time and resources in the Latin American market in this one player.  Unlike many other teams, the A's weren't negotiating with any of the other 5-15 million-dollar international players that will sign today or tomorrow; they made him feel like he was their top choice and only "big ticket" choice through the entire process.  
I doubt Beane gets to play the role of recruiter much, but I'll also bet he was pretty good at it, from what we know about his personality.  
*Here's why the Reds' offer of a major-league contract is so significant, and why we as fans should be pleased the A's were able to sign him without one:
With a ML contract, Inoa's team would have to use an option year on him immediately, and he'd have to stick in the major leagues for good by age 20 to avoid being exposed to the 29 other teams.  It's incredibly rare for a 20-year-old to be major-league ready; there are only two in the league right now (Justin Upton and Clayton Kershaw, and both have struggled).  A major-league contract at age 16 would lead to the parent club pushing the prospect far faster than his natural development, and perhaps negatively alter the path of his career as a result.  This is exactly the path that Wily Mo Pena's career has followed after being signed to a major league contract in 1998 at age 16 for a then-record $2.44 million bonus.   
But instead, by signing Inoa to a minor-league contract, they've ensured the best-case scenario in terms of his development.  In five years, he'll have to be Rule 5 protected and added to the 40-man roster, when he is either 20 or 21 years old.   At that point, the A's will have three option years on him, to allow him to acclimate to the big leagues or keep him in Sacramento if he struggles.  But the wonderful thing is, there won't be any pressure for him to stick in the big leagues full-time until he's 24 years old...at which point the A's would have contractual control over him until he reached free agency right around his 30th birthday.  
So, as wierd as this sounds, the A's are about to embark on a relationship with Inoa that could last longer than he's been alive so far.   
Last thought on signing 16 year-old International prospects and the Rule 5 draft:
Many commenters in the previous Inoa thread remarked that they'd prefer to spend $500K on eight International signees rather than $4MM on just one. I would argue the opposite and advocate exactly what the A's have done here, for a few important reasons:
a.) A ton of work and relationship-building went into signing Inoa alone. It would be impossible to have the resources to put an effective full-court press on literally every major ($500K and above) prospect (there's around 10-15 of these types per year), just as no one major-college football or basketball team gets ALL the McDonald's All-Americans. Picture the scene in Jerry Maguire when Jerry loses the star quarterback, Cush, because he's showing off Rod Tidwell at a critical moment. Every hour Beane and Owens spend courting one prospect is time that isn't being spent courting someone else (and that guy often eventually signs with a team that devoted their time and energy in him).
b.) Inoa was viewed as a "generational" talent - not just the best in this International class, but the best in years. I suspect the A's have gotten ahead of a curve here, and that the next such "generational" talent - in say, 4 years or so - will cost $10MM or more. Yes, for a 16 year-old. You could say that's lunacy, but people say that with baseball inflation every year. And the reality is, it will still be a hell of lot cheaper for the A's to rub shoulders with the league's richest teams in the Dominican than it will be to out-bid them in FA.
c.) The next eight-best prospects behind Inoa are considered an echelon below him at this point. So, while we're unsure that Inoa will look promising at age 21, we're even less sure that those eight guys will. Can you imagine having to devote EIGHT 40-man roster spots in the 2014 off-season to protecting those guys from the Rule 5 draft??? That's eight Javier Herreras - players with tantalizing upside but far from big-league ready, and potentially they never will be. It's a lose-lose scenario: Either the team leaves a few of those 8 unprotected in the Rule 5, and potentially loses a pretty significant investment of time and money; or, they protect eight Javi Herreras, which has negative ripple effects on the quality and depth of the big league team (which, incidentally, is supposed to pretty deep and pretty darn good in 2013 when those guys would need to be protected).
This was a good year and a good opportunity to go for one big fish rather than diversify.