Woo! I visited Oakland for the fist time last week. Sigh. I didn't want to come home. Here's a recap. I'm sorry it's so long... and sometimes sappy... and filled with errors.
Monday, July 2, 2007:
It was going to be a long day. My flight out of KCI was leaving at 9:00 AM... which meant I would have to leave the house really damn early. 5:30 AM to be exact. I don't even get up that early for work. Anyhoo, I napped a lot on the plane thanks to some really wonderful medication. I was up long enough to take a photo of some mountains we went over.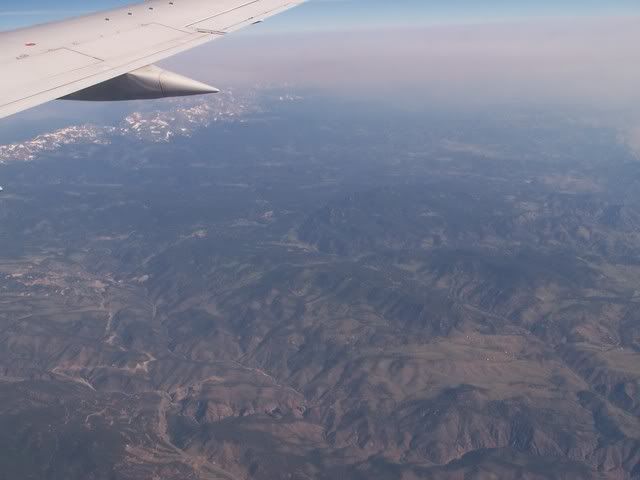 Yay for mountains!
--
We landed in Oakland at about 10:30 AM PT. It was cold (no photo).
I had to spend way too much money on plane tickets so I was staying at the Quality Inn Oakland Airport to save some money. They had free WiFi and a free shuttle to and from the airport, which rocked. I didn't really feel 100% comfortable walking back to the Coli after night games, so I would take AirBART from the Coli/Airport BART station, then the hotel shuttle back to the hotel. Other than that, eh... it was a place to sleep. If you're thinking about coming to Oakland and want to save some money by staying in a decent hotel close to McAfee, some other hotels in the area include Days Inn, Fairfield Inn, La Quinta, and Motel 6. The same hotel shuttle picks up travelers from the La Quinta, Quality Inn, and Fairfield Inn, by the way, and picks up passengers at the top and bottom of the hour from 4:00 AM until 12:30 AM. While waiting for the shuttle I noticed many pilots and airline workers stay at the Days Inn, La Quinta, and Quality Inn, too, so they can't be that bad.
That evening I was to meet up with Poppy at the Coliseum side of the BART bridge. Well, I got to the Coli too early, so I headed over to Will Call to pick up my tickets for the rest of the series. On the way back to the BART bridge I stopped to pick up a new hat.
After, I call Poppy and we end up meeting in the parking lot because I was basically walking past her car when I called. This is the view from her seats: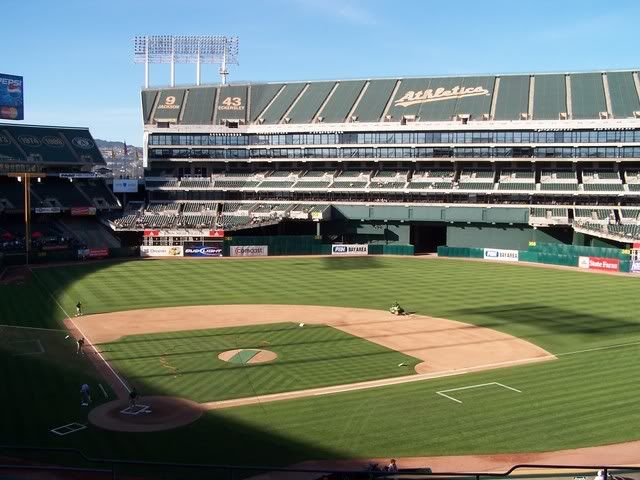 Poppy is completely awesome. Unfortunately, due to contractual obligations I was unable to obtain a photo of her. And sadly, this is the only photo I have from Monday's game. Why, I don't know. :(
I was also able to meet Englishmajor on Monday. She was extremely nice and even presented me with green and gold beads!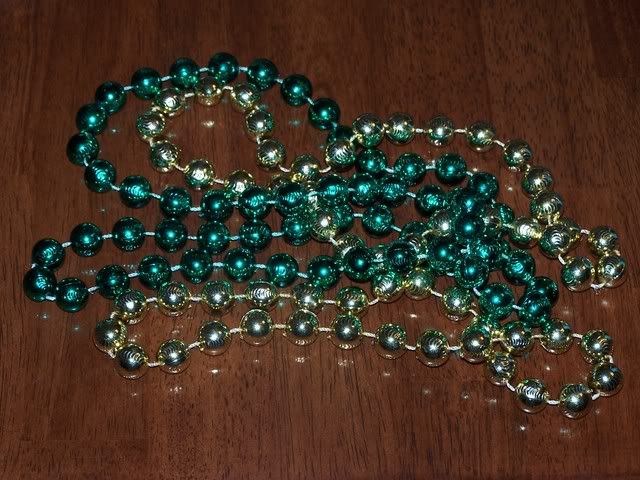 Bees? Beads. BEADS?
I was thankful I didn't have to show her my goods in return. :)
After meeting Englishmajor, we noticed FreeSeatUpgrade and AlamedaAphid upgrading in the section next to us! mikeA also stopped by later. Hi guys!
To the details of the game! Some of us welcomed Frank Thomas back to the Coliseum. Other than that....? Not much was awesome about the game. Dan Johnson has two left feet, that's for sure.
Tuesday, July 3, 2007:
I ventured over to San Francisco to spend the day. BART was interesting. It was cold (there seems to be a pattern...) and foggy.
Various shots for those that haven't been to the area:
Ferry building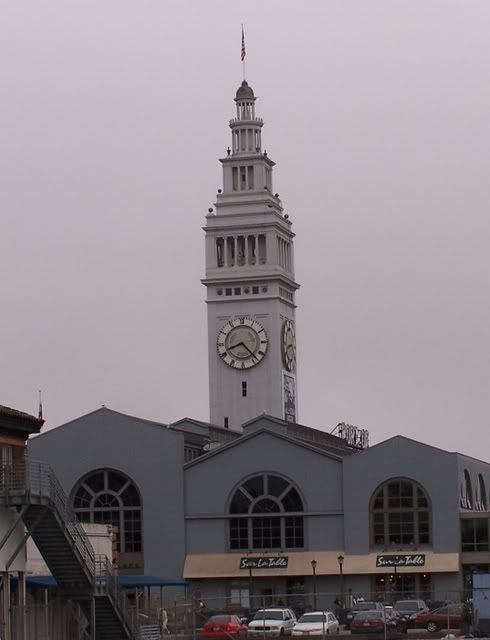 Bay Bridge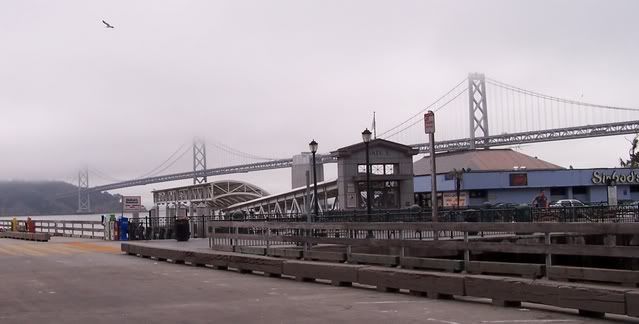 Lombard Street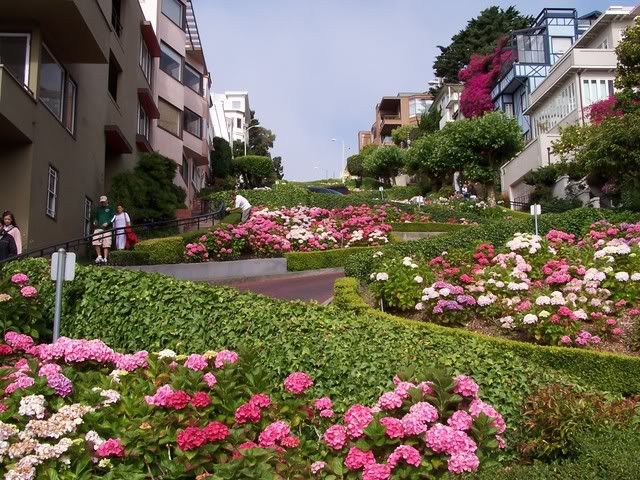 Grace Cathedral

Golden Gate Bridge

San Francisco was beautiful. I wish I would have been able to go to AT&T Park and Alcatraz but I just didn't have time. FYI, if you plan on going to Alcatraz book the tour early.
After SF, it was back to McAfee for the game! Joe Blanton was starting... and finishing, as it turns out.

Tuesday's view: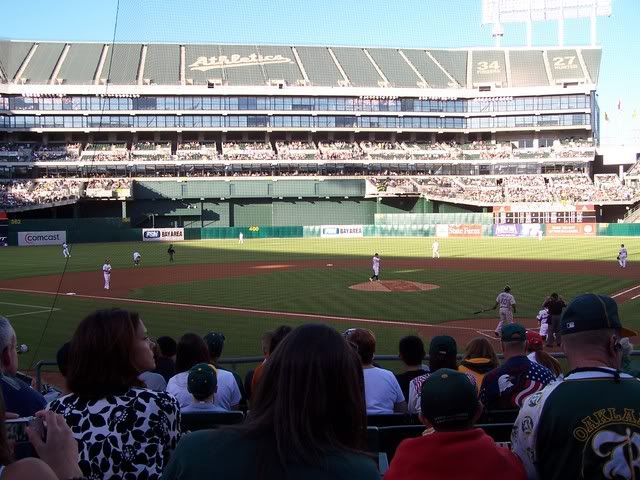 Tuesday was amazing. I sat in section 118 and was able to get my ticket stub signed by Dr. Travis Buck.


Swoon. :)
Stupid over here didn't check to see if the pen worked, so Travis had to sign it twice. I didn't mind.
While in section 118, I noticed an ANer (he was wearing the Bill King tee) wandering around the MVP section, obviously searching for someone. He looked familiar, I thought, but didn't know for sure. Sure enough, it was McFood, who had left 487 voicemails on my cell phone (how did he get my number? Ahem? Just teasing). My phone wouldn't ring the entire time I was in California... I don't know why. I don't want McFood to think I was ignoring him or anything. So, I call McFood back and we decide to meet up behind his section. Again, stupid over here was behind section 116 instead of 216, or where ever I was supposed to be meeting him. Oops. We do, however, eventually meet up.
The only other photo I took of the pre-game and game. WTF?: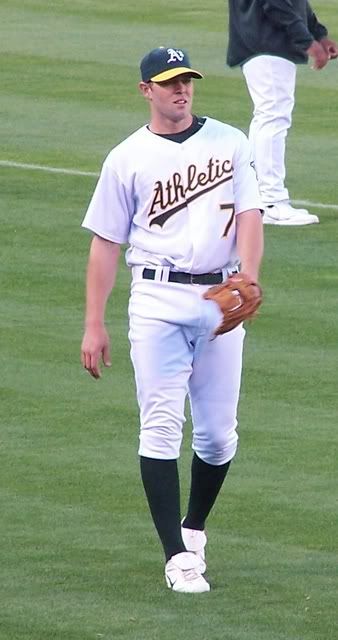 Oh, and this guy eating something: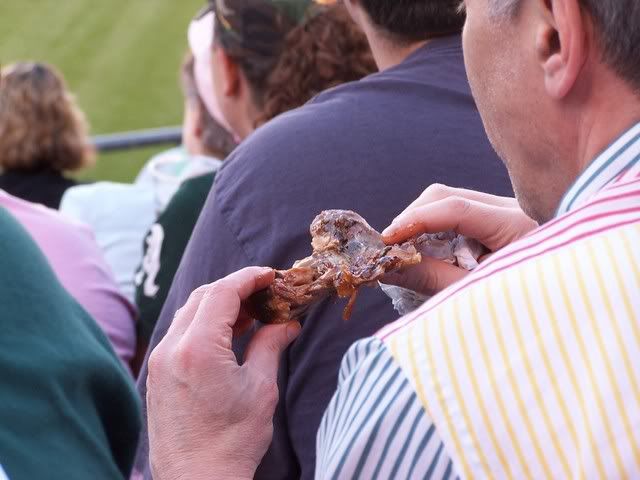 It was disgusting to watch.
Tuesday was also the Fourth of July fireworks night at the Coliseum. I made it down on the field and ran into Englishmajor, who introduced me to saint and highstreet. That was quite entertaining. :)
From the field: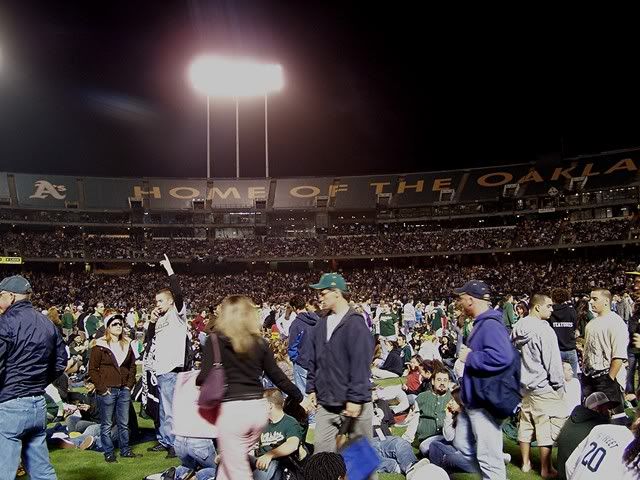 The grass was glorious, just like FSU said it would be. I wanted to roll around on it and make grass angels. Instead, I stole some. My great aunt, who is 82 and loves baseball, asked me if I ate it. No, but I thought about it.
Proof I didn't eat it: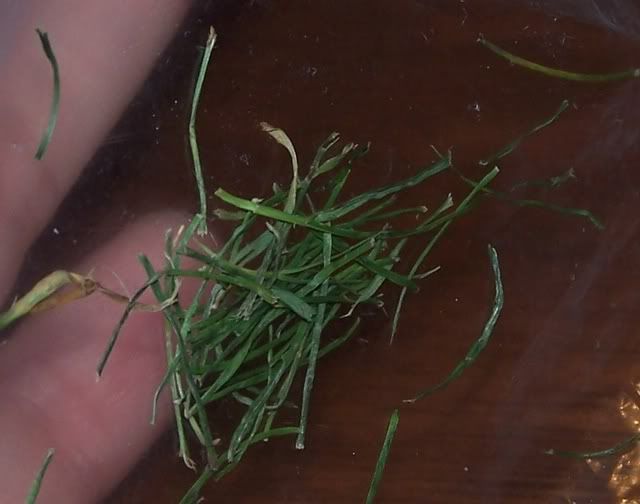 I was shocked Homeland Security didn't check my luggage and have issues with me carrying a bag of suspicious grass. Boy that would have been hard to explain.
For the fireworks show I sat with McFood, Mrs. McFood, McFood's brother-in-law, and one of the McNuggets in the sacred ground behind third base.
From the show:

The show was amazing and so was the McFood family. I'm glad I got to meet everyone! Thanks for not commenting on my third eye.
Wednesday, July 4, 2007:
Day Game! WOO! Free visors! Eh!
I made it to the Coli semi-early. I was able to catch a peek of Rich Harden throwing a bullpen session: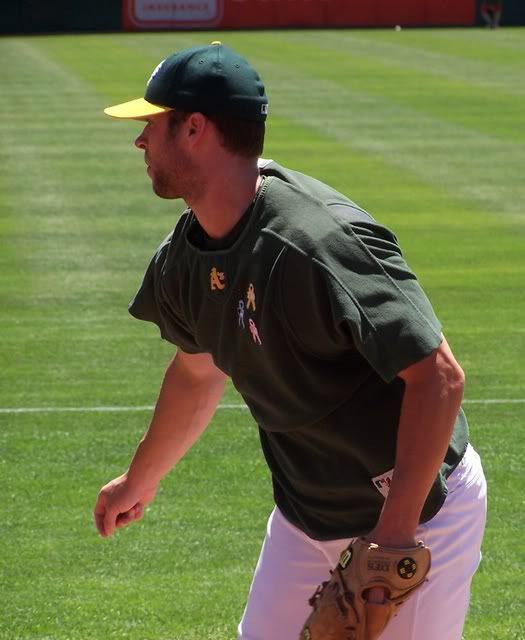 Harden is my favorite A's pitcher, but I'm pretty sure he hates me. Why? Well, ever since his debut in KC back in the day, he hasn't pitched there since. He's usually hurt, or pitches the day before. I always miss out on him signing autographs, too. It makes me sad.
While watching Harden throw, this guy carrying the cutest little boy asked me to watch his son for him. He just handed him over and went to take photos of Harden. The little boy's name was Noah. Well, Dad comes back and asks me to stand over by Harden and hold his son while he takes a photo. Uh, no. I said, why don't YOU hold your son while I take the picture? That wasn't the first time that's happened, though. I guess I look unassuming... or I'm fat enough they think they can catch up to me if I decide to run off with their child. [shrug]
I also went searching for a MaEl t-shirt jersey. They don't sell them for fat people. One of the vendors tried to sell me a Large sweatshirt. That was funny.
"Do you have tent-sized?" I ask.
"No, but I do have a Large. They run kind of big. Try it."
"Sir, I don't think a Large will work."
"Is it for you?"
"Yes."
"I'm sure it will."
No, I'm sorry, it won't. No chance in hell it does. I almost tipped the guy anyway for trying to suggest I would be able to squeeze my fat ass in a Large. HA!
I also met a really nice guy at the corner of Hegenberger and South Coliseum and walked to the game with him on Wednesday. I told him I was from Missouri....
"Really? You don't have an accent."
I didn't realize Missourians had accents. But I'm going to take that as a compliment. Thanks!
At the game I poached some seats by the Diamond Level for a little bit, and was able to get a ball autographed.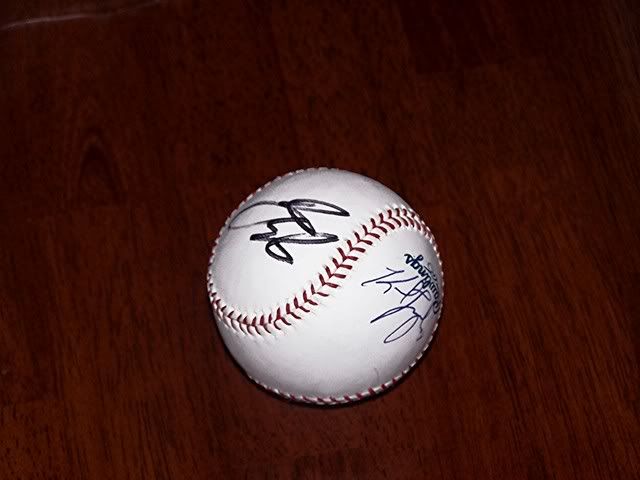 While Dan Johnson was signing autographs, Casey Chavez runs by.
Casey: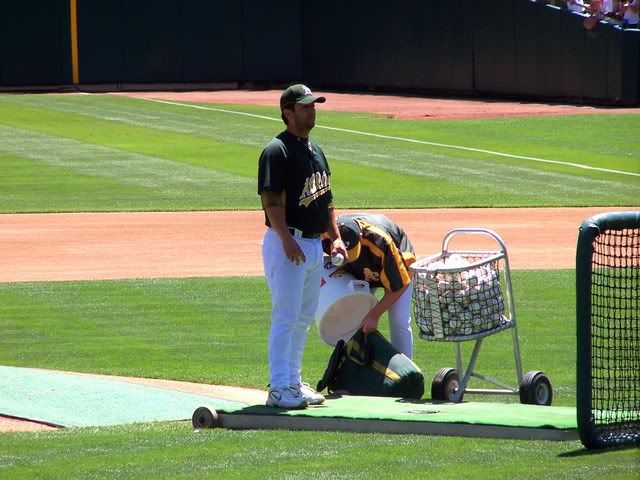 Some people start shouting for Mr. Chavez. Dan replies, "That's his brother, but you're close."
"Shannon Stewart" was also pretty popular down by the Diamond Level seats. Unfortunately, it was really Dee Brown. It was a little painful to listen to.
And sadly, Wednesday's game was also a little painful.
Photos: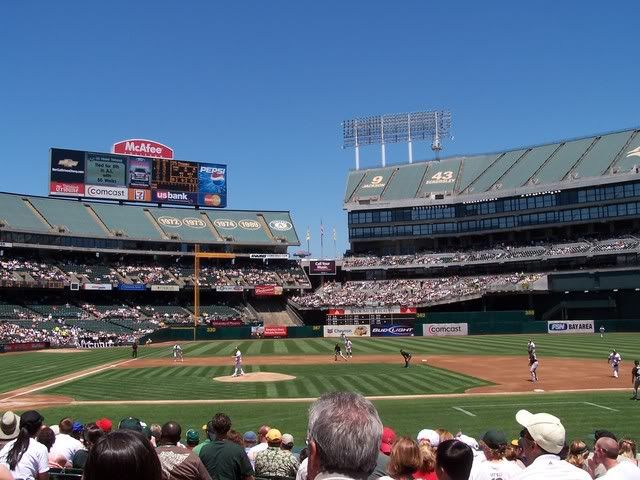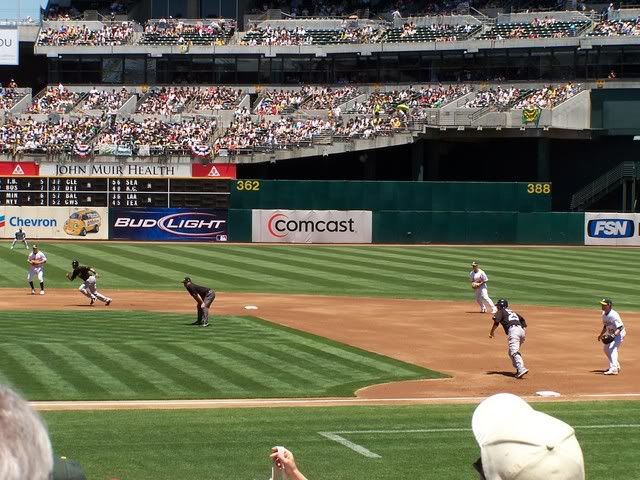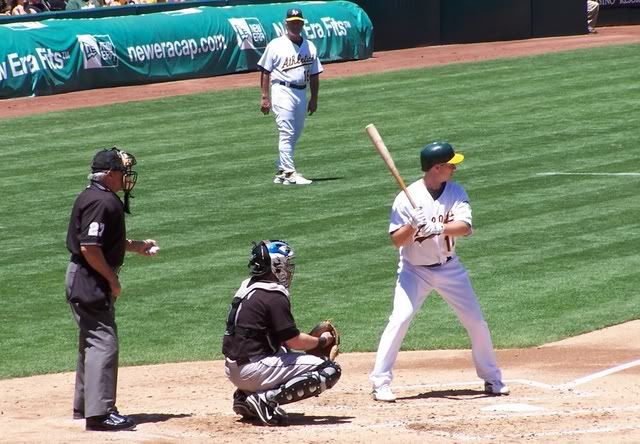 My great aunt's comments:
"Did you see that long-haired fella?"
"Swisher?"
"That's him!"
"I did."

She would love to come with me to watch the A's, but she can't sit in the stadium seats for very long because of her hip. :(
After the game, I head to Fisherman's Wharf to watch the fireworks.
Photos: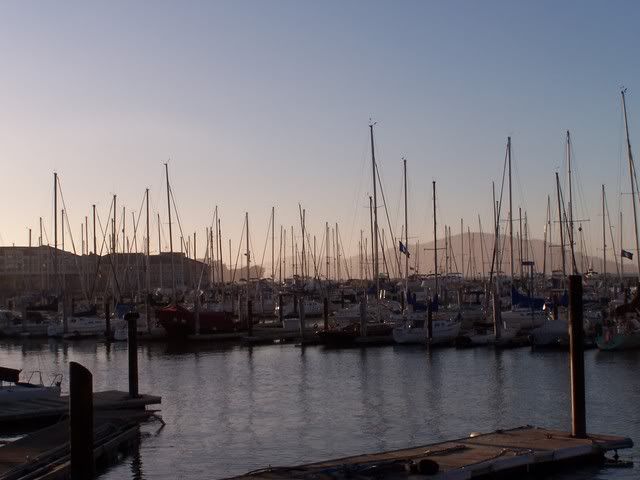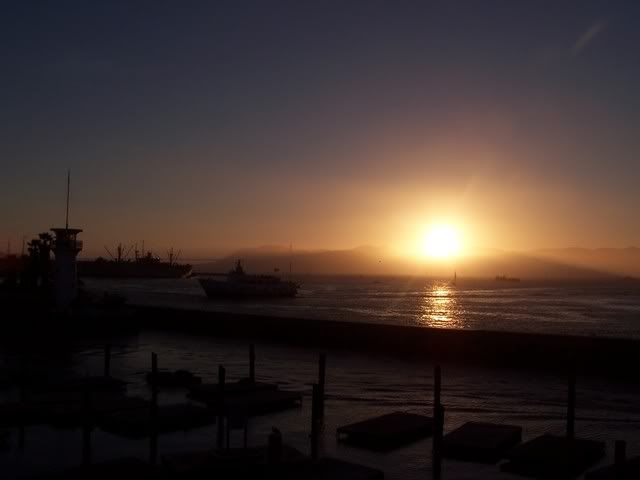 "Watching" the fireworks was a joke. There were 124 bazillion people there. I said screw it and left early. I suck.
I wish I could have stayed longer. I'll have to come back again next year or something. It was great to meet everyone and finally put some faces and real names to the usernames I interact with.
Getting to see the A's in-person again was amazing. It's refreshing. There is nothing like watching a live baseball game... it makes the players seem real... almost like part of my family. I didn't really care if they won or lost... it was seeing the crisp white jerseys, feeling the grass, smelling the dollar hot dogs, hearing Roy Steele's booming voice announce ERIC CHAVEZ! like only Roy can, and sharing the experience with incredible people. Thank you. All of you.