Ok, what can I say about this weekend that hasn't already been said? Not too much. While the offense slept, I sat and burned. I am totally toasted! My head is burned, my face is burned, my legs are burned (especially since it was the first time they have seen the sun in about 2 years!) My arms are rather burned too! But hey, it is all worth it!
Saturday was Swisher Bobblehead day, and I am happy to report that Swisher escaped the curse, for the most part. It wasn't his best day on the field, but it could have been much, MUCH worse. Well I showed up bright and early to get my bobblehead and even managed to get Swish to autograph it for me. My friend went to great lengths to get that autograph. At one point she was spread out across the dug out with only her ankles keeping her from falling onto the field and right onto Swisher! It was rather amusing! I could almost hear the pitchers in the outfield laughing at her! "Look at that crazy chick on the dug out!" Oh well, I got the autograph!
We watched BP and watched as Swisher filmed something about his bobbleheads. I really would like to know what it was that he was filming. Probably something for his ESPN Sophomore Year Show thing. What ever it is, I can't wait to see it. He started it off with him acting like a bobblehead. It was REALLY funny!! He does a great bobblehead impression!
The game was a lot of fun. Zito pitched great. I was a little pissed that Kennedy pitched so terribly and took the win from Zito, but whatever. We won and that is fabulous!
Sunday I went with my brother. He is always kinda boring to go to games with. I always make him get a few beers so he will lighten up a bit.
I decided something about half way through the game. I don't like the trumpet guy. I am sure he is a very nice person and he is very talented. I don't know how often he goes to games, but it seems like everytime I notice him there or they point him out on TV, we lose. I could hear him during this game and I remembered the last game when I heard him and I decided I don't think he should play at the games any more.
There was also a very interesting sound flying around the stadium. It sounded like a bird or a monkey. I am not really sure what it was suppose to sound like, all I know is that I felt like I was back in Costa Rica!
I also really hate the wave. I don't understand why anyone would start the wave in the 8th inning of a one run game. It makes me mad that people are watching the wave and not the game. Ok, I am off my soap-box now!
Ellis was fabulous, Big Frank came through with a bomb, and Swish got on base for the 26th game in a row! I wish the offense had been a bit more lively, I wish Zito had gotten the win Saturday, and I wish Huston had been in to save the game instead of in a loss. But all in all I had a good weekend. I got a Nick Swisher Bobblehead with his autograph and I got a little color on this crazy white body!
Ok, here are my pictures!
Saturday:
Just before warm-ups, Swisher filmed a bit about his Bobblehead. His impression of a bobblehead was uncanny!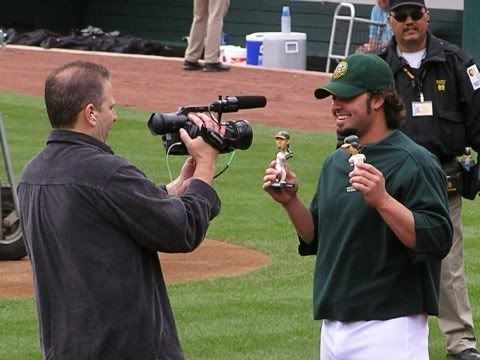 Side Note: The only thing I would change about the bobblehead, I wish they had given him a dimple. That dimple is just so cute!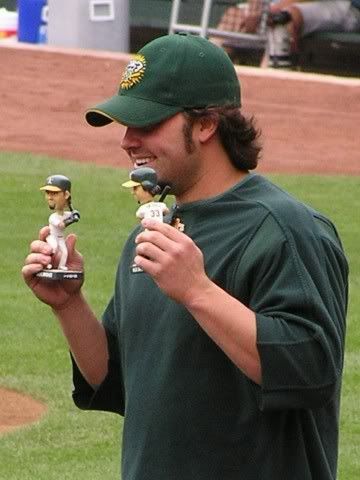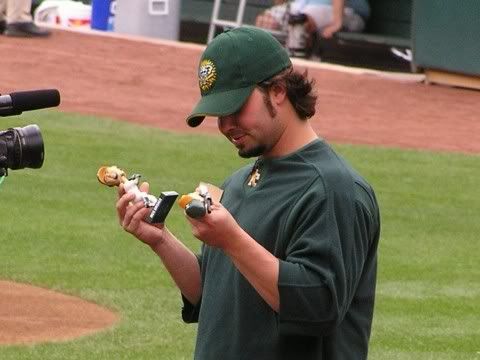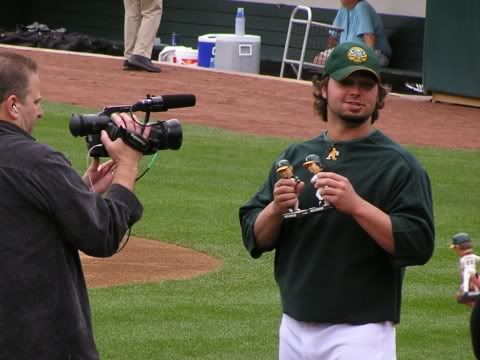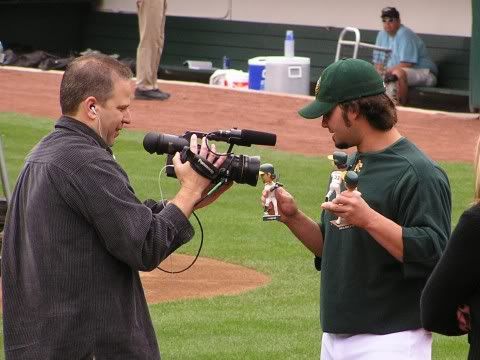 Huston had to get his two cents in.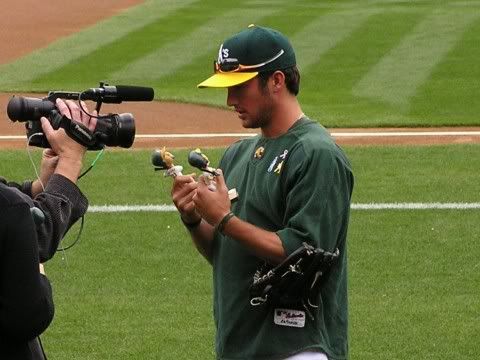 Then we watched as the guys warmed up.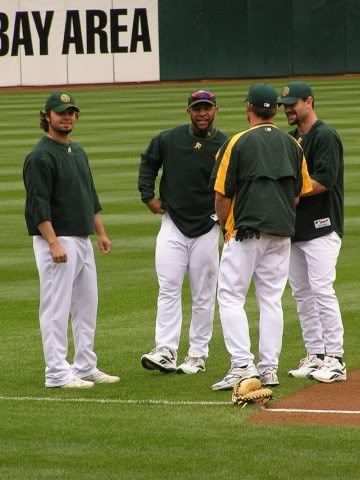 I don't know who said Bobby had removable arms, but they were right!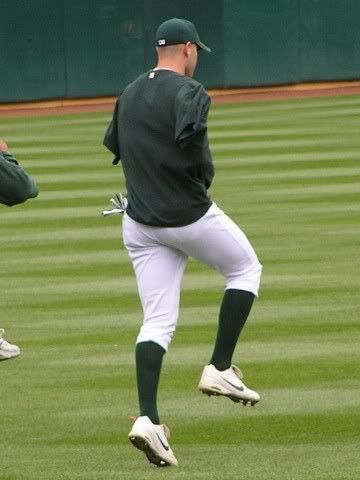 Bobby played soccer with a baseball!!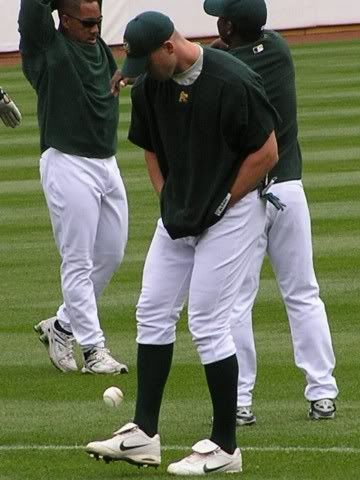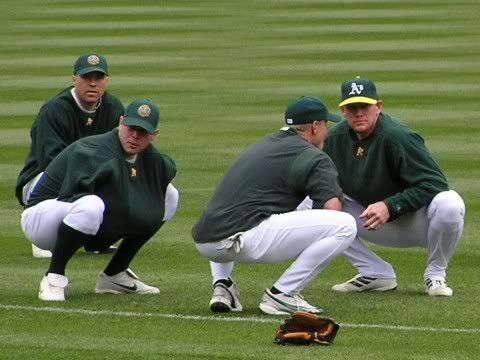 Huston having some fun during warm ups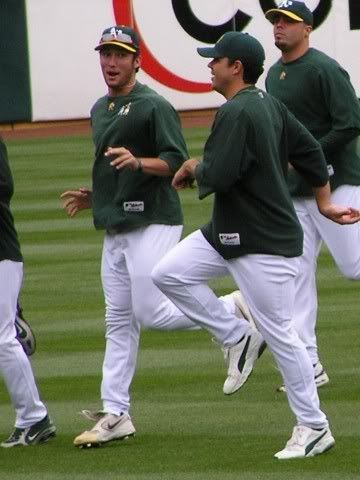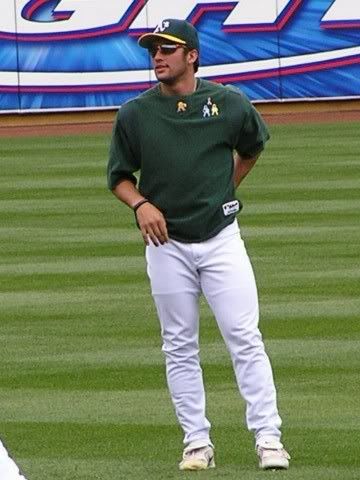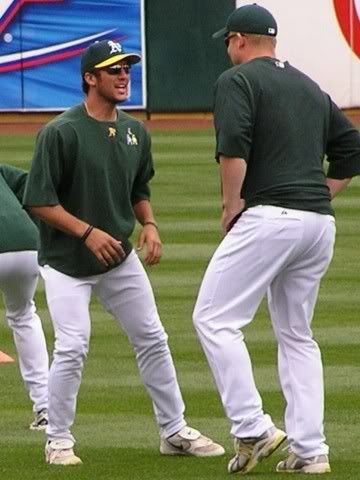 Bradley and Swish, they are close, but obviously Bradley wants to get closer!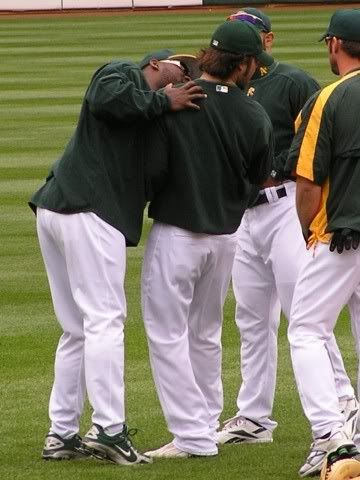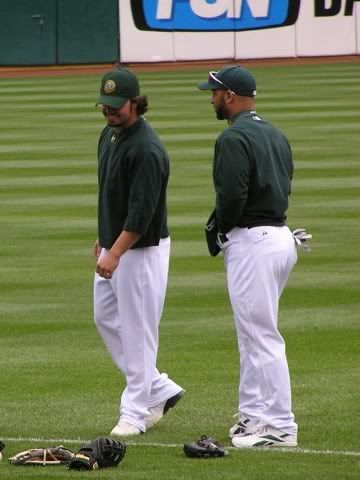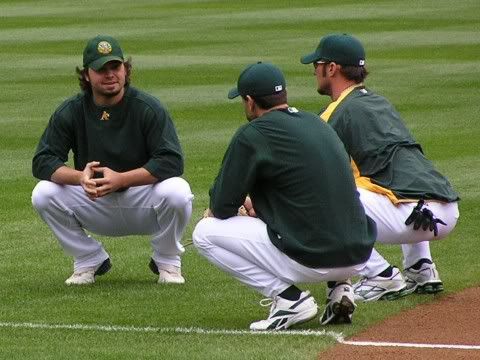 On to batting practice!
Buckley takes his shot at pitching.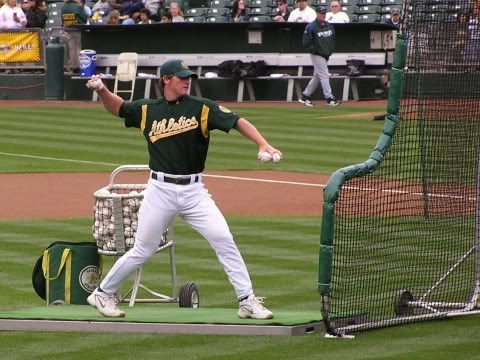 Then it was Wash's turn!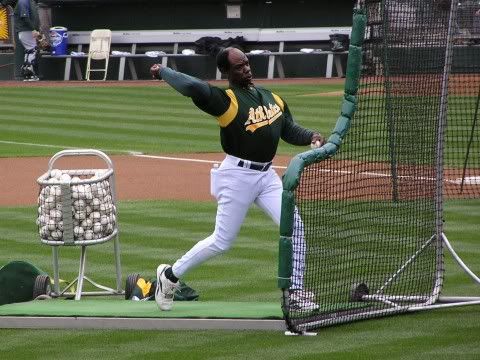 Swish at bat.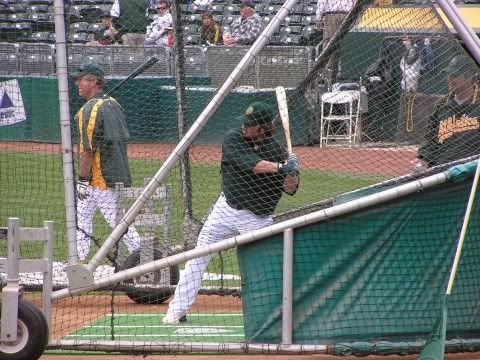 Ok, after Swish took a few swings in the cage, he came over to sign autographs!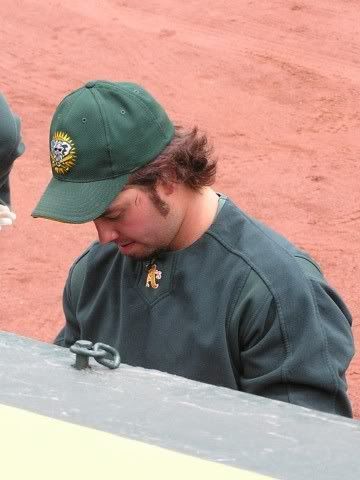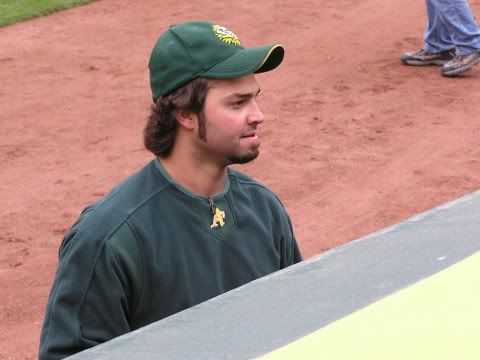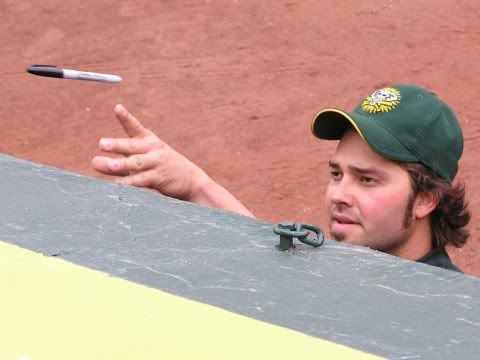 As did Thomas!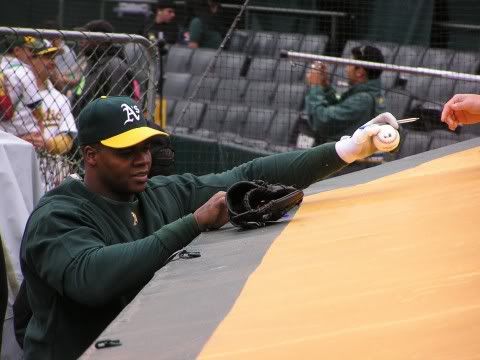 Ok, onto the game!
Zito pitched!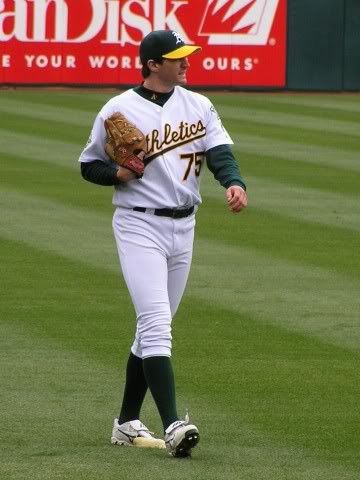 Bobby Stretched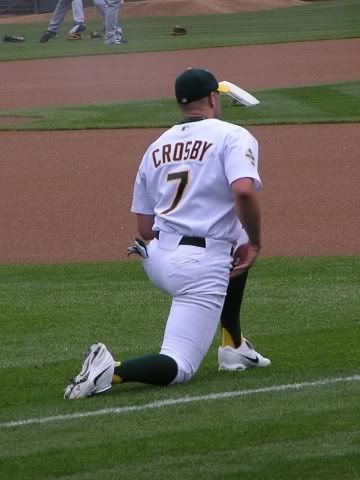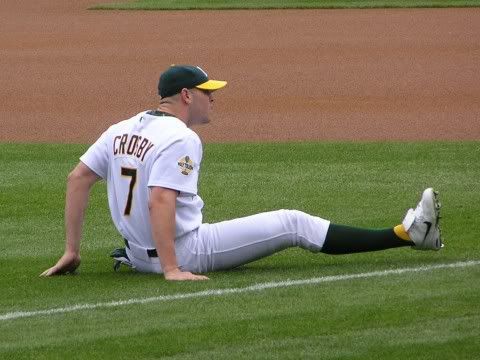 Swish had a double in the first!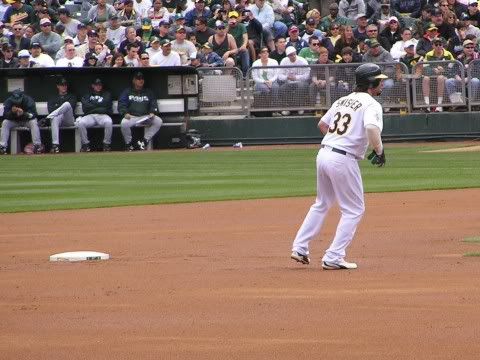 Bobby was on third and scored with a little interesting base running.

Bobby and Chavey were HOT!

They won on a Walk Off Dribbler!!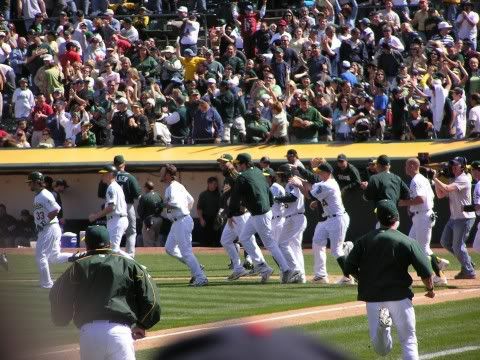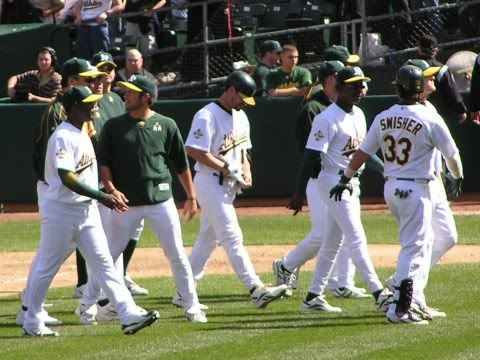 Sunday:
Before the game warming up:
Bobby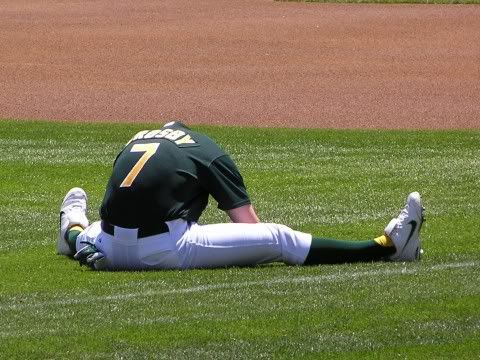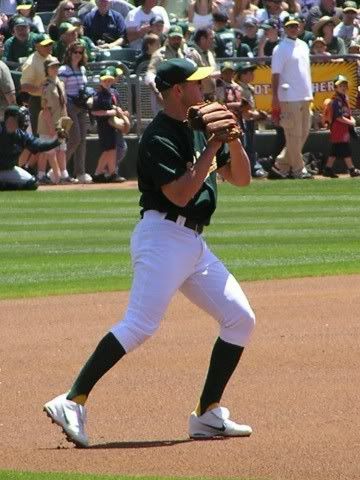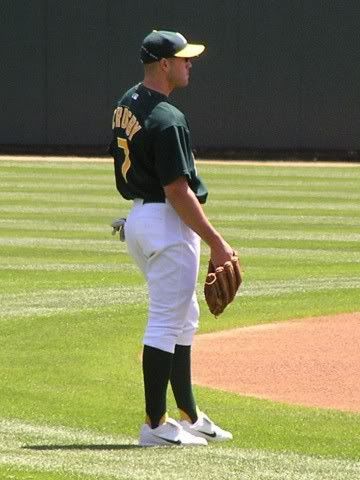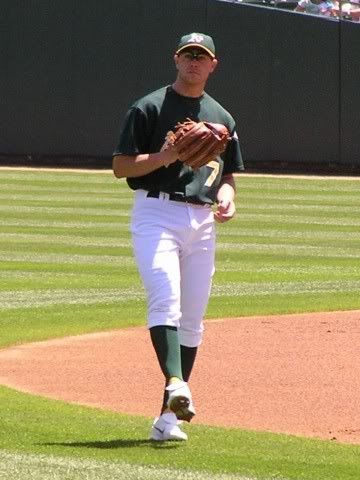 Chavey

Payton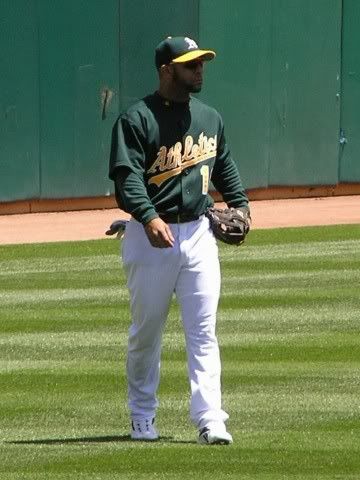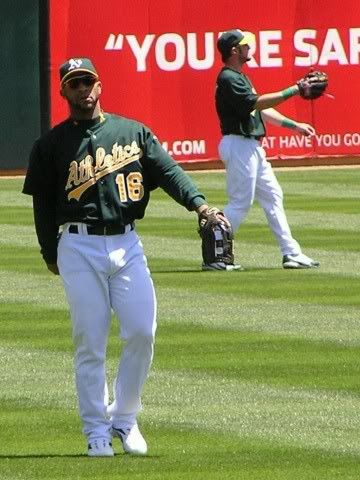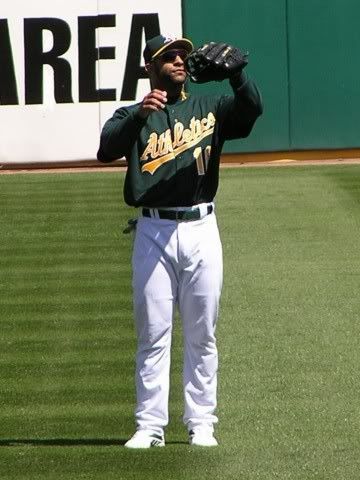 Huston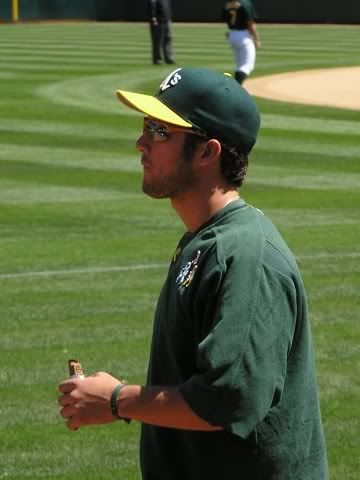 Melhuse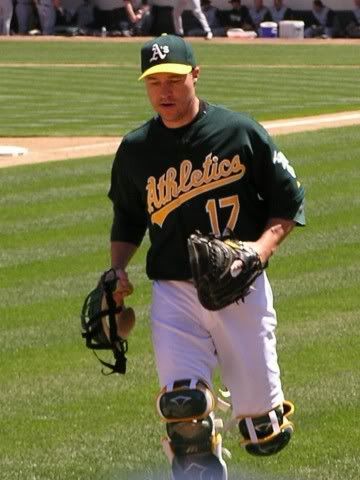 Bobby Kielty waiting for his close up! (I swear, he stood there for the longest time. Finally I took a picture and then he turned. It was like he was waiting for me to take it!)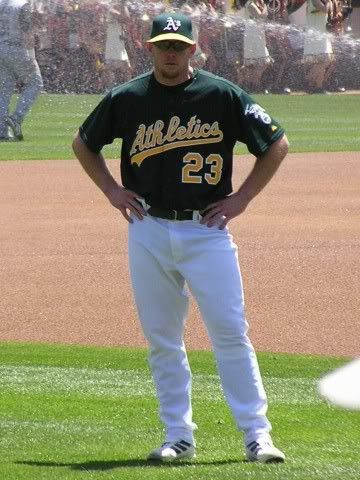 Halsey warming up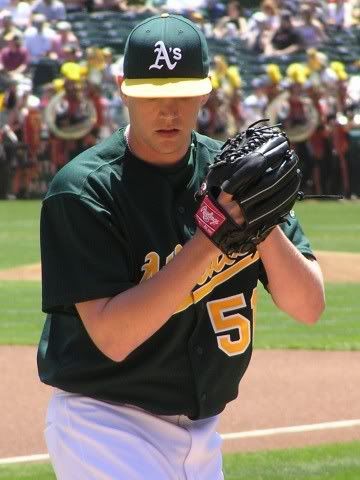 I love when they do the take the field with the A's thing for the little leaguers. It is so cute!
JayPay with his little one!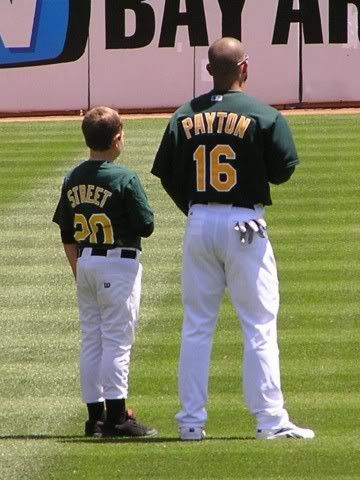 Chavey with Bobby! Wait, What happened, he shrunk!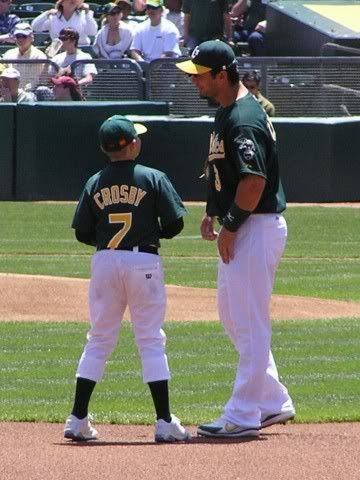 Oh, no, it is just a little guy!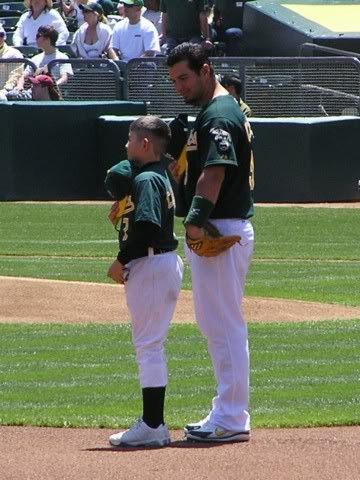 Check out this High Socks Crew! So dang cute, I almost can't stand it!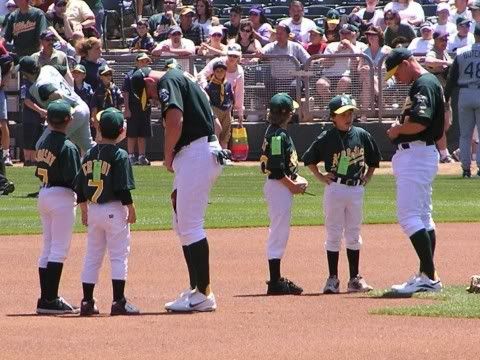 Let the game begin!
Ellis is left on base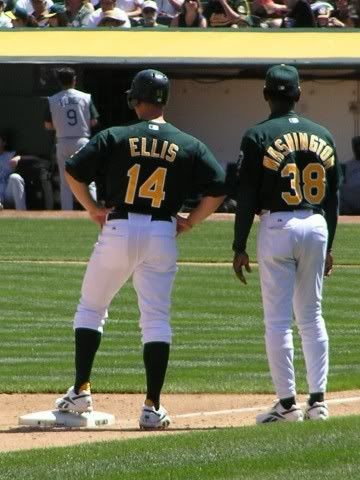 Kendall is left on base

Kotsay has a good eye!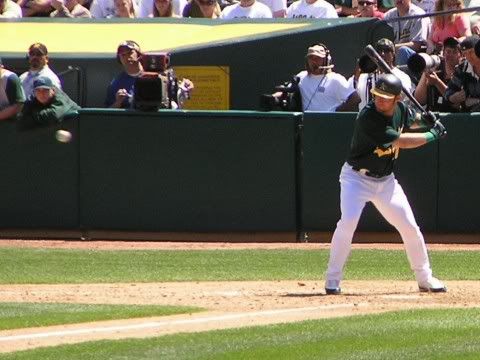 Swisher has a great eye!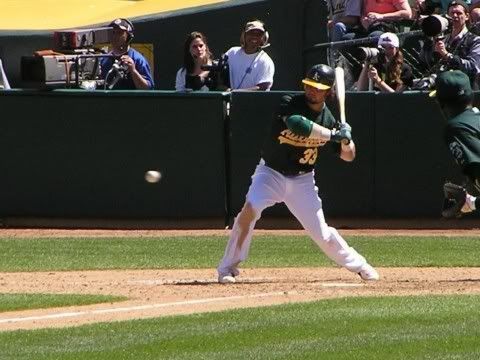 Swisher holds a guy on first!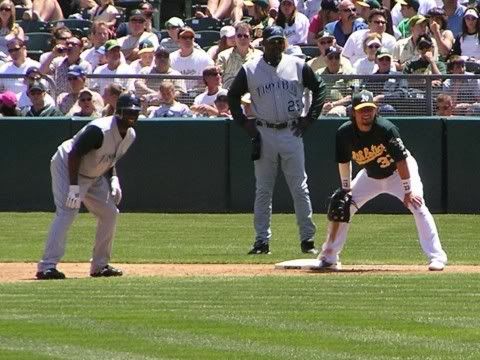 Ellis hits a Home Run!!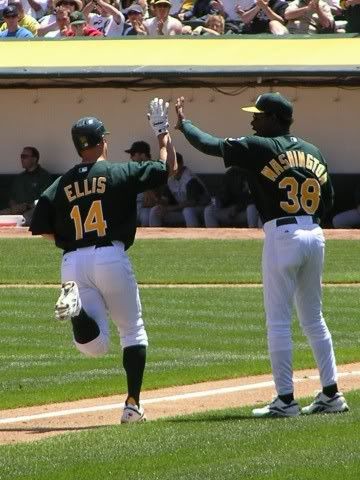 Pitching Change!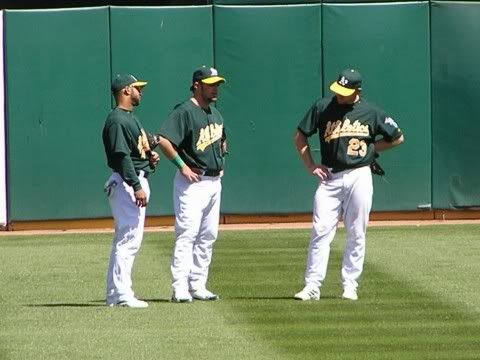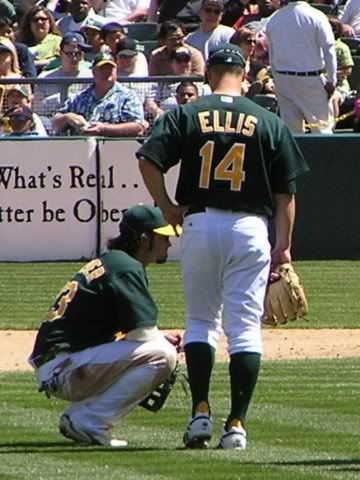 Kikoooooooooo Calerooooo!

Thomas hits a Home Run!!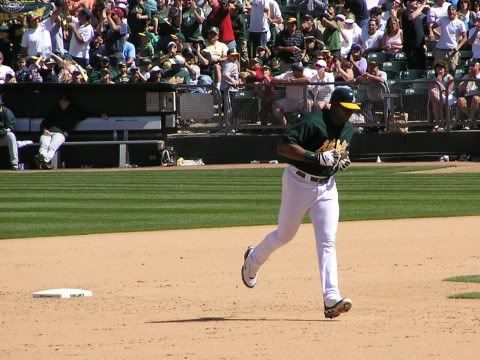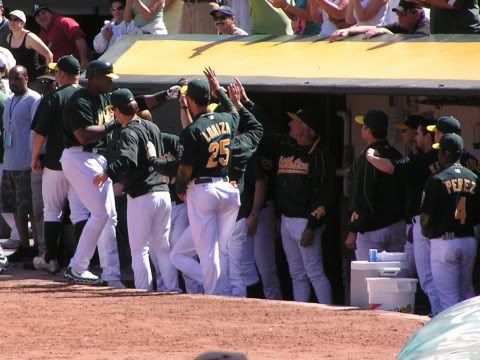 And on that high note, I will say good night! I hope you enjoyed my pics from the weekend. I have also posted most of them on my picture page: http://www.myathleticspics.com/bobbycrosbysgirl
Thanks for taking the time to check them out!