So I did a bad, bad thing. I wanted to take a look at what life was like last year when we played the Giants. So I went back and looked at the news archives for the end of May. Not recommended if one wants to keep their sanity! But I realized something. If this season against the Giants resembles last season against the Giants, I am TOTALLY cool with that!
The headline for May 22nd 2005 read: Zito strong but takes hard-luck loss. The A's dropped two of three in that series at the Phone Booth, exactly a year ago today.
So I decided to look forward to the next weekend of play between the A's and Giants. The headline on June 26th read: Swisher homers twice as A's one-hit Giants! And what did the A's do that weekend in June? They Swept the Giants! In exactly a month, and exactly a year after that sweep, the A's go into the Phone Booth. If this series was a reflection of the May Meeting last year, then I sure as hell hope this coming June series will be a reflection of last June's Series!! So that is the way I am going to look at this weekend, it is just a sign of things to come!
I did get to witness some history this weekend. But I do have to say there is a certain person in my section that I will never forget. Why? Because the jerk decided to get right in the way of my picture just as Bonds hits his Home run!! OH! I can't even begin to describe how pissed off I was! But, I did get pictures of the rest of the moment.
It was an amazing thing to witness. I got chills, then I got a little sick. I felt bad for Halsey. I did feel a little better once I watched a press conference that he had after the game. You can watch a good, long video of it here! He was really mature about it and really put it into perspective. Even managed to crack a joke that I just died when I heard it!
That long ball is something I will never forget. It was a historical moment. I mean, I can actually say, I witnessed HISTORY! How many people can say that, especially about a sport/event that is so important in their life. After that ball went off that bat, it was like all the other "issues" surrounding it became side notes to the event. Yes, they were a reality, and yes, you can't talk about Bonds with out the other things, but in that moment, it was about appreciating The Long Ball.
And in a way, it was a moment to appreciate, honor and remember Babe Ruth. At that moment, he was on the minds of each and every person in that stadium and around the country. Years after his death, we are all still talking about him and thinking about the great things that he did for this game. He was Baseball!
Sure we went on to lose the game, but we witnessed HISTORY! We were there! That is pretty dang cool if you ask me! I will be able to scrapbook a significant moment in Baseball history! I will be able to tell my grandchildren that I was there! And I will have the pictures to prove it!
Speaking of Grandchildren, Kruko (I think that is his name, the Giants announcer who was announcing the game on Saturday) said something very cool. I know he is the Giants announcer, but I was very impressed with him. He had a lot of great things to say about our boys. (I TiVo-ed the game) He would go off for 5 minutes during their ABs about the guys and how great they are and how much potential they all had. It was nice to hear him being so impartial for a minute. He very easily could have said, "Bobby is good, but he is no Vizquel!"
Anyway, after Barry's second AB, where Halsey struck him out, Kruko made the best comment ever! He said, "In 30 years, Halsey will be able to say to his grandkids, 'Yeah, I gave up 714 to Bonds. But you know what I did in his very next AB? I struck him out!' That is pretty cool!" And it was very cool of him to point that out. And I certainly hope that is exactly what Halsey does!
Anyway, there were games this weekend too! The only one I really want to remember the score to was Friday! It was B-E-A-UTIFUL!! Danny was unbelievable! Swisher in the Splits, Good God! Huston was freaking Fabulous! Striking Out Bonds to win the game, that is something I will remember the rest of my life. As someone on EI said, "Instant Classic!"
Even Saturday's game was a good game! Extra Innings, tied game, a huge home run, some great defensive plays from both sides. It was just an all around great game, and one of those games you simply don't mind losing.
Sunday was just icky. It was rainy and weird and I had WAY too many Giants fans around me. I simply don't understand how so many Giants fans managed to get rows 2 and 3, and me, a season ticket holder was in Row 4! What the hell is that!! Wah, Wah, Wah! I know! But it ticked me off sitting behind and surrounded by so many! But one cool thing did happen to me yesterday, I actually caught a foul ball!! Well, actually it bounced off the track in front of the bull pen, Swisher came running over to try and catch it <thud> and when he didn't quite make it, it bounced into the seats just behind me and rolled under my seat. The guy behind me spilled his beer all over me and my stuff, but I dropped down and managed to get my whole hand on the ball and snag it away from him! Yay Me!! It was my very first foul ball EVER, that wasn't given to me by a security guard! Very Exciting!! Now I would just like to have a ball tossed to me by Swisher after he catches the third out of an inning and I will be set!
Ok, on to the pictures.
Just before the game started on Friday, I spotted a Rainbow just over the Coliseum. I thought it was an omen for the series, but I guess it was an omen for just that night! But it was pretty, a lot prettier than this picture gives it credit.

When I saw Chavey and Kotsay just before the game I thought, Wow! What great Veterans, they know that this looks like bad news, how nice of them to fix that! Then I thought, wait, isn't that a rookie's job? Or at least a bot boy or two?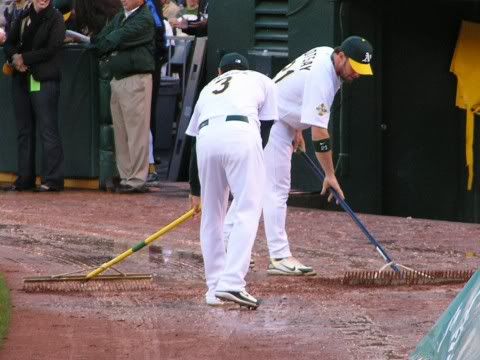 Warming up before the game:
Yummy!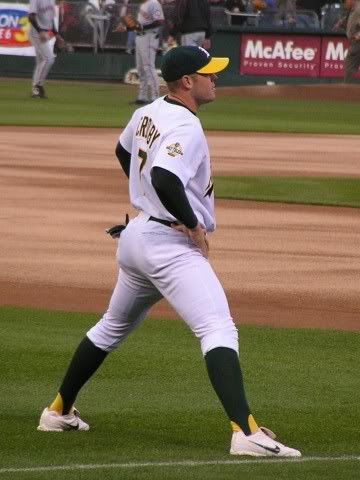 Fabulous Job tonight Danny!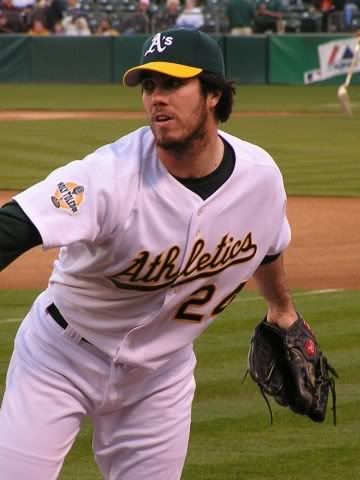 Macha watching an A's commercial on the big Screen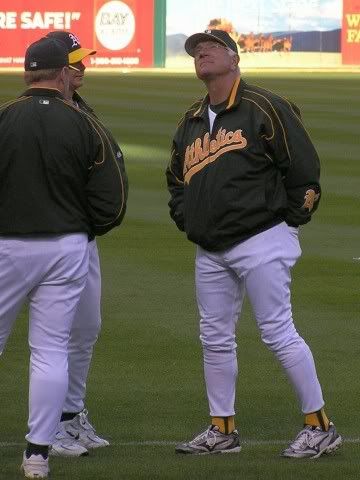 And... Yeah!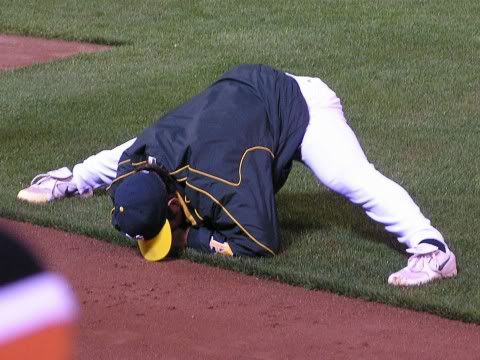 Chavey, Fabulous as always

Kotsay on Second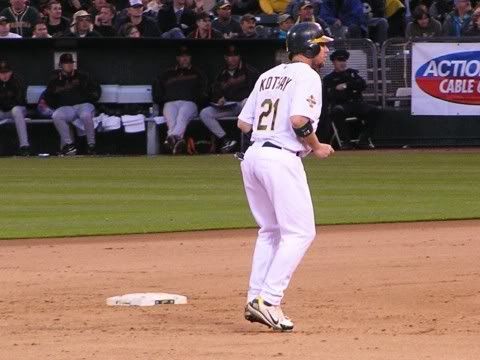 Huston Strikes Out Bonds!!

And they Win!!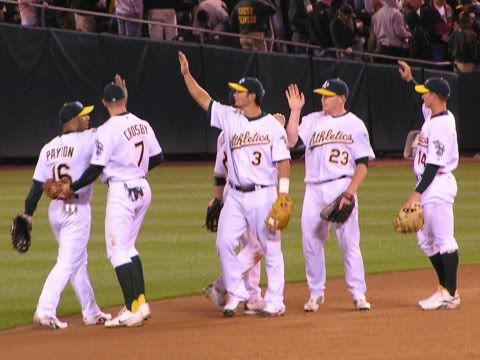 Saturday:
Halsey, before he made history! Why is it that he looks 12 here, but looks so Hot in his press conference? I don't get it!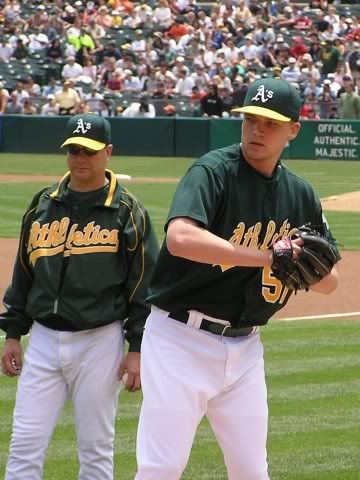 More Warming up!
Swisher: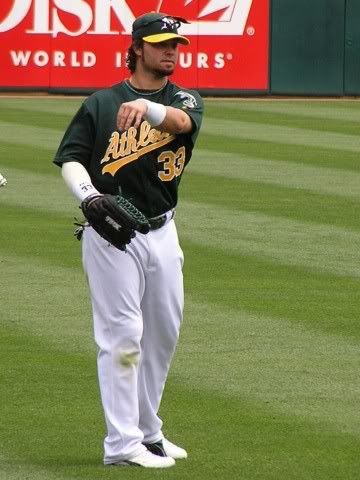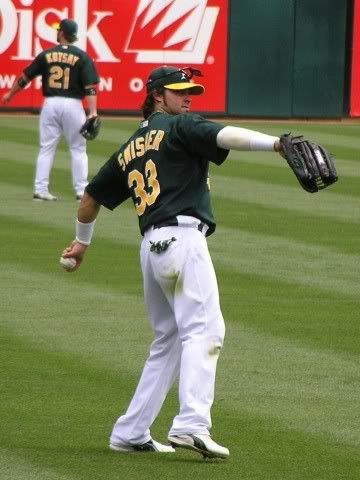 LOVE that flowing Hair!!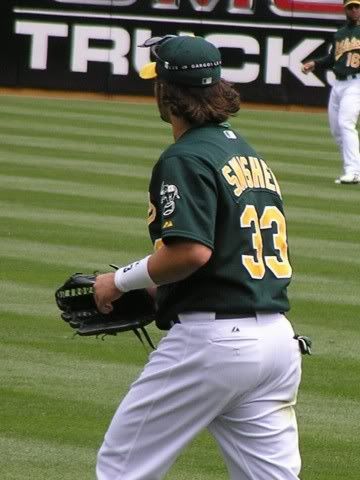 Ellis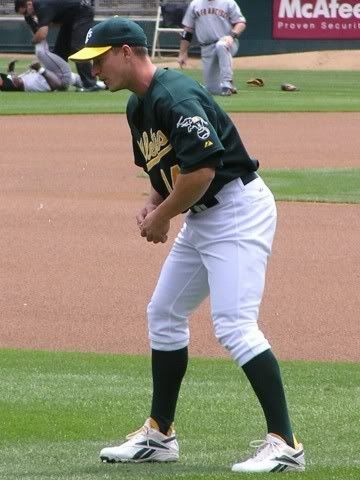 Ellis, Payton and Kotsay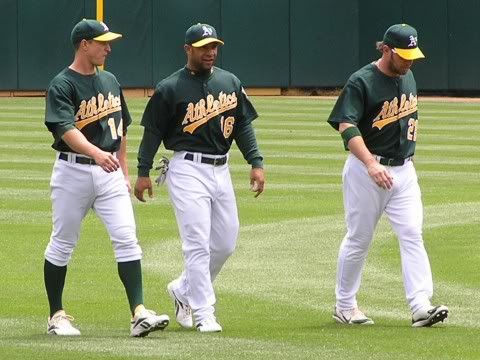 And of Course, BOBBY!!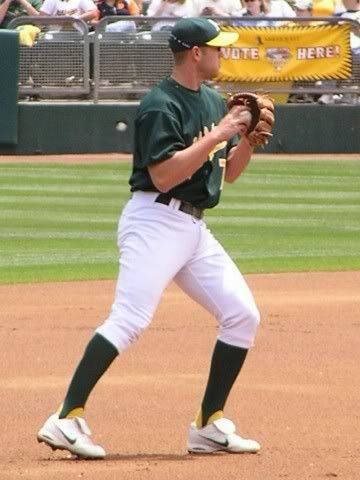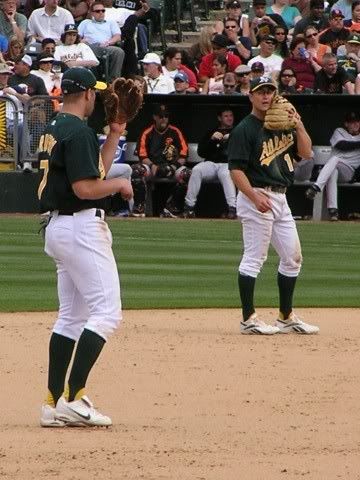 The Best Trivia Question EVER!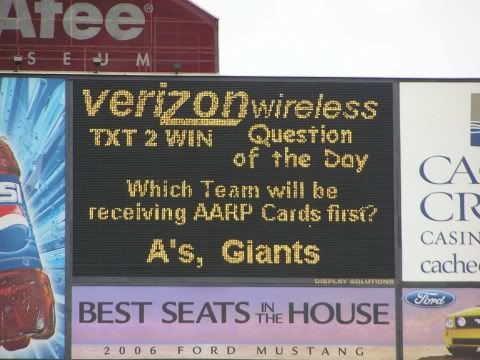 Kotsay's Nice big swing!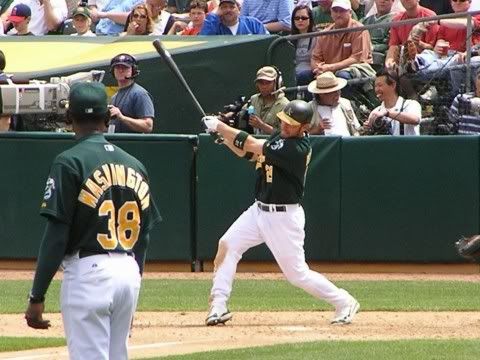 The Bonds Media Circus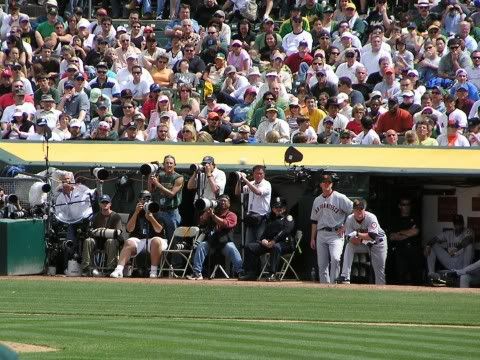 At least they were there for a good reason! Here are my pics from the moment:
Bonds Crosses Home for the 714th time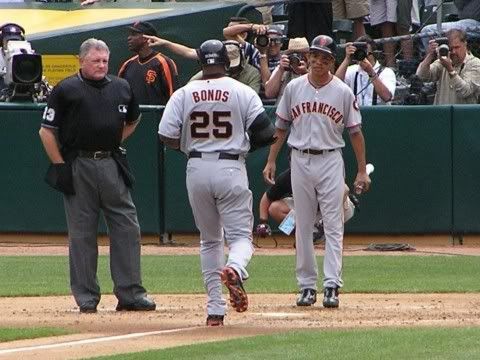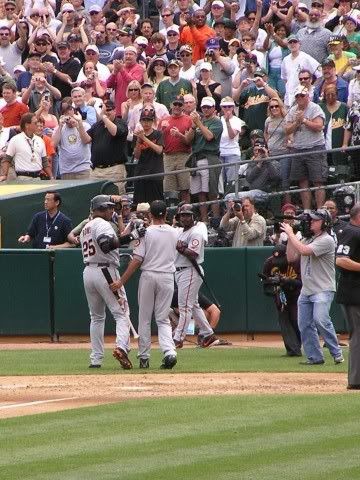 He is greeted by the team.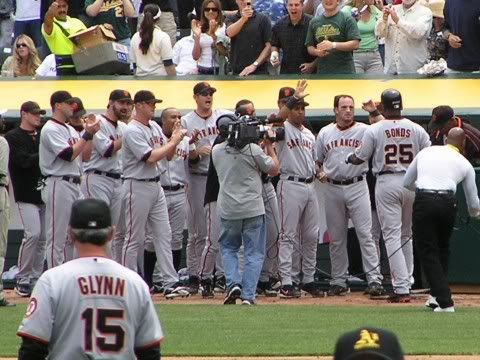 Curtain Call

And the very next AB... He strikes Out! YEAH HALSEY!!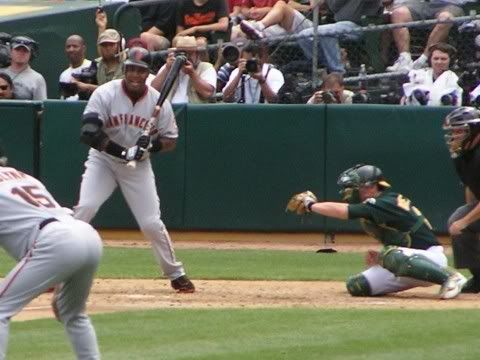 Ellis Scores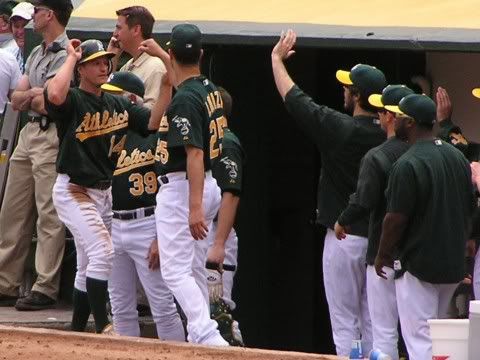 Pitching Change

9th Inning Chavey Scores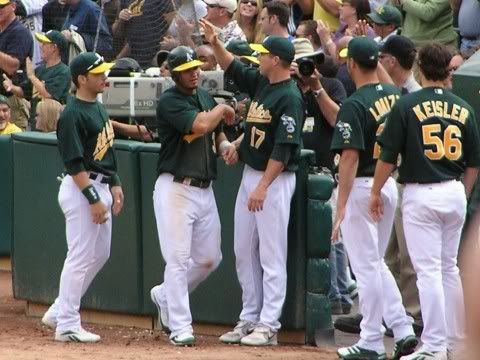 Bobby is trapped at third by Kendall's miraculous skills at hitting into a Double Play!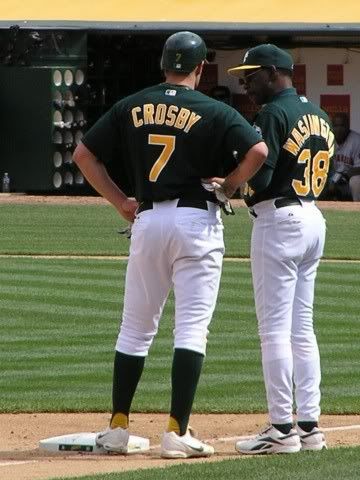 Sunday:
All my pictures from Sunday, with one exception, were taken before the game started. I guess I was just a little too depressed to take many good ones during the game.
Blanton! I love Blanton. I really hope that the game yesterday went badly because he had a cold and not because of some bigger issue. Maybe it is because he is still heart broken over not getting a bobblehead, GIVE THE MAN A BOBBLEHEAD! Ok, maybe I just want a Blanton Bobblehead, but whatever it is, I hope he comes out of it soon! He is too good to have this go on much longer!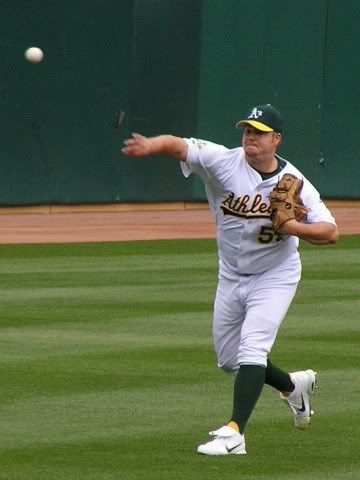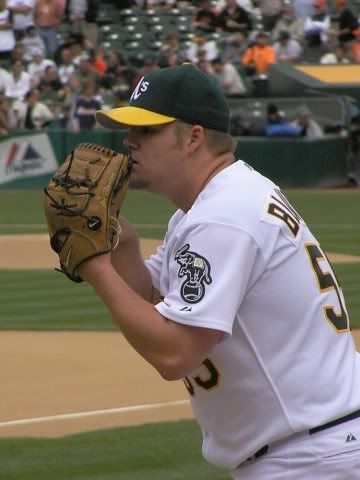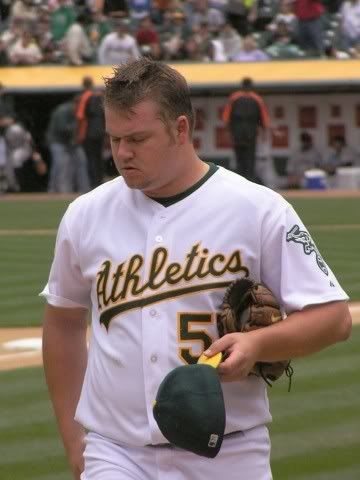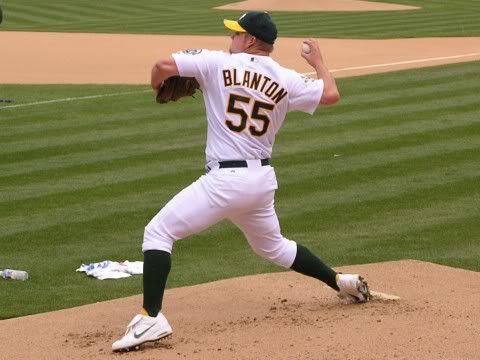 Melhuse!!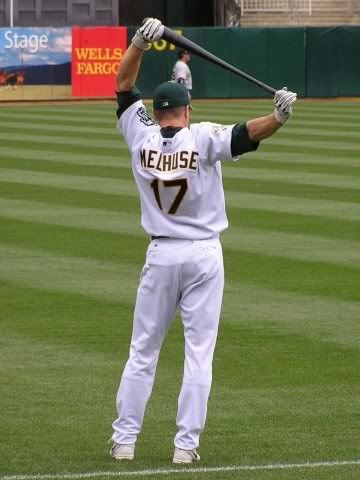 Scutaro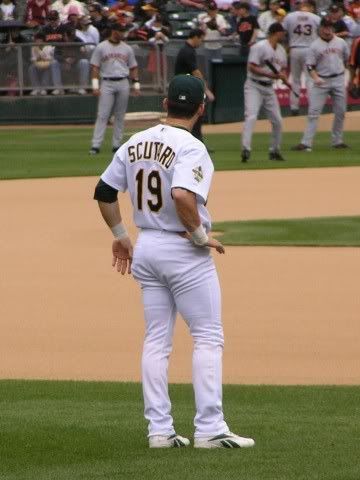 Kotsay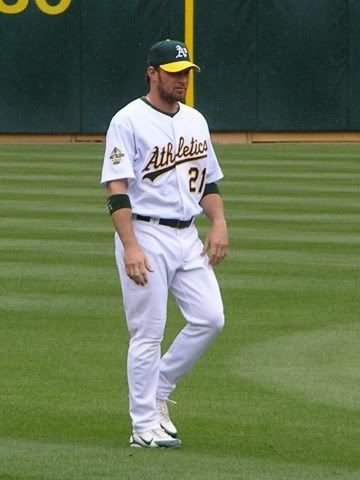 The Mascots!

Stomper took down Lou! See! Even Stomper has Grit! Or Maybe Stomper is Jason Kendall! Has anyone ever seen Stomper hit a Home Run?

Bobby with Scutaro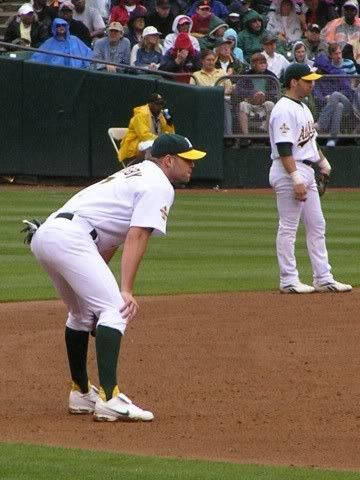 Bobby with Swisher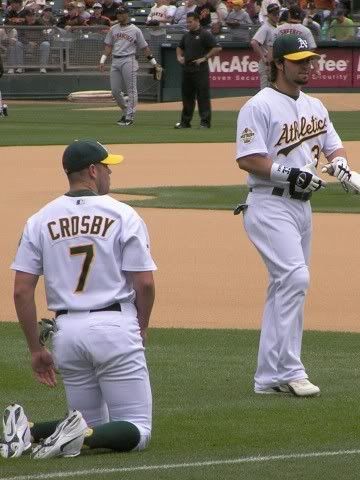 Swisher!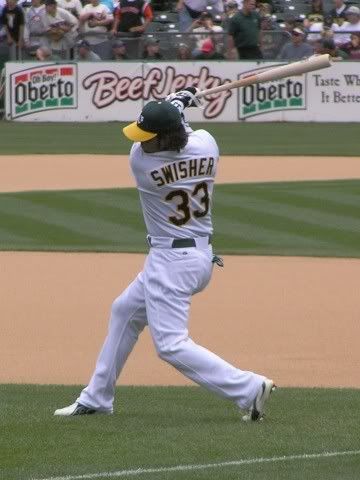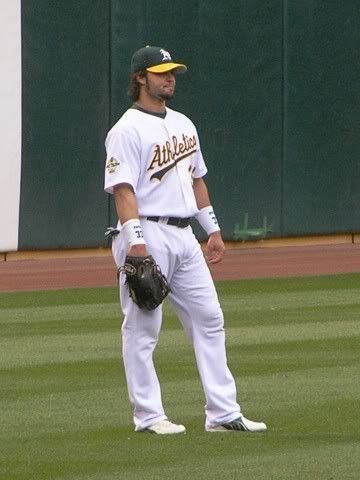 Again, I love that hair! I love it even more that he was thinking of cutting it off and giving it to Locks For Love! SO SWEET!!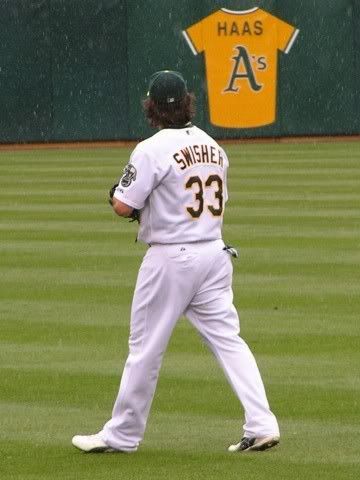 <thud>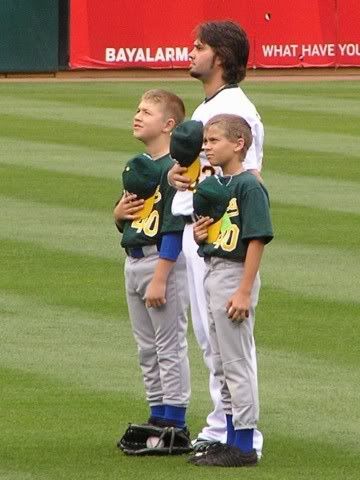 Payton Doubles! The only hit of the game, and my only picture during the game!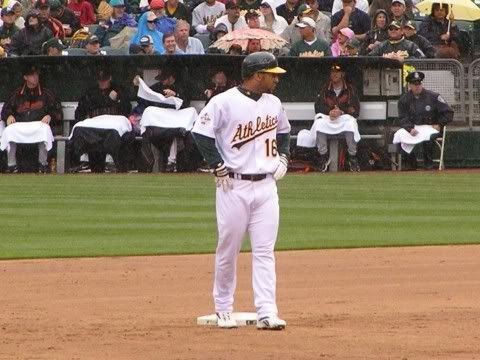 Don't worry, we will get the Giants in June!!
Only 9 Days left of May! Woo!