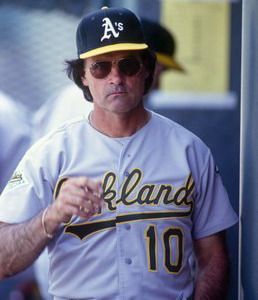 Tony La Russa
No, this isn't an article about
Bo Derek
running along the beach nor is it about gymnast Nadia Comaneci's perfect score in the 1976 Summer Olympics: this is a baseball article. Now that may seem odd considering that 9 is the number usually associated with baseball. There are nine players in the field* and, unless the score is tied, the game is nine innings long. To perhaps only a slightly lesser degree the number three is also associated with baseball. During the seventh inning stretch we sing "three strikes you're out". Three outs, by strikeout or otherwise, and the side is retired. Perhaps not so coincidentally, three times three equals nine. But what about the number ten? For the stereotypically off-beat fans of the
Oakland Athletics
, ten is their perfect number— and not just for walk-off homers in the extra frame.
*Since the introduction of the designated hitter in 1973 you can no longer say "in the lineup", at least in regards to the American League.
The 1929
New York Yankees
were the first ballclub to wear numbers on the back of their jerseys. Numbers were originally assigned according to the player's usual place in the batting order. Centerfielder Earle Combs, the leadoff hitter, was assigned number 1. Shortstop Mark Koenig wore number 2, followed by Babe Ruth's famous number 3 and Lou Gehrig's number 4. Connie Mack's Philadelphia Athletics, who won 104 games that year en route to their World Series victory over the
Chicago Cubs
in five games, did not follow suit in the uniform department until two years later.
In 1931, the first year the Mackmen wore uniform numbers, the team won 107 before falling in seven games to Frankie Frisch's
St. Louis Cardinals
in the World Series. (Unfortunately, the A's wouldn't reach the post season for another 40 years.) The American League MVP in 1931 season was pitcher Robert Moses 'Lefty' Grove who was 31-4 with an astonishingly low ERA of 2.06; the league average was 4.38. For the sabrmetricians who may be reading, Grove's ERA+ was 217. For the sake of comparison, that was better than Vida Blue's 183 ERA+ in his MVP season of 1971 and even Dennis Eckersley's ERA+ of 195 in his MVP season of 1992. Lest you fear I've strayed from the topic, here's the connection: Lefty Grove was the first player in Athletics history to wear uniform number 10.
The number 10 has an honored place in A's history. Below is a list of those who have worn the number during the team's 45 years in Oakland:
Tony La Russa
was the first player in Oakland A's history to appear in a game wearing number 10 when he pinch hit for pitcher Paul Lindblad on April 17, 1968. However, he wore it for only five appearances as he spent most of the season at AAA Vancouver. (La Russa, a career minor leaguer, was resigned to wearing other uniform numbers during his visits to 'The Show' in subsequent seasons.) Catcher
Dave Duncan
assumed number 10 upon his call-up to the big leagues that same season, and continued to wear it through the end of the 1972 season and World Series.
Duncan was traded to the
Cleveland Indians
following the '72 Series victory along with outfielder George Hendrick in exchange for two-time gold glove winner,
Ray Fosse
, who not only assumed Duncan's catching duties but also his uniform number. Fosse wore number 10 through the end of the 1975 season when he was sold back to the Cleveland Indians. Current A's fans know Fosse as the longtime radio and TV commentator. The beloved announcer has his own fan club, Fosse's Posse, who attend games wearing salt-and-pepper colored wigs and mustaches.
The next to don the perfect 10 was
Wayne Gross
who played 10 games in Oakland in 1976. The following season, his rookie campaign of 1977, Gross hit 22 homeruns and served as the A's All-Star representative as a replacement for Vida Blue. The slow-footed third baseman famously stole home in 1980 when Billy Martin was at the helm. Gross was traded to the
Baltimore Orioles
following the 1983 season.
Slugger
Dave Kingman
donned the green and gold and the number 10 in 1984. 'Kong' was famous for his long home runs and prodigious strikeout totals. Unlike Fosse, however, he was not so beloved, at least not by sportswriter Susan Fornoff of the Sacramento Bee to whom Kingman
sent a box containing a live rat
with a note attached to its tail that read "My name is Sue."
In 1986 Kingman switched to his more familiar number 26—the number he'd worn with
Giants
,
Mets
, and
Padres
— when
Tony La Russa
became the A's skipper and assumed the number 10 he wore as a player in 1968. In his nine full seasons at the helm of the A's La Russa led the team to four AL West titles, three AL pennants, and a sweep of the Giants in the earthquake-marred 1989 World Series. La Russa's pitching coach was former A's catcher Dave Duncan, who wore number 18 in his new profession.
Number 10 was worn during only two of the first four seasons following La Russa's departure. Infielder
Mark Bellhorn
wore four different numbers during his four seasons in Oakland, including number 10 in 1998. Veteran
Mike Stanley
donned the number in 2000, his only season in green and gold.
The next to wear number 10 was catcher-turned-first baseman
Scott Hatteberg
, whom GM Billy Beane signed for his ability to get on base. Hatteberg's pinch-hit walk-off homerun in game 20 of 'The Streak' in 2002 was depicted in the movie adaptation of Michael Lewis'
Moneyball
. Hatteberg's four-year stint in Oakland, 2002-2005, was (relatively) short but memorable.
Despite having spent most of last season at AAA Sacramento,
Daric Barton
has been in possession of uniform number 10 since 2007. The A's re-signed the slick-fielding first basemen to a one-year deal this past offseason in hopes that he can return to his 2010 form—he had a .393 OBP in 686 plate appearances that season—and as insurance in case incumbents Brandon Moss and Chris Carter, neither of whom are renowned for their glove work, fail to duplicate the success they experienced at the plate in 2012.
In 1991 the A's retired the first jersey number in team history, Catfish Hunter's 27, and established the policy of retiring numbers of only those players inducted into the National Baseball Hall of Fame. Hunter's retired number has since been joined by Rollie Fingers' 34, Reggie Jackson's 9, Dennis Eckersley's 43, and Rickey Henderson's 24. Now that Tony La Russa has retired from managing he is very strong candidate for selection by the Veterans Committee. Will his number 10 be the next the A's retire?
References
Baseball-Reference.com