Where is the grass greenest? Staying in the same city, we mean.
A simple question. No simple answer. The frog in my pocket and I are in a speculative mood today.
I wrote about this a while back (other markets, within the Bay Area, and San Jose's actions), it's time to do a Ken Korach style reset on the whole thing.
"We are in the top of the 4th inning, the score is Oakland..."
A slight detour, to read really good analysis about the potential future homes of our Green and Gold heroes, go here.
First and foremost this post is all about Oaktown. Or, the potential of a great city.
Many people question if Oakland is indeed a great city. What with the Mayor talking of sanctioning "sideshows" to further the "crime ridden" stigma and all, it is understandable. But Oakland really is a very cool town, go back to the link above titled "within the Bay Area" if you don't think there are good things to do in Oakland. Or you can join me on a personal tour next March in the Oakland Half Marathon and get a ground level view of some happening places.
But the question isn't, "Is there good stuff to do in Oakland?" The question is, "Is there a good place to build a ballpark in Oakland?" And after that, "What is the City of Oakland doing to help get a ballpark built?"
On Question number 1:
Chip Johnson recently wrote of a rumor that Lew Wolff was interested in building a ballpark at Middle Harbor Park. As the latest rumor, let's start there.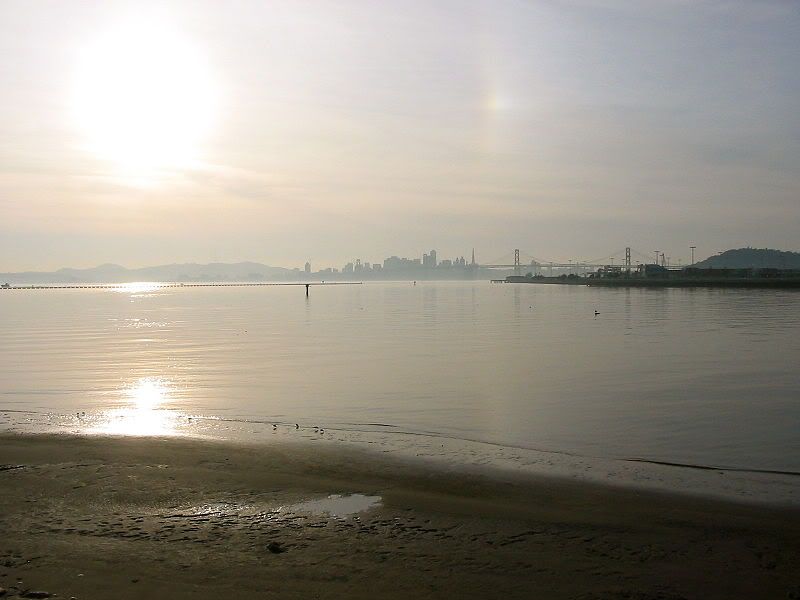 Not a bad view, eh?

Before we go getting gaga over the view, let us remember that this couldn't be the view over the outfield wall. Stadiums can't face west because of sun problems... mainly, the hitter wouldn't see a damn thing if that was behind the pitcher. An argument could be made that Oakland would be quite the spot for free agent pitchers with this view, but it is moot.
So, not so not moot points? An illustration!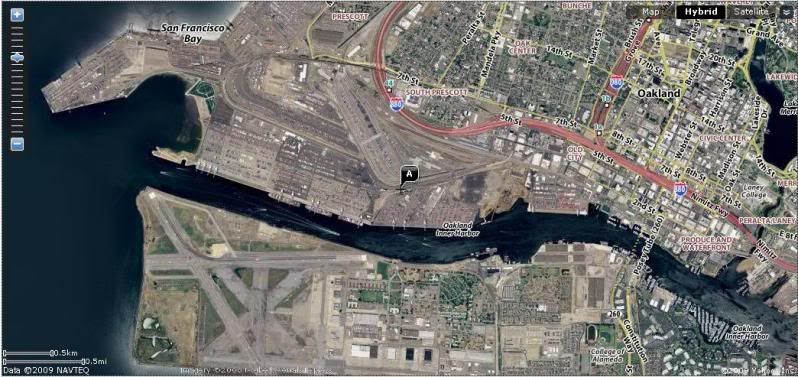 That little green patch, below the words "San Francisco Bay" is the parkish part of Middle Harbor Park

Does anyone see any challenges in this illustration? For us, the distance between downtown, the Freeway, BART is kind of a big deal. Well, really for me, the frog in my pocket likes being away from all that stuff as he can just use the water to get to the park. I have pointed out to him that there are many big boats that come through there and he is but a little frog, so easily squished. He doesn't care.
In a nutshell, the challenges here are transportation and the Port of Oakland.  The positives are big boats to look at, a potentially cool view of the Oakland skyline from inside the park and a the San Francisco skyline from around the park. But really, there is no there, there so I fear this is just a trial balloon. Developing the Port of Oakland with retail and residential and a ballpark... I am not so sure this makes a lot of economic sense for the City of Oakland.
Maybe somewhere else on the waterfront?
Site number 2 that has been rumored is Howard Terminal. Vertig0/Marine Layer did a really good piece on Howard Terminal. I am not going to try and replicate what he put there. It really speaks for itself. There are challenges. Those challenges were estimated to cost over $500 million (in the world famous HOK Study) to address way back in 2003, which eventually ruled the site out.
For the record, Howard Terminal is the blue portion labeled "67-68" just north of Jack London Square in the picture below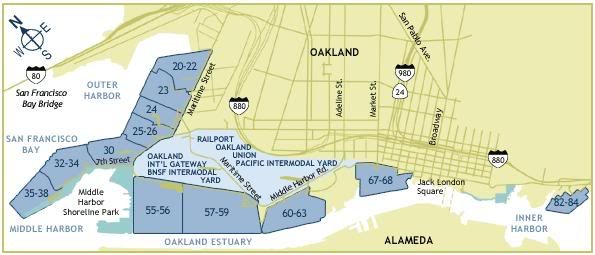 I think, if any waterfront site has any possibility of becoming reality, it is this one. It will be very expensive to make this happen. The City of Oakland would have to pony up a BUNCH of cash. I will say this is really hard to imagine in the current financial circumstances, but we are talking about many of the same "civic leaders" who worked out that excellent deal with the Raiders.
A quick caveat for some bloviation. As I look at the two potential places above, I have two thoughts:
The Oakland Waterfront is really already being used by a very important economic engine.
Why do the A's need to be on the waterfront anyway?
I want the A's to play in a spot that is better than the Giants place. I know, that is kind of irrational because the Giants place is really nice and something comparable is a good goal. But I would say, the best way to be better is to be different! Isn't that the key message of Moneyball? So how about a more urban locale?
Honestly, I haven't heard of much in the way of a truly urban site, like the doomed Uptown Site. One place that has been mentioned is the old Malibu Funzone/Homebase site just south of the Coliseum. It may look something like this:
Courtesy newballpark.blogspot.com
I really find this site uninspiring. I imagine that it may be able to someday create the sort of atmosphere you see outside of Fenway Park. The sort of Baseball Carnival that happens there at all home games. In the mock ups above, all that stuff behind the outfield could serve as a gathering spot with bars and eateries and such. It could potentially be more of a destination spot. There is good transportation.
There are problems though. One big one is that the entire lot cannot really be developed due to an EBMUD right of way. Through a section of the drawing above, there runs a thing called the "Southern Interceptor." This has been described to me as a "river of raw sewage" and that building something the scale of what is pictured is not a real possibility.
So, really the answer to Question 1 is, "Maybe there are good sites in Oakland." It kind of depends on Question 2, but maybe Howard Terminal? That'd be my first choice, but it may be too expensive.
Question 2... There are no real answers here. What is Oakland doing? What is Oakland willing to do? What should Oakland be willing to do? Where the heck is the plan already?
The online petition and facebook group are a little lame at this stage of the game. I signed up for the facebook group hoping to get some insight into what the actual plan is. I won't sign a petition that isn't for anything specific.
So anyway... to reset the game as my favorite Ken Korach does, "We are in the top of the 4th. The score is Oakland 1, San Jose 0. San Jose has all the bases occupied, nobody out and Clue Haywood at the plate. Oakland has Facebook Group on the hill. The lights are on but not yet taking..." Is there anyone warming up in the bullpen? Is it a kick ass Ricky Vaughn like plan for a ballpark? Inquiring minds want to know... Like, now already.