Texas was so much fun. Kapers, MiniKapers, thank you both so much for being totally awesome and cool and all A's fan-ish.
Friday, May 30, 3008
Blogged from the airport. The plane was late coming in from Chicago ("weather," sure. I read the bomb threat story), making my already late-afternoon flight a little later afternoon. I really thought Audrina from The Hills was on my flight, but Perez says she was in LA the night before celebrating her sister's birthday. That would be one hell of a flight.
Hotel: Not a whole lot to talk about. I really hate driving, so I chose to stay close to the park and Six Flags. Arlington offers a free trolley service to Six Flags and The Ballpark, but I never knew what time the thing would actually show up.
The game: I am in full-on freak out mode with all the call ups. ZIGGY! Patrol Craft! Buck! Calero! But the person I couldn't wait to see was Eric. Effing. Chavez.
Indeed.
The park is smaller in person that it looks on television.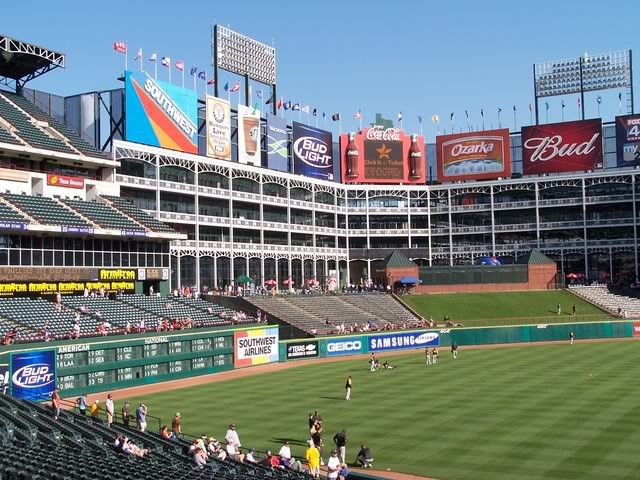 I really liked the pen location: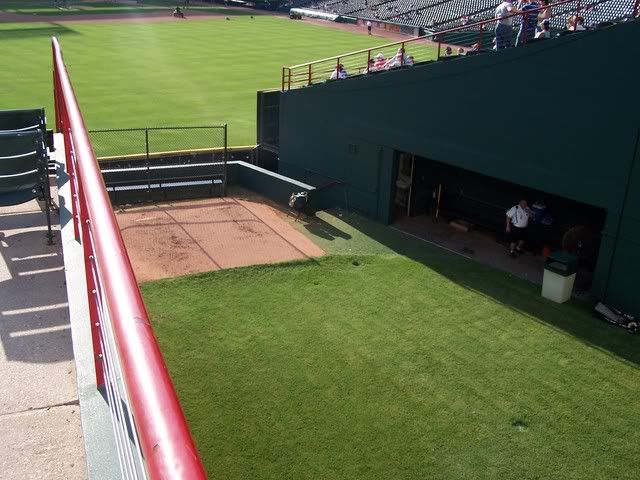 If we ever lose Joe Blanton I know where to look.
Okay, I just like stalking the players.
ZIGGY!!
Welcome back, Travis Buck!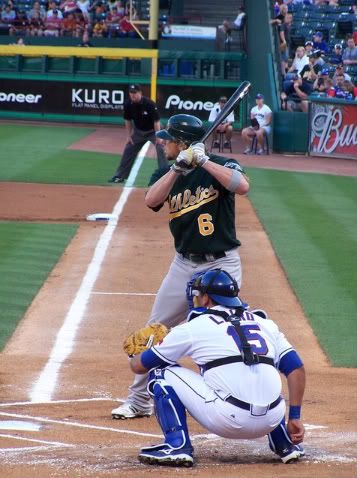 Also joining the Big League party, Carlos Gonzalez!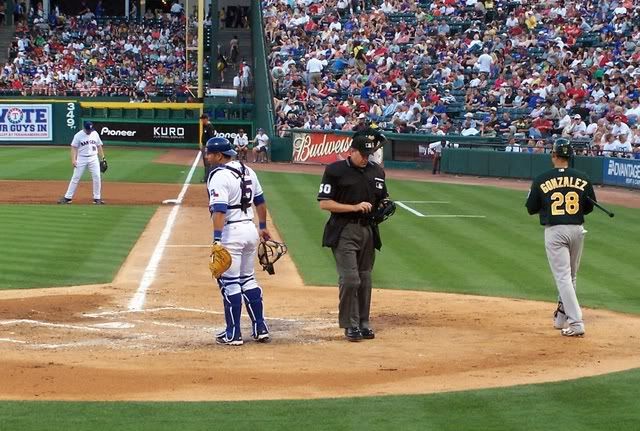 Random mascot photo: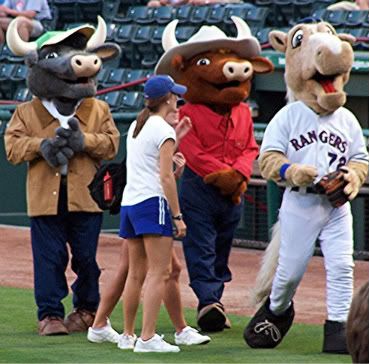 So, Chad Gaudin got someone kicked out on Friday night.
The guy in the white cap was a total asshat. Chad very nicely asked him to stop being an asshat (I'm paraphrasing), but the guy would have none of it. Chad involved the uniforms.
Finally, someone else got tired of this guy's crap and had him removed.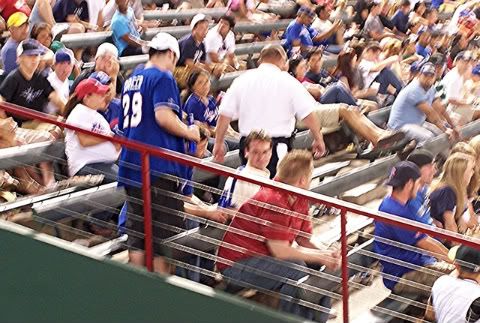 Other bullpen shenanigans: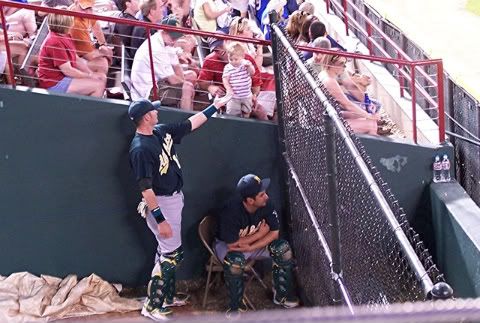 Immediately after this photo was taken, the kid bursts into tears. I'm not sure what Rob or Casey said.
Boo! We lost. How's that for a game recap?
Saturday, May 31, 2008
I headed to Six Flags that morning.
I'm not too big on roller coasters, but I loved the Superman ride. Only later did I find out, via kapers, that some girl lost both of her feet on the same ride at a different location. Great.
Texas is hot. And windy. Mostly hot. The Aquaman ride was a nice cool down.
What is this large white photo?
That's the bridge where you exit. The same photo, moments later.
Saturday's game.
Who is on first?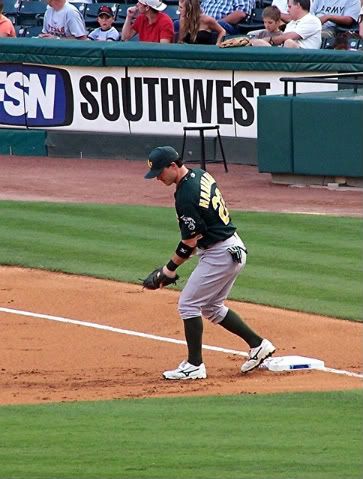 View from right field:
View from over the pen:
I don't know how often this happens, but both Friday and Saturday the Rangers put various troops on the big screen to salute them. On Friday they had two people who worked at the stadium and were going to be recalled to the National Guard for active duty. On Saturday, when this photo was taken, the gentleman had recently returned from Afghanistan. On both nights the crowd gave the guys a standing ovation. It was touching.
Effing Josh Hamilton receiving his AL Player of the Month Award. Or something.
I'd really like that guy if he didn't play in our division.
And this guy blocked my view all night.
Sunday, June 1, 2008
My favorite day. Sigh.
kapers and mini-kapers were gracious enough to pick me up early so we could head to the park for PICTURE DAY! Sure, it was the Rangers, but it was awesome.
Outside view of the park:
The deepest parts of the ballpark: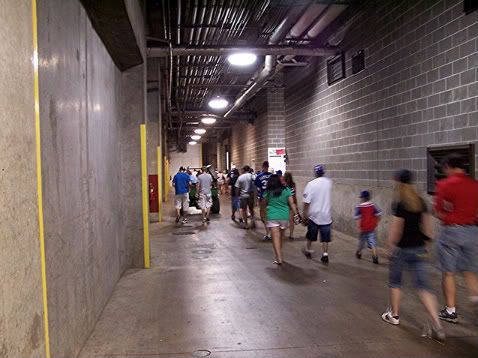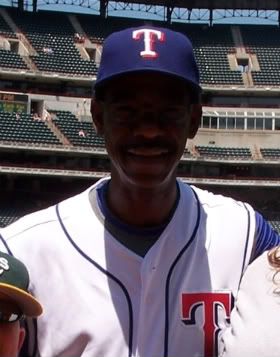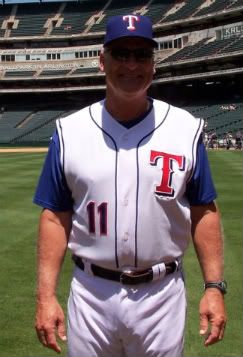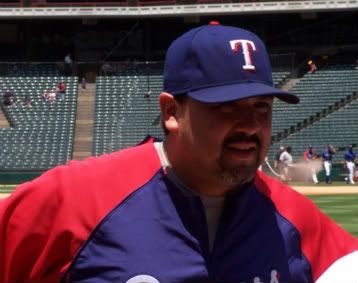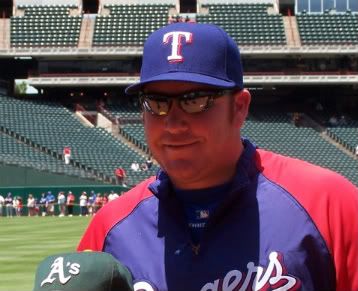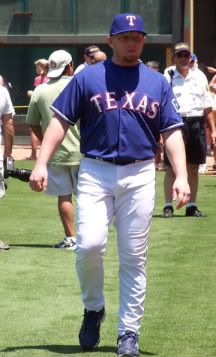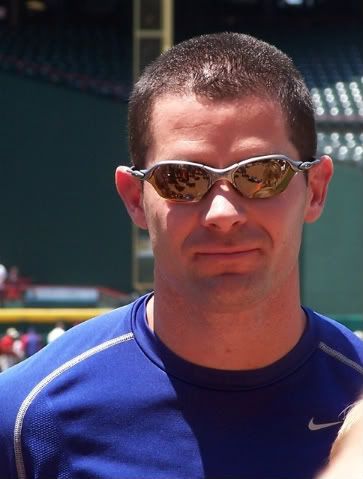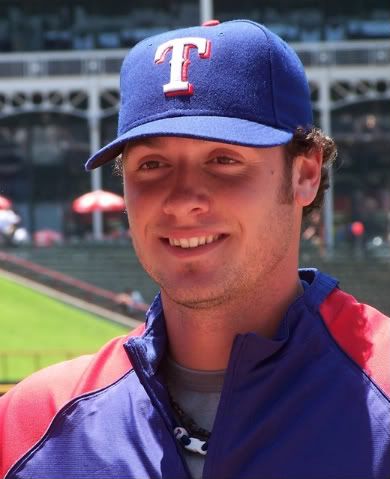 Josh Hamilton gets the Most Awesomest Player of the Day award.
He was very popular. The players started walking around the line over by the third base dugout. Unfortunately, by the time the photo session was over, Josh had only made it to the LF corner. Instead of being an asshole and running off the field when security told him to, he walked really slowly and took side steps. He even apologized for not being able to stop. I hate him. :)
Justin Duchscherer signing autographs: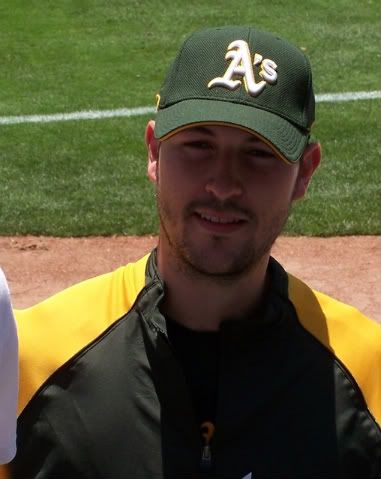 The back view of the scoreboard from our OF seats:
Greg Smith "warming" up. It didn't take too long since it a bajillion degrees on Sunday.
Rich Harden getting his running in. Okay, he was walking there: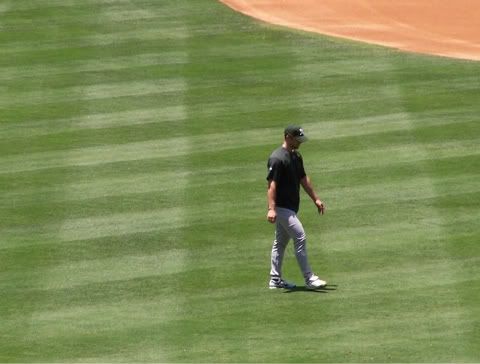 Rad Chad walking to the pen:
Jack Crust in the OF. He actually caught a ball:
We didn't stay in our seats too long. It was too hot for my fatass to sit out there all day. Kapers, mini-kapers, and I ventured over to the Rawlings Grille in RF.
Air conditioning. Drinks. Buffet. Televisions at the table. It might've been Heaven.
View from the seats in front of the Grille:
The seats were pretty nice. They had giant outdoor fans under the roof:
Maybe the A's should try a fake owl to keep the birds away. I hope that was a fake owl...
Back view of Travis Buck: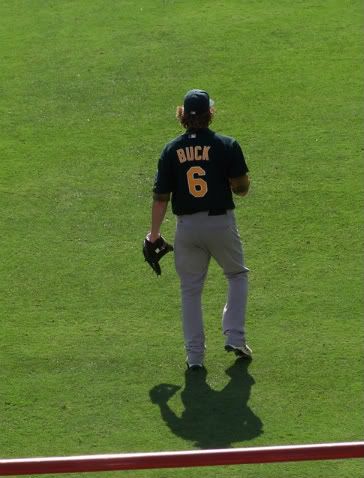 Front view of Travis Buck: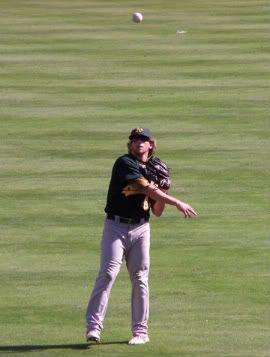 Huston is kind of a big deal in Texas.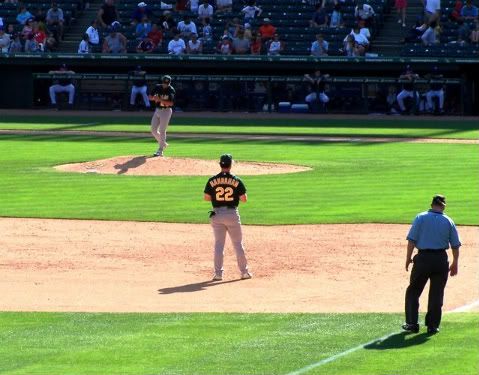 We have now reached the Brad Ziegler portion of the program.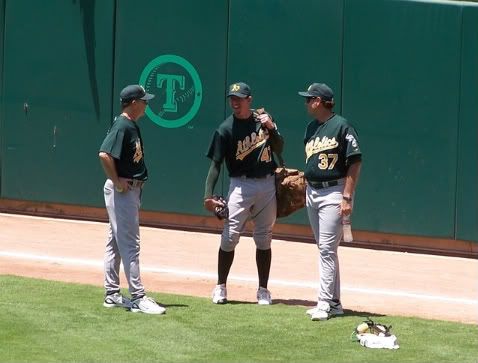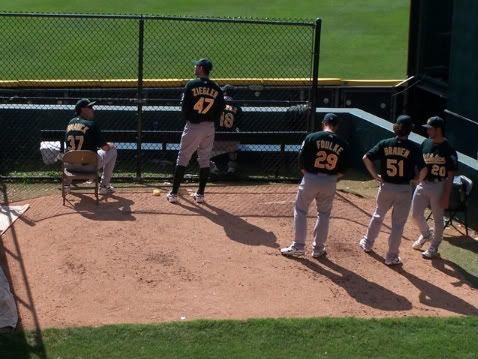 Kapers and I got to meet Brad, his wife, Brad's mother and father, and Baby Ziegler.
If you get the chance, say hi to Brad. He is so friendly and AMAZING. His entire family was, actually. It made me all warm and fuzzy.
Finally, a photo just for monkeyball: