Wednesday night was the Texas League All Star Game in Springfield, Missouri, the home of the AA STL Cardinals affiliate.
186 miles of this: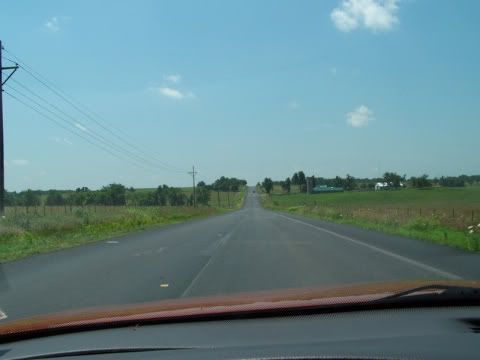 It was like a leisurely Sunday drive... for 3+ hours. I discovered I have way too many Garth Brooks songs in my iPod. I swear, every other song was one of his. Garth just isn't my type of driving music.
I just noticed there is a dead bug on my dash. Huh.
To the stadium!
Like most of my driving adventures, I ended up lost. I had a map and everything. I just wasn't paying attention, I guess. I don't know how I missed this: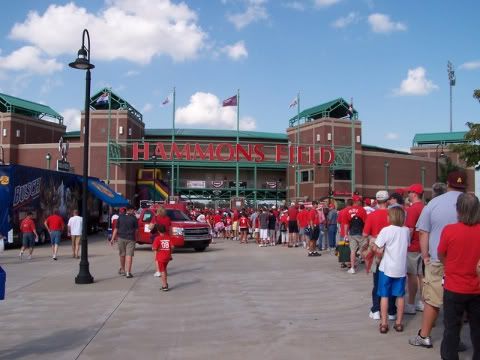 Before the game, Bass Pro sponsored a Home Run Derby.
Participants, one from each of the eight teams of the Texas League:
Allen Craig, Springfield Cardinals
Ben Johnson, Arkansas Travelers
Kila Kaaihue, NW Arkansas Naturals
Ben Harrison, Frisco RoughRiders
Tony Blanco, Tulsa Drillers
Tommy Everidge, Midland Rockhounds
Chris Johnson, Corpus Christi Hooks
Kyle Blanks, San Antonio Missions
As previously mentioned, Bass Pro, a big deal in Springfield, sponsored the HR Derby. There were large Bass Pro signs in left and right field.
If any participant HIT A BALL IN THE FISH'S MOUTH, the player and the fan they were playing for would win a bass boat. Sadly, Hammons Field couldn't contain many of the HR balls, and no one really came close to hitting either sign. Most of the HR balls hit went over the grassy knoll in the OF and in to a construction area beyond the park. The goofy roving reporter interviewed the guy who caught the first HR ball and I swear the guy said he had to race down to the railroad tracks to get the ball. I heard a train but I didn't see it, so I don't know exactly how far that was.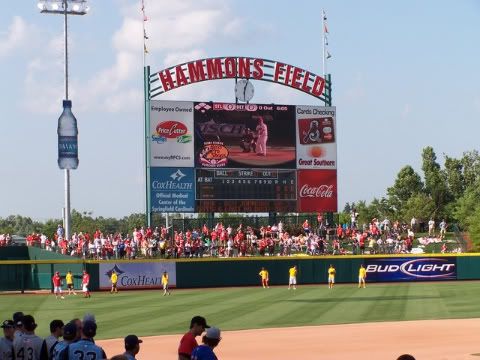 It was a very nice stadium packed with Cardinals fans.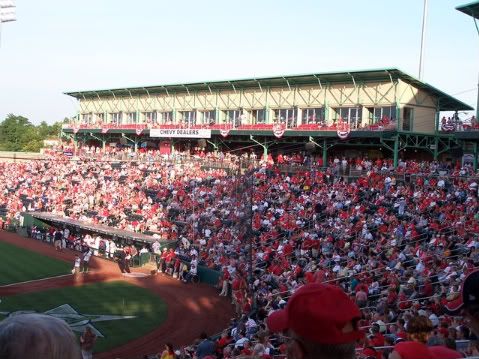 I had great seats that were pretty cheap ($20), but they were too good to take photos- the net blocked almost all images.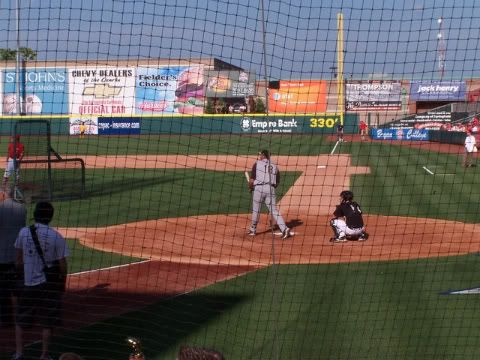 San Antonio slugger Kyle Blanks
This is the flag pole. Now, the Bass Pro sign was unpossible to hit, but this sucker wasn't. I don't remember the player who did it, but someone hit a rocket off the bad boy. DONG!

Anthony Recker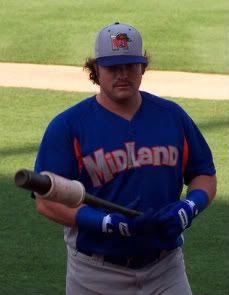 Tommy Everidge coming....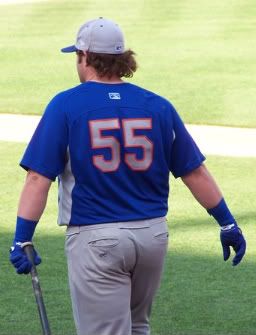 Tommy Everidge going.... This guy looks Jack Black's 35yo brother. His birthday is 4/20/83. Poor guy.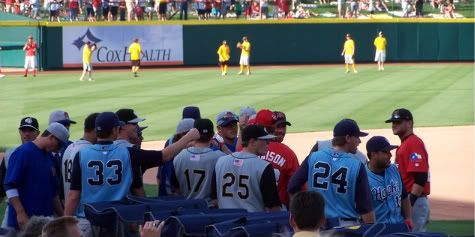 Players gathering by the dugout.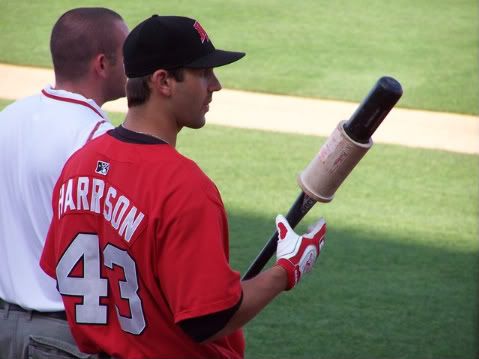 Frisco's Derby entry Ben Harrison.
Results can be read here. Spoiler alert: Tony Blanco won.
So, I'm waiting in line for a Reuben (great idea with terrible results), when a helicopter lands in the outfield. Now, all this time a small stage with drums and whatnot had been set up behind second base. I'm thinking someone awesome must be coming in for a concert or to sing the National Anthem. I was mistaken.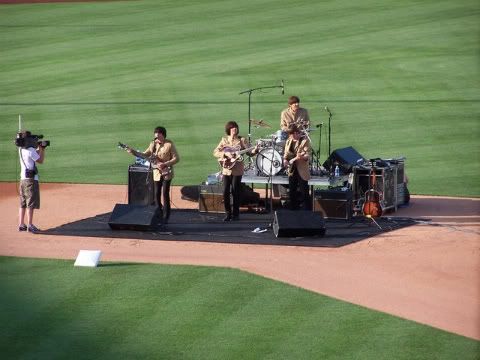 The Liverpool Legends... a Beatles Tribute band. They weren't William Hung.
The game finally got underway a little after 7:30pm. Player intros: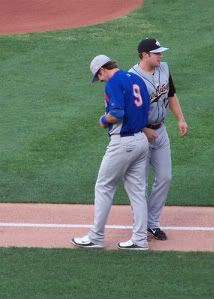 Midlander Jon Zeringue, starting RFer.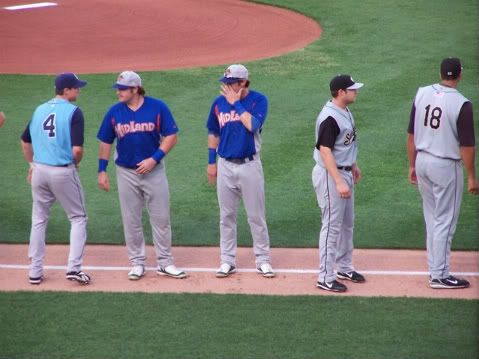 Jon and Tommy. What's with the porno mustaches, guys?

Midlander Vince Mazzaro, the starting pitcher, going to warm up.

OFers warming.
Mascot intros! WOO!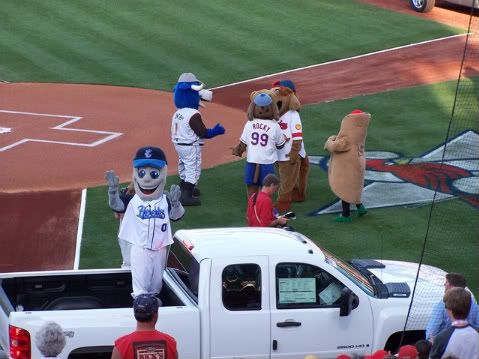 Rusty Hook.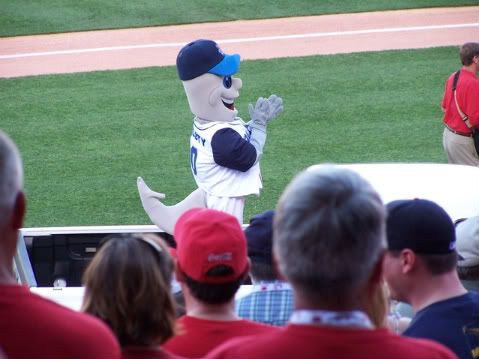 I am not kidding. I didn't think it looked like a hook.

What kind of name is Henry the Puffy Taco?

It sounds dirty.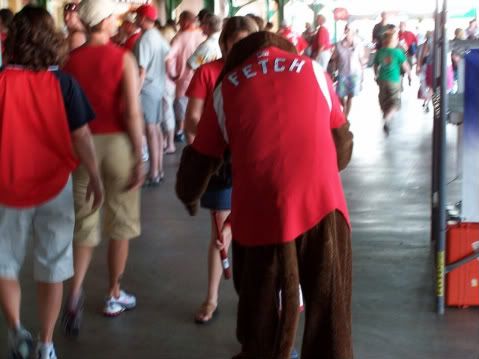 Someone is still trying to make Fetch happen.

Deuce. The Prairie Dog. No, seriously. I almost fell over laughing.
I made my way out to the bullpen to stalk watch Vince Mazzaro and Anthony Recker warm up.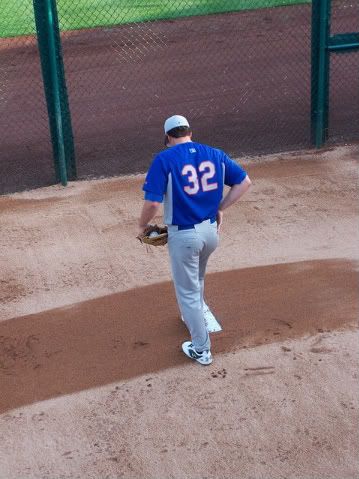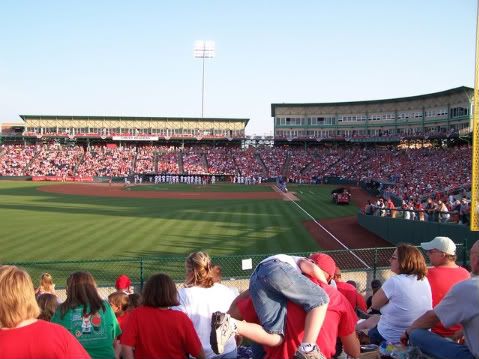 View from the OF.
Believe it or not, I went a little overboard in the photos of Mazzaro in the pen. Here's a slideshow: