 Those mean boys at Midland made James Simmons blue:
When James Simmons arrived at the A's Midland club last year, he became an instant target. Simmons was Oakland's top pick in the June draft, and he went straight to Double-A, which is unusual. Plus, he'd received a signing bonus of nearly $1.2 million, and there was some initial hostility toward the baby-faced right-hander…So the pranks began right away. Most of them were pretty gentle, such as the time when someone left a tricycle in his locker. The other pitchers made Simmons carry a pink backpack with candy and water for the bullpen. But when he was using the facilities one day and some of his teammates dumped a can of baby powder on his head, Simmons had had enough. "That was the last straw," he said. "It was about the third time. That's when I confronted them."
But withering scorn is merely another arrow in Billy Beane's quiver: "The A's brass had been watching to see how Simmons handled the expected abuse from his older teammates. There had been some dissenting opinions about sending him to Double-A rather than Class A or rookie ball with the rest of the June draftees, but the poise Simmons showed justified the decision."
If Billy goes to the Olympics this year I'm concerned that he may import struggle sessions as his next team building innovation.
There is, of course, only one True answer re "A's" and "Blue":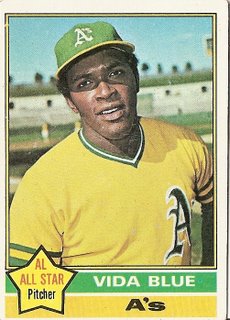 Pic and article from the estimable Cardboard Gods series; this installment includes a comment from someone improbably named "C. McFood." Sounds made-up, like "Alan Smithee," or "Richard Harden."
Here youtube shows us a guy with a horrendous swing taking BP cuts against Vida Blue, while getting (wasted) hitting tips from Nick Swisher.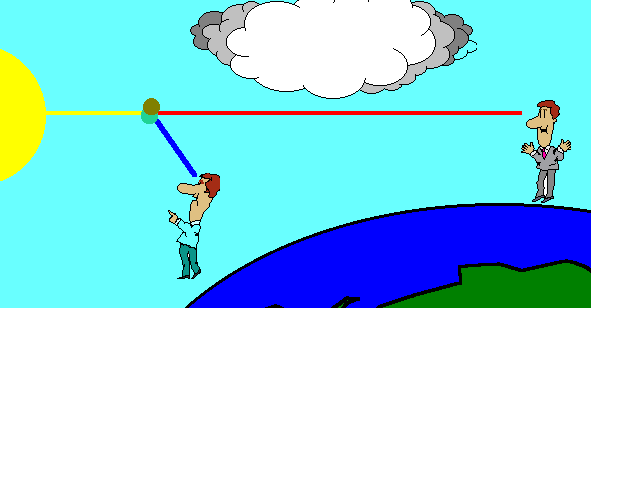 The sky is blue. Yup. Blue.
Boston Brahmin BlueBloods consider repeal of blue laws.
One of the laws provides a $300 fine or year in jail for anyone who "wilfully blasphemes the holy name of God by denying, cursing, or contumeliously reproaching God, his creation, government, or final judging of the world…The bill would also eliminate laws declaring the Communist Party a subversive organization, making adultery a criminal offense punishable by three years in jail or a $500 fine, and barring anyone from "acting in a suspicious manner around any steamboat landing, railroad depot, or any electric railway station."
Presuming Segways qualify as electric railway vehicles, this should come as a great relief to the intrinsically suspicious members of the AN Boston auxiliary (a fine subversive organization in its own right).
When I read about Felix Pie's latest injury I nigh-on bled Cubbie blue:
We figured that, with Mark Prior gone and Kerry Wood relegated to the bullpen, we'd be without the bizarre and frustrating injuries with which to taunt the Cubs fans in our lives. We should have known better. There was Mark DeRosa's "broken heart," which he had surgically repaired this week. Then Alfonso Soriano broke his swear finger. But the strangest? Felix Pie missed time because of a "twisted testicle" (!) So exactly how does one twist a testicle? [Ed note: Gently!]
Speaking of Cubbies and bleeding, here's a jaunty little account of the Illinois Sports Facilities Authority's plan to finance a $400 million Wrigley Field renovation "at no additional cost to the taxpayers," says former Illinois governor Big Jim Thompson. His secret? Additional costs to the taxpayers! Clever!
South Carolina to become Blue State?
Nine year old "Lauren Cunningham wants indigo blue to be named the state's official color. That's the background color on the state flag. Indigo cultivation was one of the state's first cash crops."
Oakland Tech's Quentin Thomas bids farewell to the Tar Heel faithful at Tuesday's "Senior Day" game against Florida State. Despite being recruited only to see two better point guards come to town the very next year, Q stuck with Carolina, earned himself some playing time, became a true fan favorite, and led the Heels to a 6-1 record during the last month while starter Ty Lawson was out with an injury.
There's this game Saturday, see, in which a shade of blue associated with the sky, beautiful eyes, adorable newborns and general goodness opposes a shade of blue associated—explicitly, mind you—with evil and infernal damnation, and included (at one time or another) in the uniform schemes of every non-Oakland team in the AL West. I believe the choice of all right-thinking A's fans is clear. Lord knows you don't have to be a Carolina fan to hate Duke…but if you are, oh man, To Hate Like This Is To Be Happy Forever.