This made me laugh, which, really, doesn't take much:
Games on today's schedule:
- Arizona at Cincinnati (2:10pm ET) Webb vs Harang
- Kansas City at Detroit (1:05pm ET) Meche vs Verlander
- Toronto at NY Yankees (1:05pm ET) Halladay vs Wang
- Milwaukee at Chicago Cubs (2:20ET) Sheets vs Zambrano
- Washington at Philadelphia (3:05pm ET) Chico vs Myers
- Tampa Bay at Baltimore (3:05pm ET) Shields vs Guthrie
- San Francisco at LA Dodgers (4:10pm ET) Zito vs Penny
- Chi White Sox at Cleveland (3:05pm ET) Buehrle vs Sabathia
- NY Mets at Florida (4:10pm ET) Santana vs Hendrickson
- Texas at Seattle (6:40pm ET) Millwood vs Bedard
- Colorado at St. Louis (4:15pm ET) Francis vs Wainwright
- LA Angels at Minnesota (7:05pm ET) Je. Weaver vs Hernandez
- Pittsburgh at Atlanta (7:10pm ET) Snell vs Glavine
- Houston at San Diego (10:05pm ET) Oswalt vs Peavy
- Results from previous action: Washington beat Atlanta 3-2. The Nats opened their new stadium: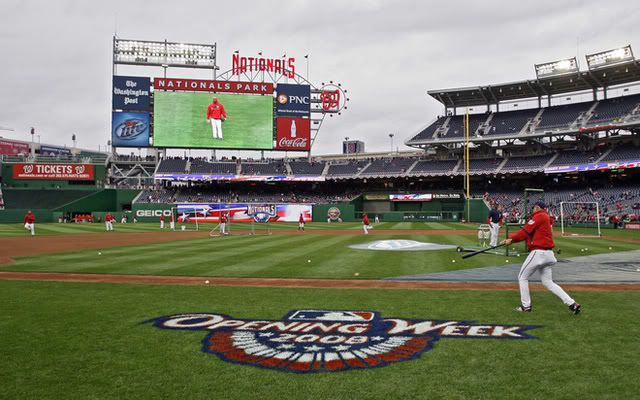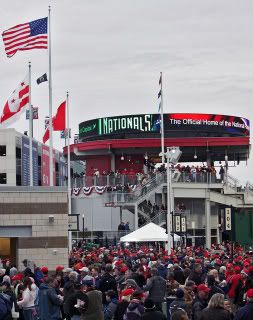 - Miss any of the off-season action? Here is a recap.
- nom nom nom! Orioles eat $11.9 million by cutting Jay Gibbons.
- Ethier gets Opening Day start in left.
The Dodgers chose speed over power when they picked up Juan Pierre in free agency, but now they have fast-tracked the outfielder to their bench in year No. 2 of his $44 million contract.
- Older news: AZ's Doug Davis diagnosed with thyroid cancer
Doctors discovered a lump in Davis' throat during a routine physical on Feb. 6, Davis said. On Wednesday, biopsy results revealed it to be cancerous. Davis will have his thyroid gland removed and is expected to be out of the hospital the day after the operation, Diamondbacks head physician Dr. Michael Lee said. Lee said the team doesn't have a projected return date for Davis but said it could be within four to six weeks.
- Duchscherer finds his place as A's starter
Duchscherer spent the spring reinventing himself to suit the 2008 A's and his own ambitions. He had worked more than four seasons in the bullpen, gently lobbying the whole time, reminding people that he was a natural starter. "I tried to do it cordially," Duchscherer said.
Cordially? Pshaw! You're supposed to throw a hissy fit, damnit!
- LL asks: Travis Buck or Jacoby Ellsbury?
I think Ellsbury gets too much backlash for being so overhyped That said, fuck Boston. Buck.
Fair enough.
Finally,