A very large "Thank you!" to Blez, BBG and the entire AN community for showing up and making AN Day 4 another fantastic experience. Once again, the best part of the whole thing, for me, is just getting to hang with familiar AN'ers and meeting LOTS of new ones. Clan McFood had a grand old time, and we got to watch a win too! The A's are now 3 for 4 on AN Days. An extra thanks goes to xbox for giving his BBQ voucher to one of my daughters, as we were unable to purchase extra ones on short notice. I never did get to buy you a beer, but I owe you one! The pics will tell a better story than I could, so peruse with your peepers, people:
This has nothing to do with AN Day, but I liked my daughter's cake, and it's my diary, so...

The Father, the Son, and The Holy Toledo!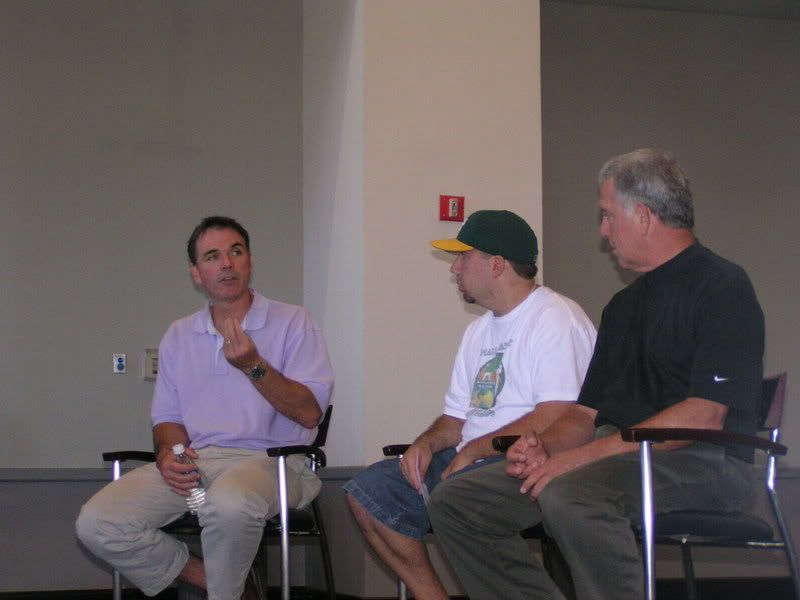 AN'ERS ASSEMBLE!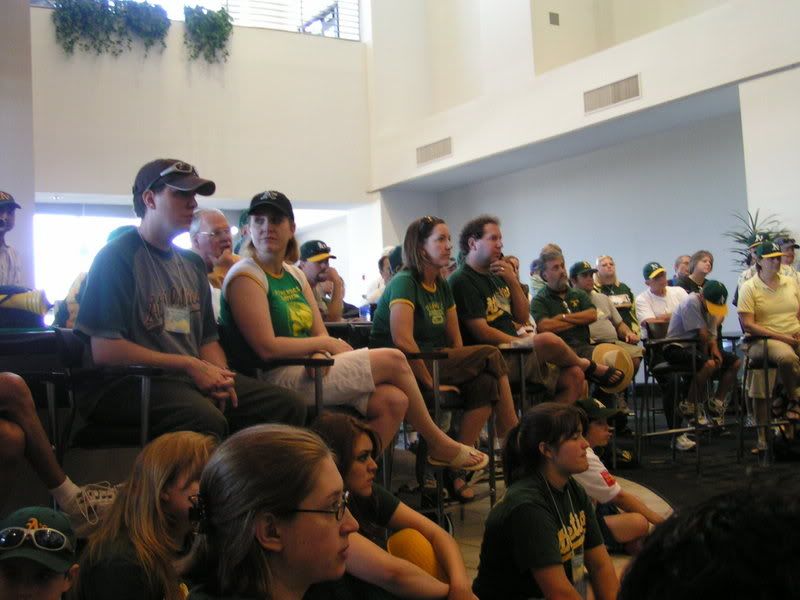 Zonis, aka "Mr. Lucky"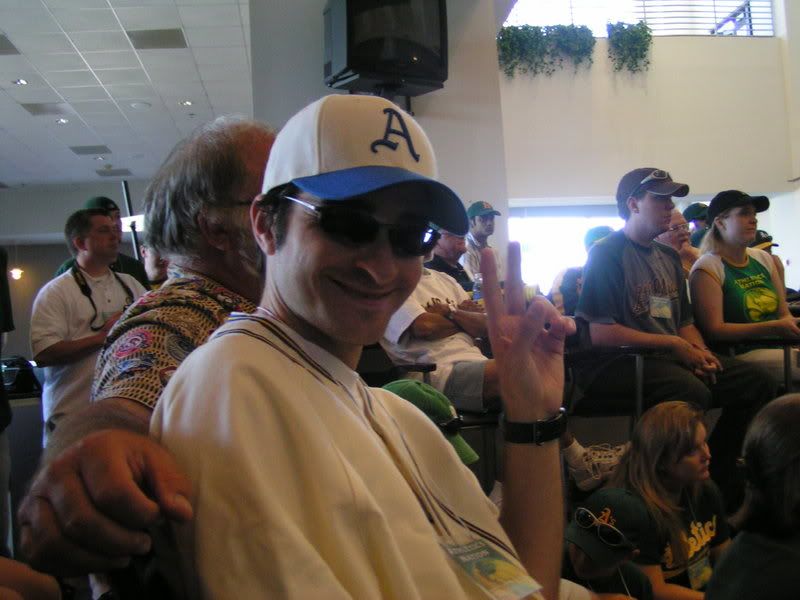 Rickeyfan, front and center

Various AN'ers, please identify yourselves! Thanks!

MikeHeath, Sal, and Apricot all sporting the original AN ringer tee, except MikeHeath accented with a Holy Toledo patch. Sal, Apricot, you just got fashion PWNED!
Some like sun, some like shade, but nobody likes Sinead O'Connor

A sea of green, I love it!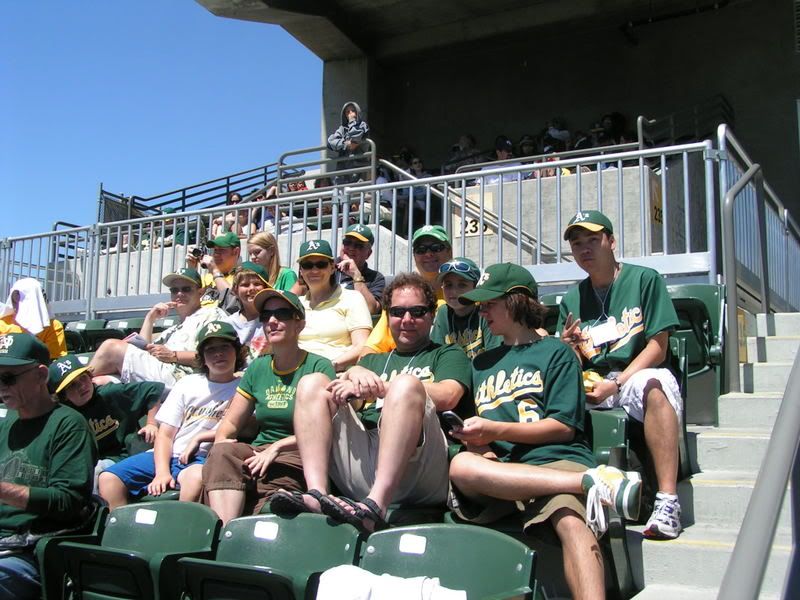 Some people, with faces, and...stuff. Nico's hat still has that "new car" smell.

I'm digging Nick's old school A's cap in the lower left.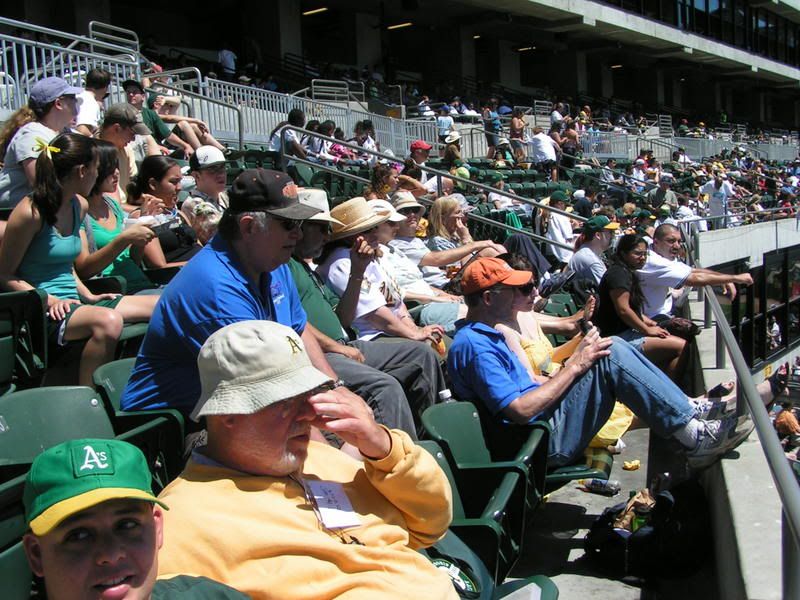 Melody, grover, Louis & Bear88. xbox practices his scowl in the background.

AlleninSF & Devo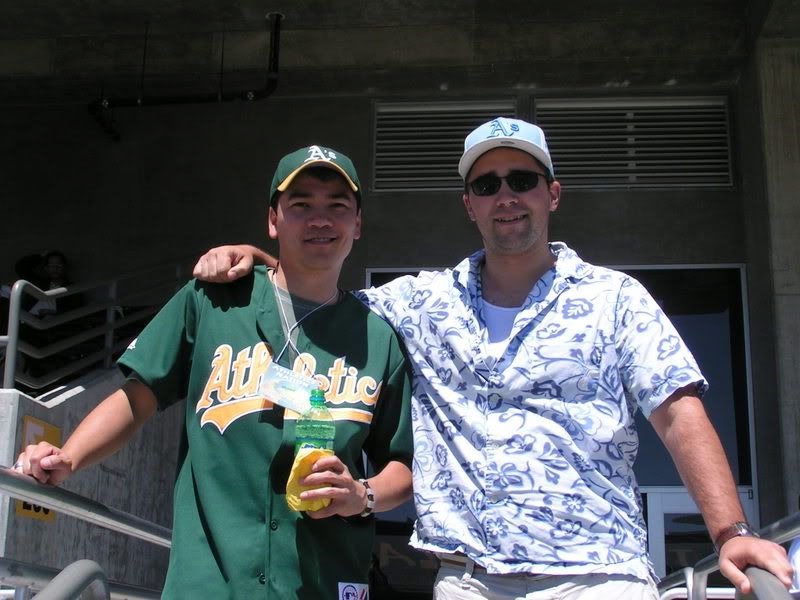 Sal & McFood. You would think a college grad would know better than to fall for the old "pull my finger" trick, but you'd be wrong.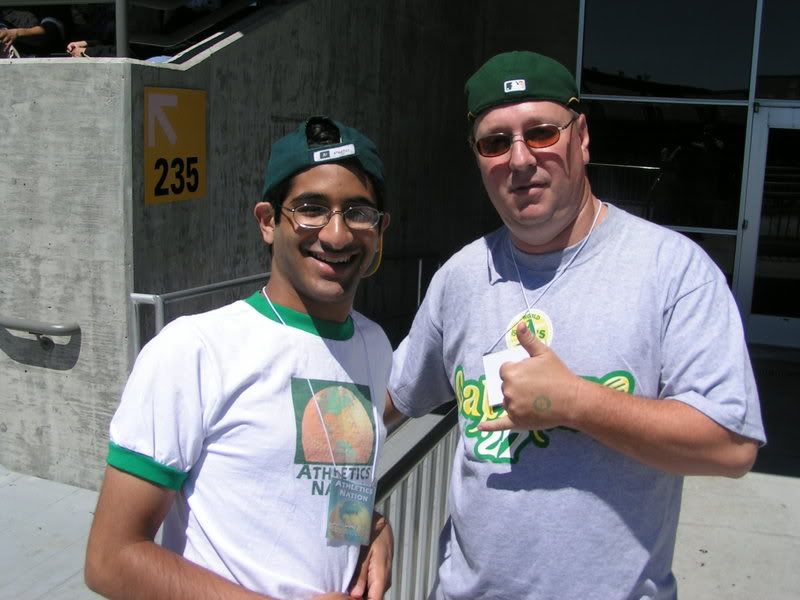 OH MY GOD! Poppy was standing right next to me when this pic was taken! But when I got home and downloaded the images... <cough>succubus<cough>

Devo & Brad, or Buzz...or something.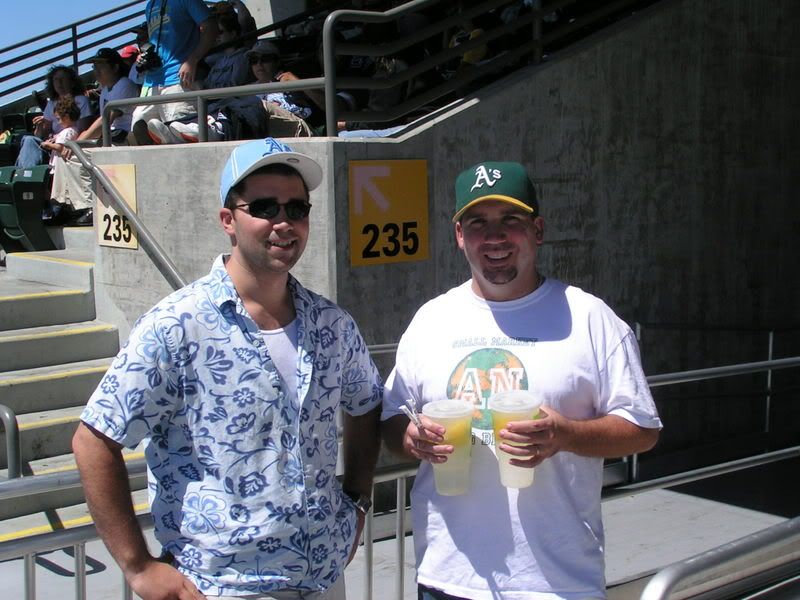 Robb, Ohad & friends, I think.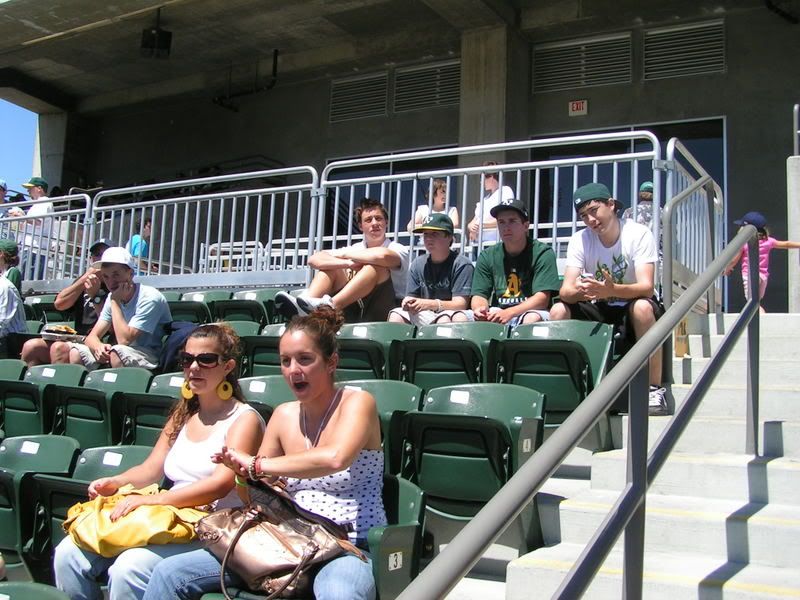 Melody tossing her cookies, GreenNGoldGirl rockin' the high socks, grover offering a rebuttal whilst monkeyball lurks behind.

Back Row: sslinger's SO, sslinger, ohtobe21likehuston(I think) Front Row: McFood, monkeyball O'Town stylin his $5 BART Bridge hat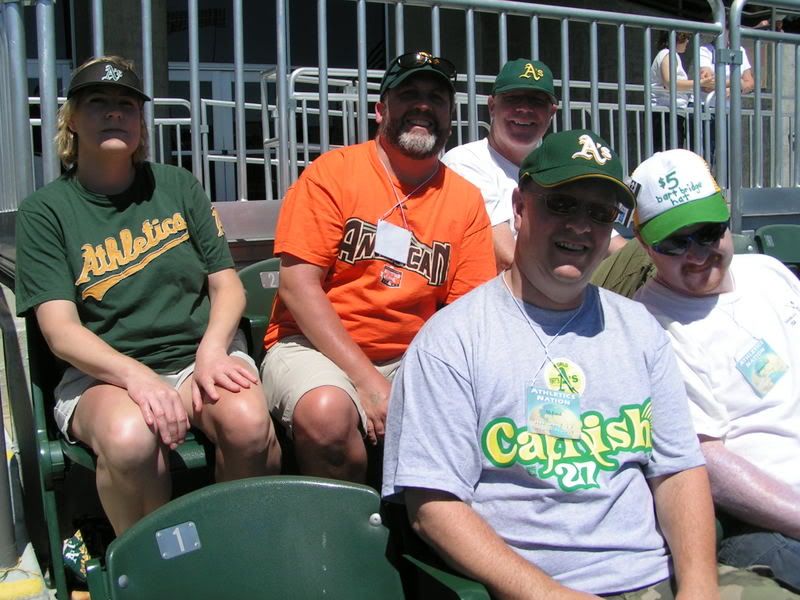 Clan McFood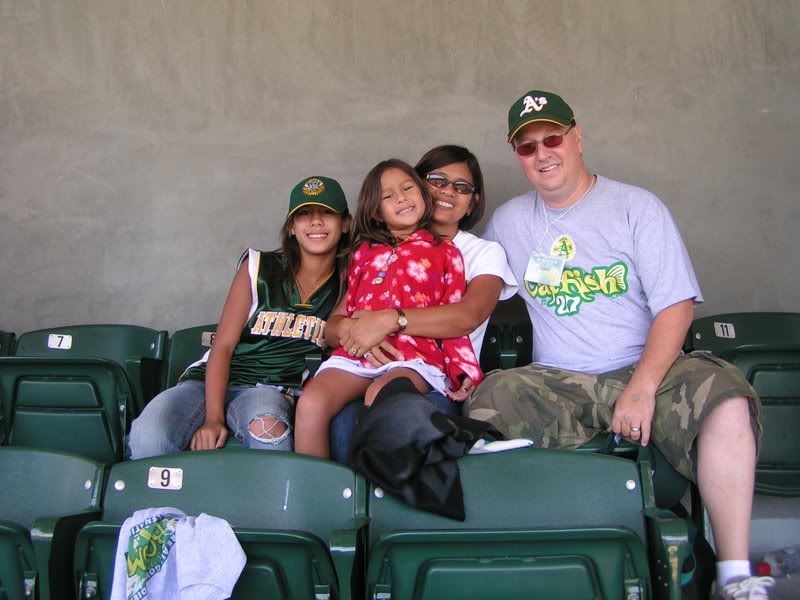 McFood & Ice Cream stage an impromptu gun show. Easy, ladies, they're taken. Or should that read, Easy Ladies, they're taken.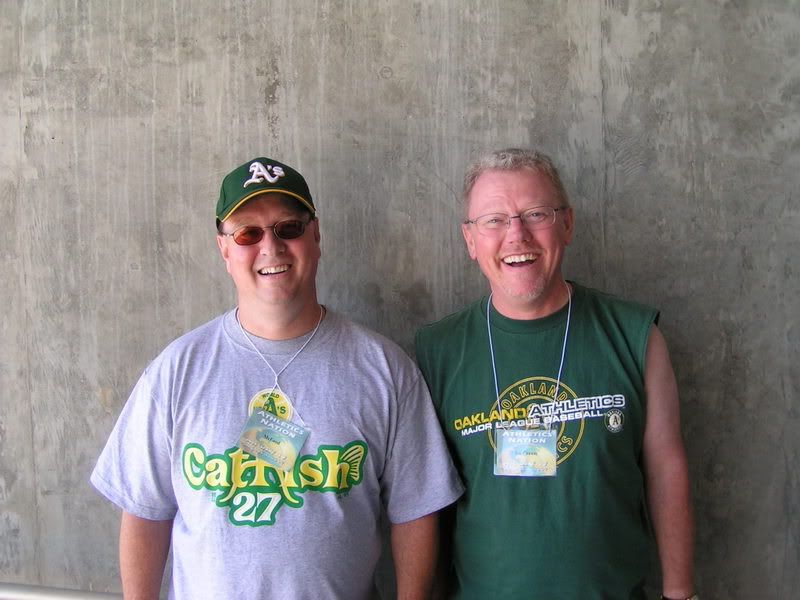 Hopey plays hide 'n seek with Mrs. McFood. Cuter than that is NOT possible.

The Midwest AN Travel Squad, in formation. Hmmm...we seem to be missing the queen bee.

Batgirl wins "Best of Show" in the cutest hat competition with a sparkly number. Who can resist sparkly things?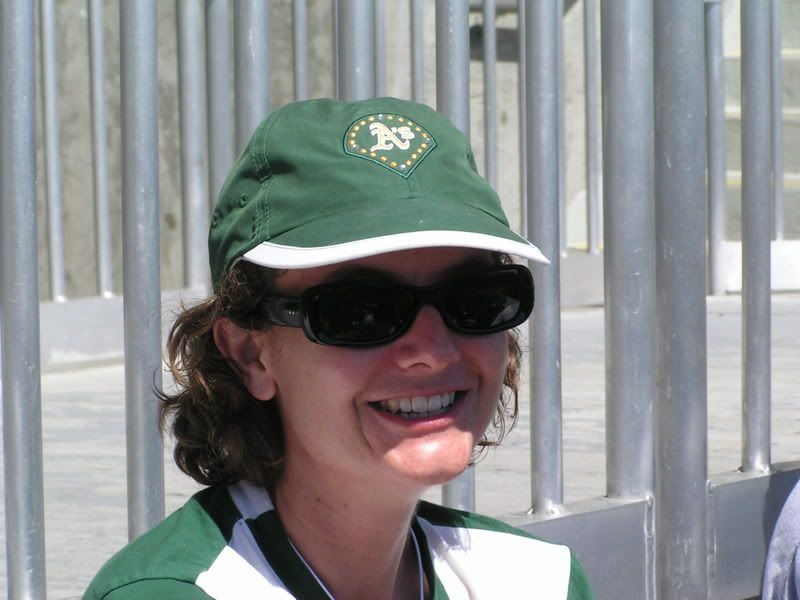 xbhaskarx, monkeyball's sun tan lotion covered elbow. Can you tell them apart?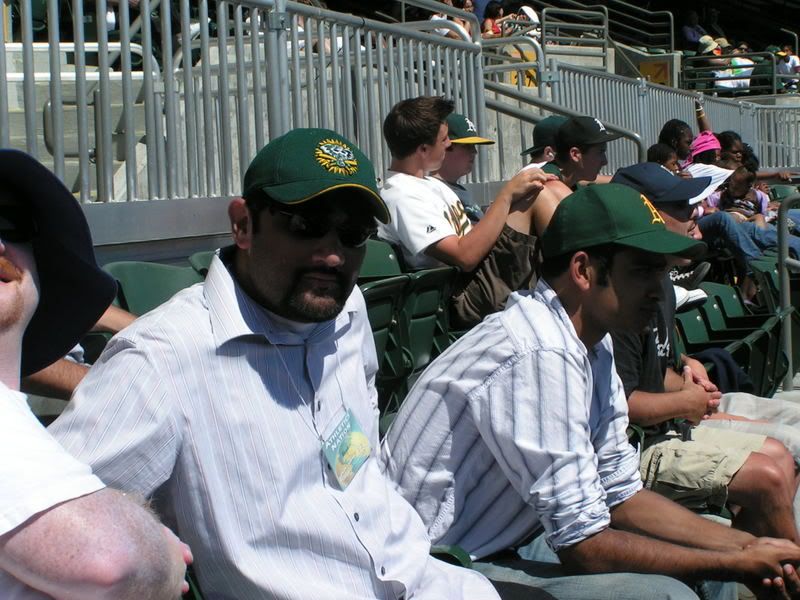 AN rises to its feet with two outs in the ninth and the A's clinging to a one run lead!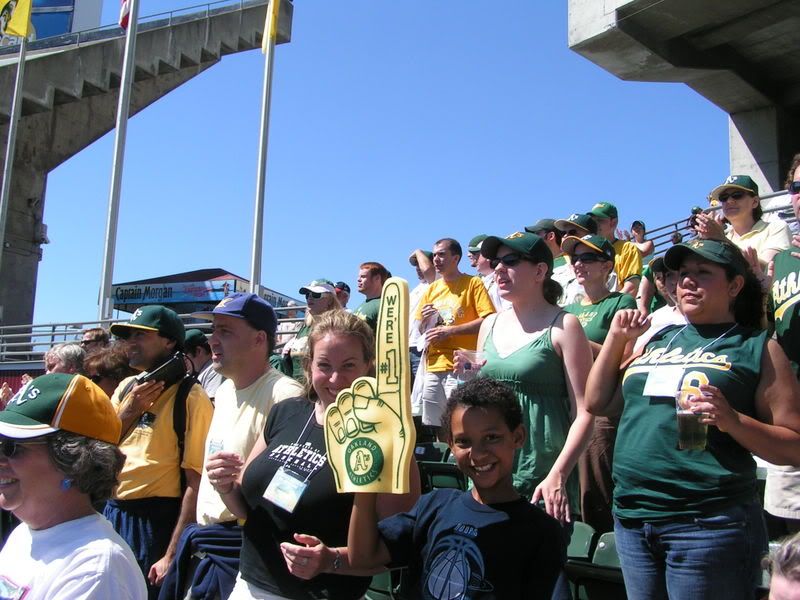 Embree readies for the delivery!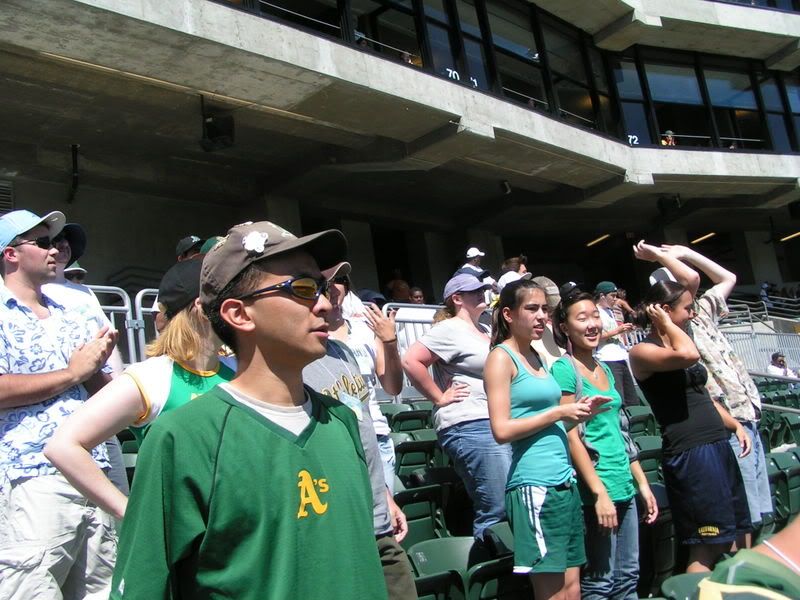 We're on the verge of victory!

One more strike will do it!

The batter digs in!

Three outs, we win, and Nick trumpets out our victory cry!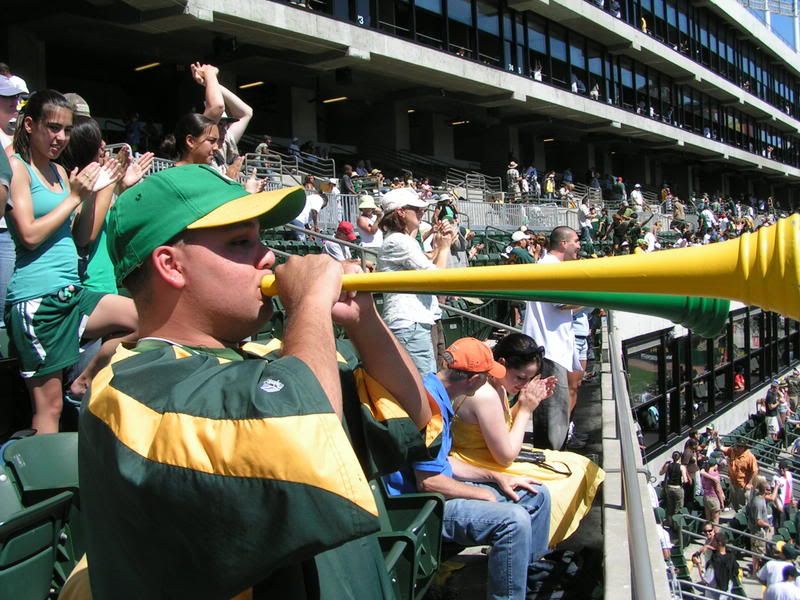 Ok, I'm hella tired, so that's all folks!