The line forms behind sal, folks. Please take a number. No shoving. No cutting in line. No holding places. No flash photography.
First, HAPPY BIRTHDAY to BCG and Mr. Poppy!
To the links!
Swish was on the Best Damn Sports Show Period last night. They don't have the video up on the BDSSP page, so you'll have to do a little digging.
Click on any video under the VIDEO section. Search for NICK SWISHER (duh) and it shows up. Also there is a Best Damn Bonus clip.
My fave part of the interview on set had to be the lightning round or whatever.
Q- Ever get bored during a game and look for hot chicks in the stands?
A- Yes.
Q- Ever go home with any?
A-[long pause, blushing (he does that?)] Maaaybe.
Update on the sad story about the foul ball killing Minor League Coach Mike Coolbaugh.
Coroner Mark Malcolm told the Tulsa World Tuesday that the line drive hit Coolbaugh on the left side of the neck while he stood in the first-base coach's box during Sunday's minor league game in Arkansas.
This causes an artery to rupture in his neck, causing a loss of blood to his brain.
I'll believe it when I see it! Harden says he's progressing in his treatment/rehab/exorcism.
Harden is working with light weights and doing a lot of rotational exercises and, he said by phone Tuesday, "I'm definitely feeling good about how I'm progressing.''
Harden will meet the team in Seattle on Thursday, but he's not sure if he'll return to the Bay Area next week to continue rehab or go back to Canada to keep working with Grimes.
Gary Matthews Jr. greeted Embree with a line drive into the right-center gap, but Buck ran it down and pulled it in with a dive to end the inning.
"I loved it," Embree said. "It's fun to watch him do that kind of stuff. ... He's a very gifted athlete."
As opposed to, say, lumbering outfielder/designated hitter Jack Cust?
"I asked Jack if he'd have had that, and he said, 'Yeah,'" Embree said with a smile. "He wouldn't even have had to dive."
Today's game starts at 12:35 PT. Cupcakes versus John Slackey. BE THERE!
Travis Buck photos for pam5981 all of us:
It's a bird! It's a plane! No, it's a flying Buck!

"I like to hit things."


"That's why Lenny's stockpiling asses for me."
Back when he had hair: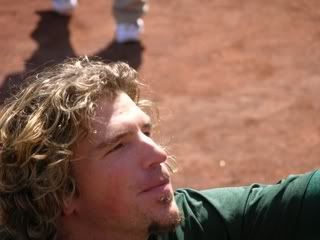 Finally,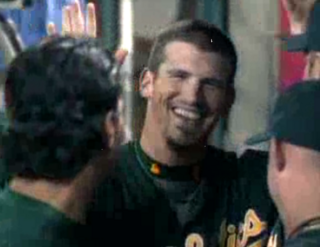 Here's to a great day!