Ok folks, as promised I am bringing you all my pictures from New York! Ok, maybe not all, I took over 1,500 pictures while I was there. Even I get a little bored looking at them all!
I went to New York with the main objective of watching the A's play the Mets and the Yankees, but since I had a little time in between the two series, I was able to squeeze in some touristy things.
We flew into JFK on Friday June 22nd. My advice to anyone flying into JFK, plan a whole day for travel. After the 6 hour flight we sat on the runway for another hour waiting for a gate and then another hour waiting for our bags, THEN another hour waiting for the shuttle to take us to our apartment. We left the Bay Area at 7am and didn't get to the apartment until 8:30pm! Not the ideal way to start our trip.
This is our first view of the city!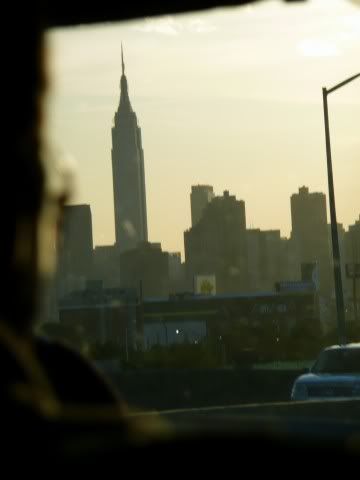 So on Saturday we had some time to kill so we decided to get lost in Queens for a while looking for a Peruvian restaurant that was closed! That was an unpleasant experience. One I hope never to repeat! But after we discovered the restaurant was closed, we headed over to Shea. We got there a half hour before the gates opened and were able to be very near the front of the line to get in. I saw a small handful of A's fans walking around. I was wearing my Joe Blanton shirt, cause that is what I wear every time he pitches. So I got a lot of people calling out to me, "Hey! JOE BLANTON!!! YEAH!!" That was pretty cool!
This was my first view of Shea stadium after getting off the Subway: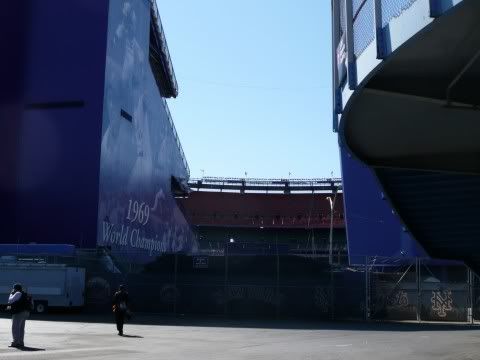 So once we got in we walked a little ways down to the third base line to watch BP. Here are a few pictures of the stadium from there.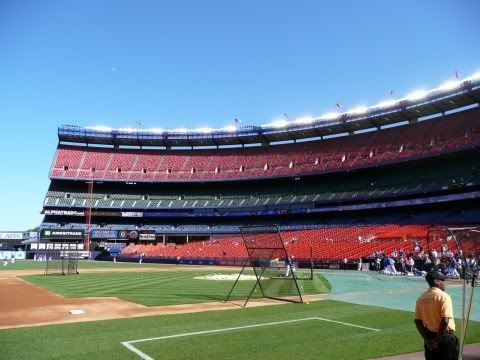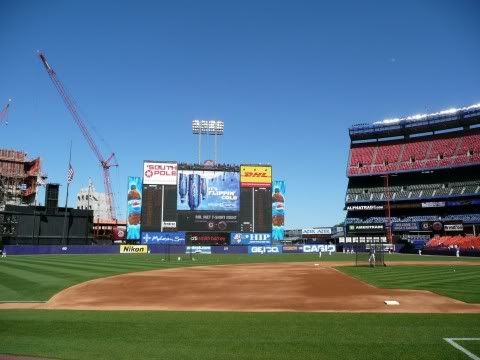 Then we watched a little bit of BP. While we were down there, that was the first time we were really absorbed in the New York Accents. I was having a blast just listening to people talk. There were a couple of insane chicks in the box next to me! They had some cryptic sign for one of the players that apparently was an inside joke for him. He obviously got it cause when he noticed the sign he started cracking up! These same chick apparently met Swish at Spring Training. When they saw him on Friday she told Swish she had his jersey and wanted to know if he would sign it for her. He said, "Only if you wear it!" Good BOY!! Well her response was that it was a kids size and she was a larger woman, so it wouldn't fit. But she brought it anyway and they were trying to get him to come over like crazy! That woman was LOUD!! I mean, LOUD!!! But it was really kinda cool watching her try and interact with the players. She was hard core!
Anyway, while we were standing there, we started talking to a lot of Mets fans. I got a little razing for being an A's fan, but it was all in good fun. Every single time the conversation went something like this:
Mets fan: OH!! We have an A's Fan! Uh OH!
Me: Yup! Proud of it!
Mets fan: So, are you from Oakland?
Me: Yeah, I am from the Bay Area.
Mets fan: Oh that is cool, did you come out for the game?
Me: Yeah, I am staying until next Sunday so I can go see the Yankees game too.
Mets Fan: Oh man! Why would you want to go there?
Me: To see my boys of course!
Mets fan: Well that is really cool! What else are you doing with your time here?
Me: Oh, the typical touristy things, Statue of Liberty, Empire State Building, ya know.
Mets fan: Oh yeah, that is good. You really should try and do this.... (Insert suggestion here!)
EVERY TIME! With very little variation. They were all awesome and had TONS of New York advice for me. They were all so friendly and kind. Nobody said a genuinely bad word about my boys or the fact that I was a fan. If anything they complimented me on the fact that I was such a fan that I would follow them around the country!
So we stood around and watched BP. I talked with a woman who was BEYOND in love with Mike Piazza and wanted to meet Alan Embre, cause he apparently did her a favor once upon a time and wanted to thank him. She had a sweet camera so we chatted about that for a while too. Here are some of my pictures from BP: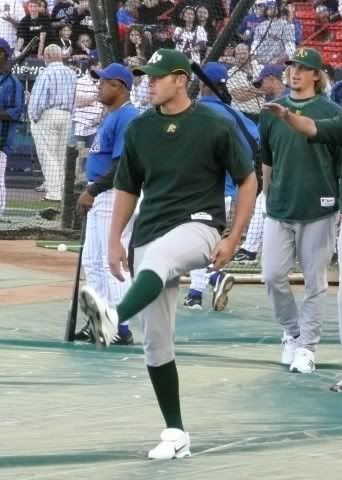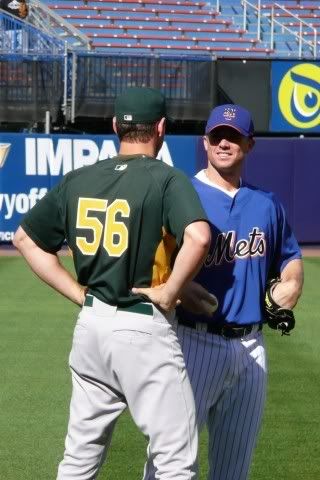 Yeah... YUM!!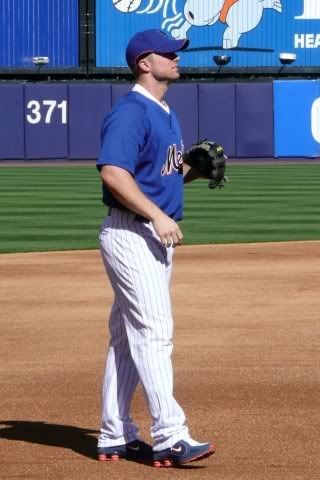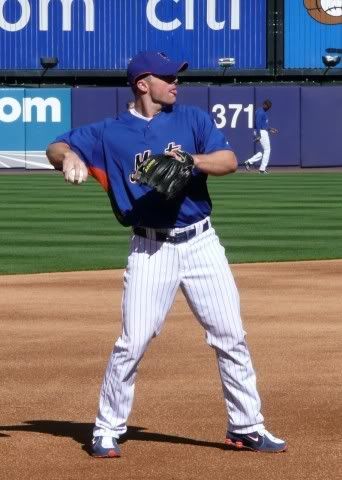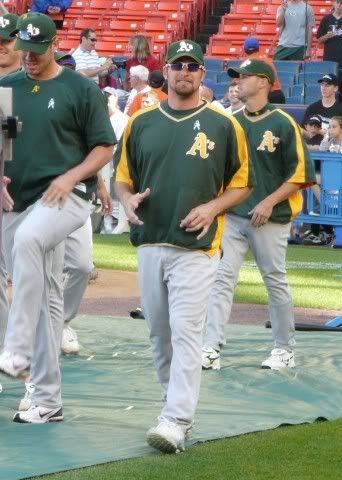 My friend is not the biggest baseball fan in the world, so I tried to make BP short. We headed up to our seats and discovered we did actually have a rather nice view.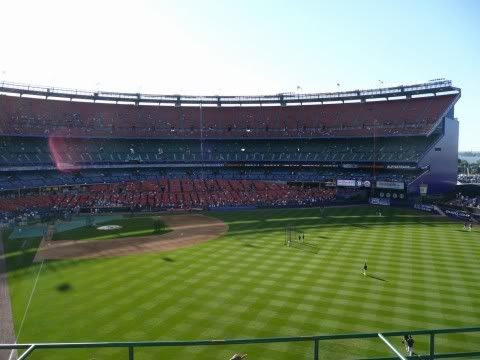 Here are some other pictures of views from near our seats:
The outside of Shea, Just above the last S in Express on the sign, you can see the beginnings of the new Shea Stadium.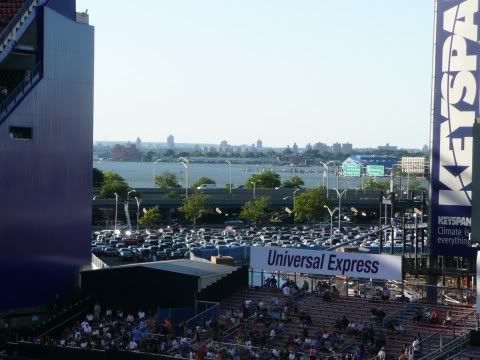 This is Outside, behind Shea on the other side of the Subway station: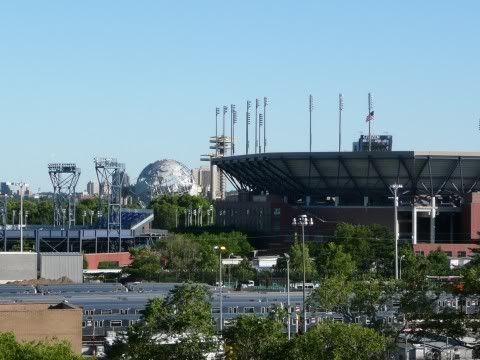 Ok, so what is the deal with Dunkin' Donuts?? They are EVERYWHERE! And people are obsessed with them!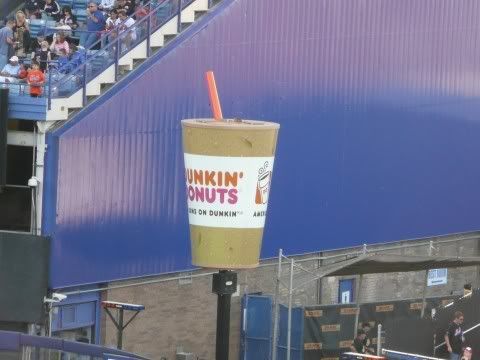 As the sun was setting over the stadium, I snapped this picture of the flags along the top of the Stadium:

When the game finally got under way, the A's had Mike Piazza bring out the line up card.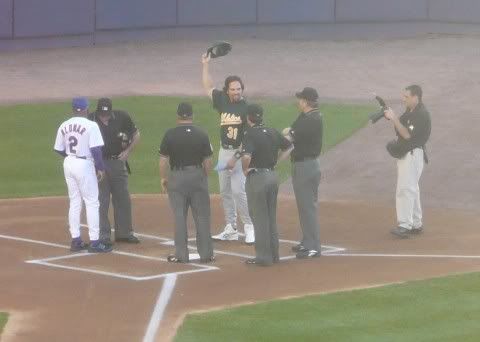 I was very impressed with the reception he got. There was a standing ovation for him the entire time he was out there, and he did the gentlemanly thing and waved his cap to the crowd! It was a pretty neat moment!
The game got going and it was a perfect pitchers duel, like we knew it would be with Blanton on the hill. Oh and he was at bat too!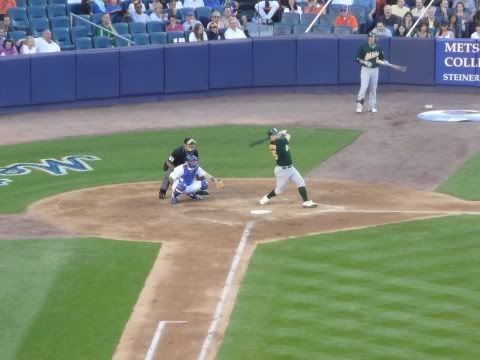 Mr. Met shot t-shirts into the crowd: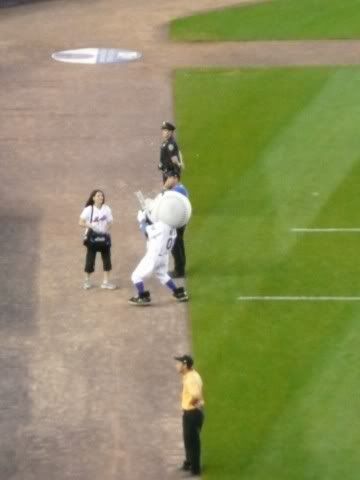 Paul LoDuca lost his mind!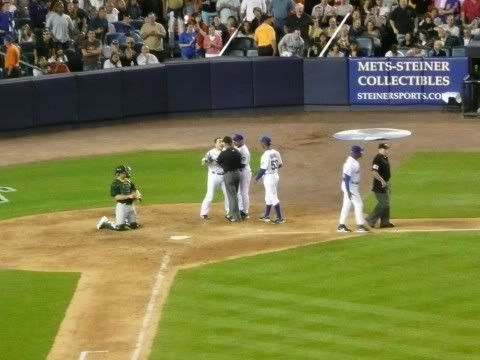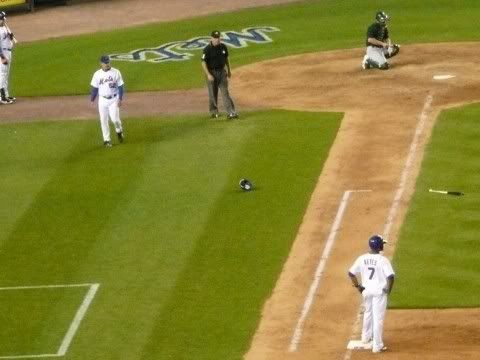 I got up close and personal with David Wright!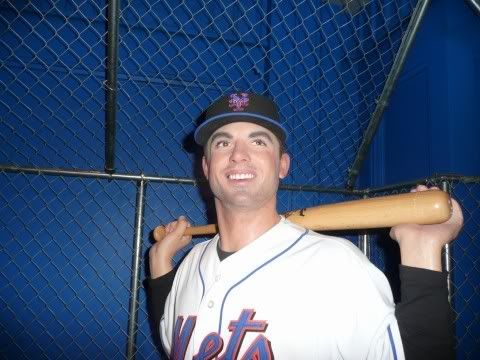 Just kidding, this is actually a picture from the Wax Museum... Sadly...
And the Mets won on a walk off hit by Mr. Wright!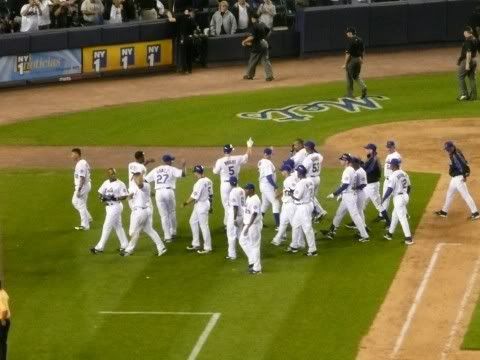 All in all, I really enjoyed going to Shea Stadium. It may have been a bit of a boring park, but the fans were nice and it was a good game. I was impressed with my time there.
During the week we had a ton of time to kill between our baseball games, so we decided to do all the typical New York things.
We went to Time Square... A LOT!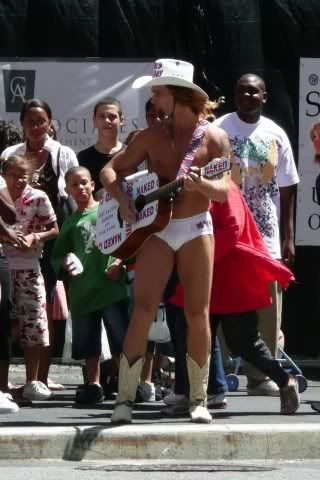 We went to Central Park on Sunday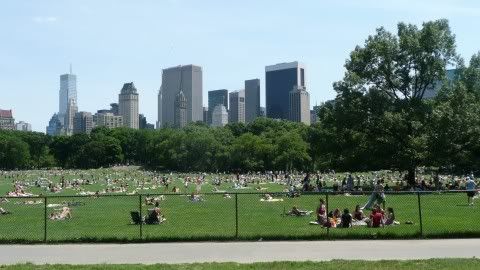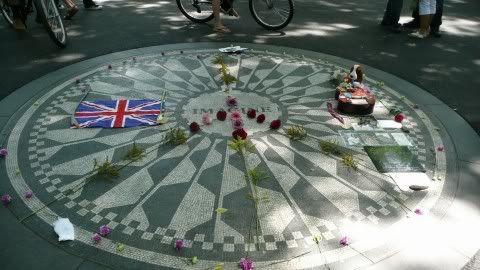 Followed by a circle cruise at night that I would highly recommend. It is called Harbor Lights and it goes around the bottom half of Manhattan at sunset. Super Awesome!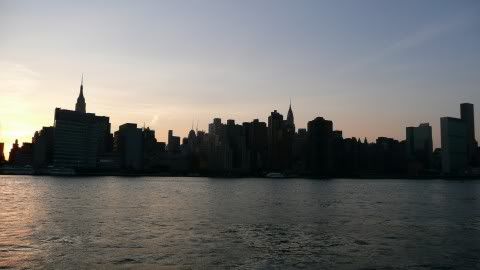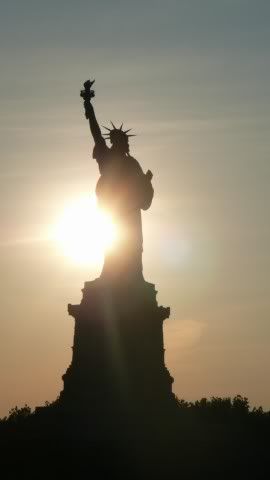 Empire State Building on Monday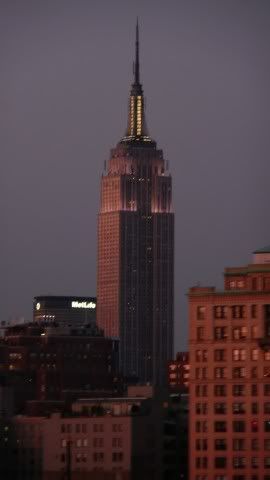 Followed by checking out the "Friends" Building! Definitely a highlight of my trip!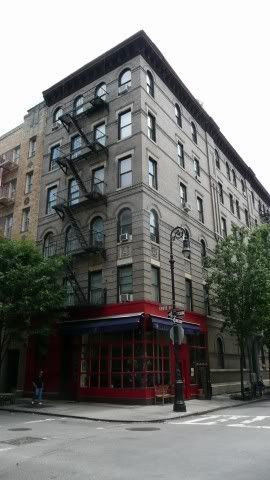 On Tuesday we went to the Statue of Liberty and Ellis Island. My recommendation: GO EARLY! Mega security checks in that place! Lines like crazy! Get there right when it opens! But it is well worth the wait!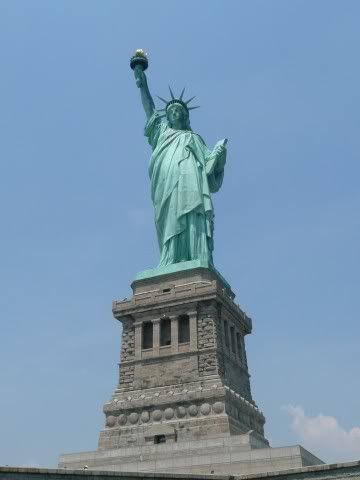 This is a replica of the face of Liberty. My head comes to about her cheek bone.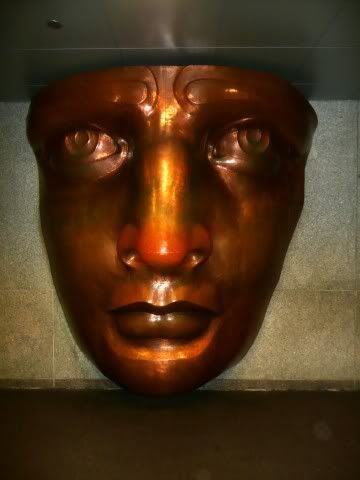 Then we went over to Ground Zero. This was really hard seeing that and going to the Tribute Center. Absolutely something you must do in New York, but my friend knew a woman who died there and it was hard for her.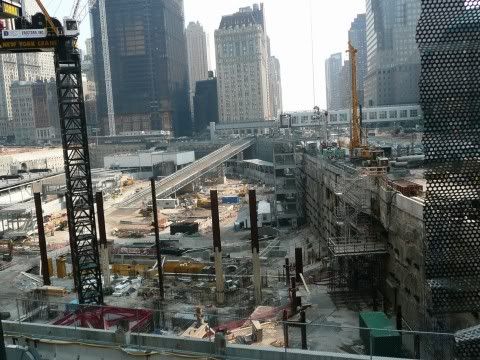 This is a plaque that the FDNY made for all the fallen firefighters in 9/11. It is massive! And beautiful.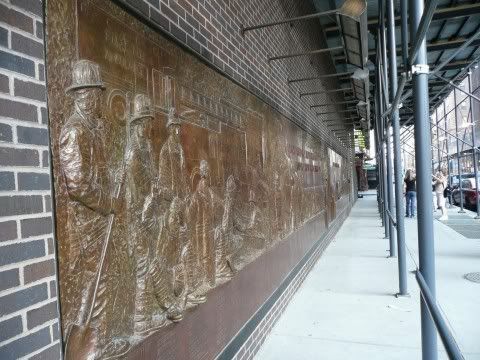 While I was there trying to take pictures of it, a man stopped in front of it and right into my picture. I thought it was terribly rude until I realized he had stopped to pray. He was obviously on his way to work and it was almost like stopping there to pray was part of his routine. It was rather touching.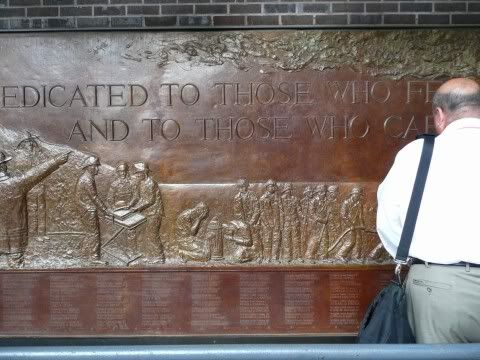 From there we went to Grand Central Station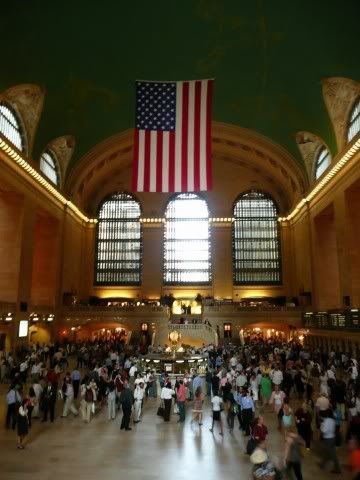 On Wednesday we went to see the Lion King, which is one of the best plays EVER! I am sorry, they wouldn't let me take pictures inside.
Thursday we spent the day doing a lot of shopping and visiting Museums. Kinda boring really, glad we went, but no exciting pictures to share.
Friday we went to the Brooklyn Bridge and finally got our hands on "New York City Pizza!"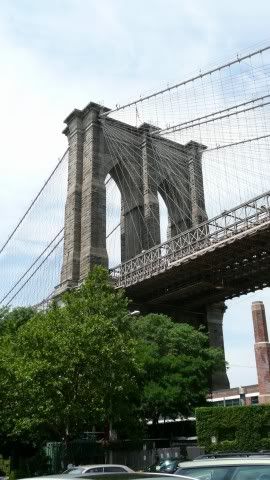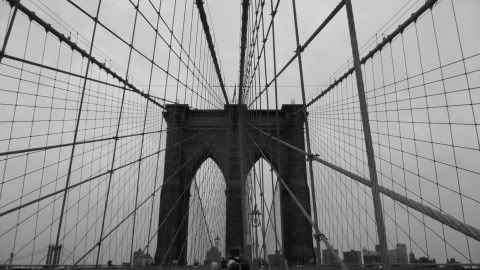 Saturday was spent at Yankee Stadium. We were unsure of the way we would be treated going there, so we opted to put our A's stuff on once we arrived at the stadium. Not necessarily a bad idea, but one I soon discovered wasn't necessary. I did not have one single word said to me from Yankee fans. I was impressed. No snide comments, no jokes, nothing. One man did make a comment inside Monument Park, but I don't know if it was meant to be derogatory or not, and my friend jumped in to defend me so quickly, I didn't have time to think about it. But I will get to that in a minute.
Entering Yankee Stadium is like going to the airport. Security is tough. They check everything. You even have to turn on your cell phone and show them that it is real. Fortunately we entered through the gate that was closest to Monument Park cause the line got long FAST!
While we were waiting to get into Monument Park I snapped these pictures of the stadium itself.
First a picture of the construction going on with the New Yankee Stadium!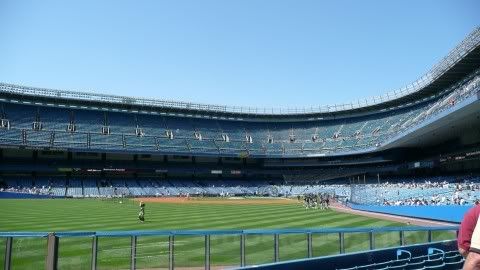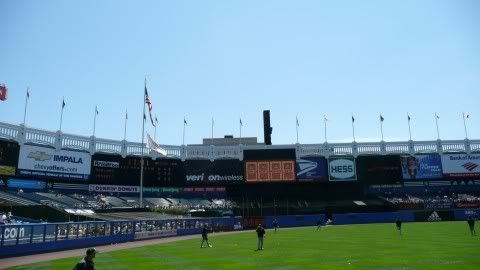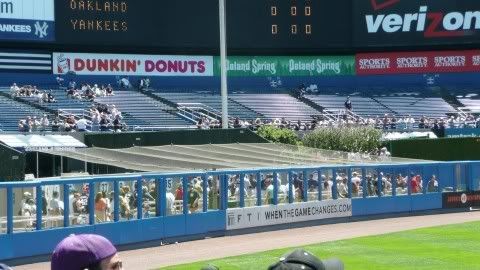 So Monument Park was MUCH smaller than I expected. I don't know why I thought it would be a big space, I just did. It started out with all the numbers that the Yankees had retired: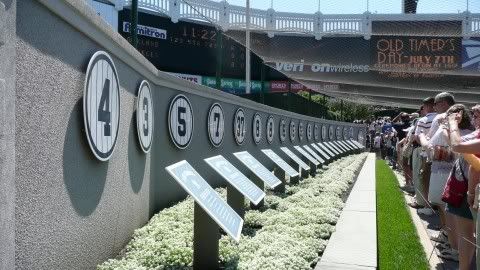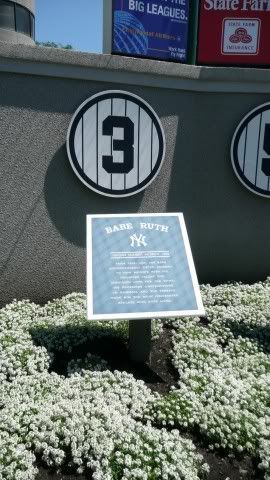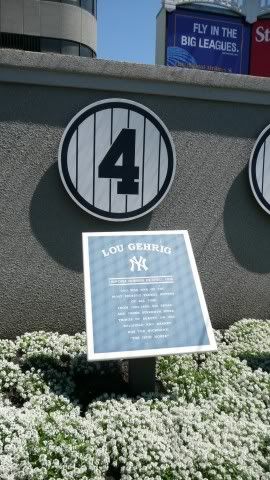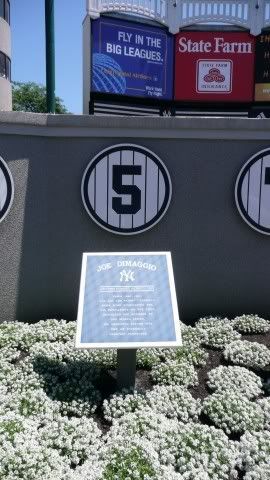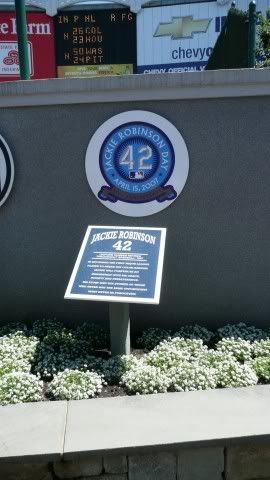 Then the actual Monument Park begins: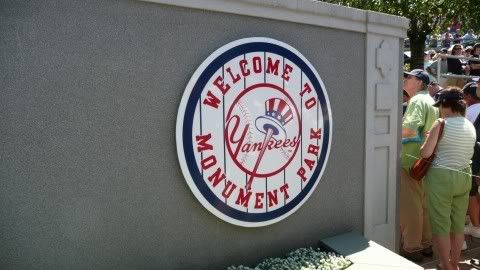 The park was in a Y shape. You walk in and the first thing you see is this under you: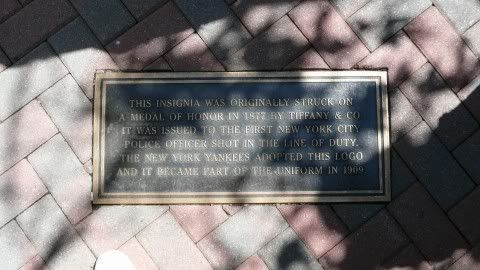 This explains how the Yankees got their logo. Above this plaque in the cement bricks is the Yankee Logo. It was a little too big and there were too many people for me to get a good shot. But I found this to be VERY interesting.
As you enter, you are greeted by Babe Ruth: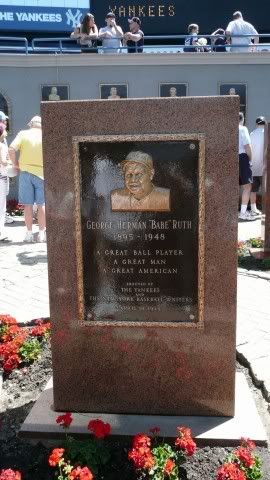 Then you wrap around the plaque to see the rest lining the back wall: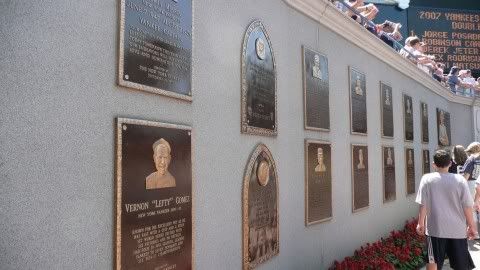 As I was taking this picture, Mr. Yankees Fan Man said to me, "You know, this is a religious experience for most of us!" He didn't say it in a mean way, but it could have been taken that way. Like I was walking on Holy Ground in my A's gear basically sinning. I don't think he meant it that way, I think he meant it in a way as to just point out that it was a big deal, in case I didn't know. But before I had time to respond my friend whipped around to him and said, "It is to her too! Believe me!" and he stopped talking.
Just before you leave Monument Park you see this: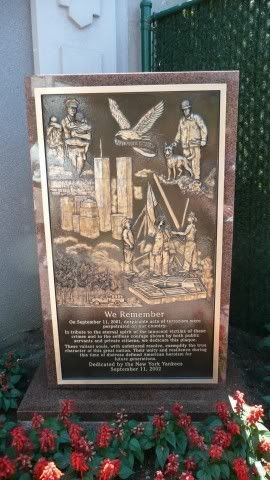 Which I think speaks for itself.
After seeing Monument Park we walked around a bit. As we were leaving it, I caught sight of the boys warming up, which after a very long week in New York, brought me an UNREAL sense of comfort. It made me way too happy. I knew at that moment it was time to go home!

So, if you think the Coliseum is cramped in the concession area, you obviously have never been to Yankee Stadium. I was down right claustrophobic in there!  It was terrible. But as you leave the seat area and head to the concession stands, each little doorway has a photo above it of a World Series winning team. I thought that was a very nice touch. Established a sense of pride!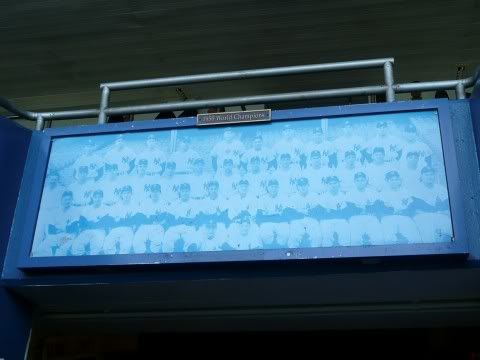 While we were walking around I was quietly explaining to my friend just how much I hate the Yankees and the 15 reasons why I especially hate Derik Jeter when she has the nerve to say to me, "You know, if you grew up here, you would be a Yankees fan too!" That is when I got loud and didn't care who heard me! "OH HELL NO YOU DID NOT JUST SAY THAT!!! I would NOT be a Yankees fan, I would be a METS FAN!! I can't believe you just said that to me!!" Several Yankees fans turned to look at me, but fortunately once they saw the A's gear on, they just went back to their business.
Once we got to our sweet seats in the outfield, I caught a picture of Huston smiling that freakishly white smile of his!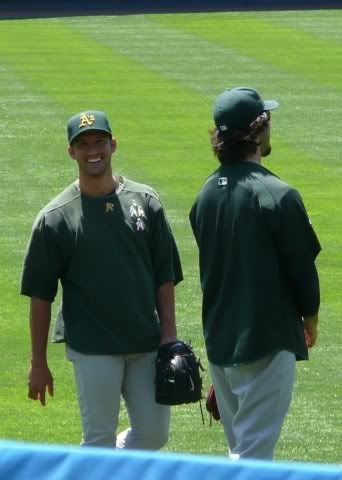 Then Chad Gaudin came out to warm up for the game IN HIGH SOCKS!! WOO!!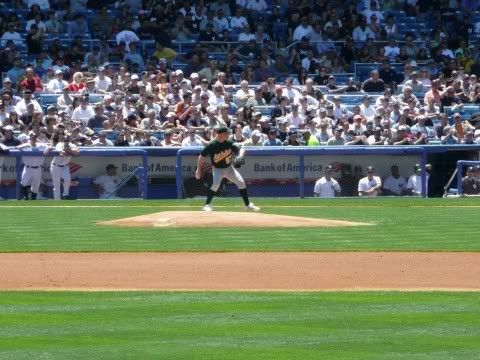 Kotsay and Swisher warm up, this is the view from my seats in the outfield.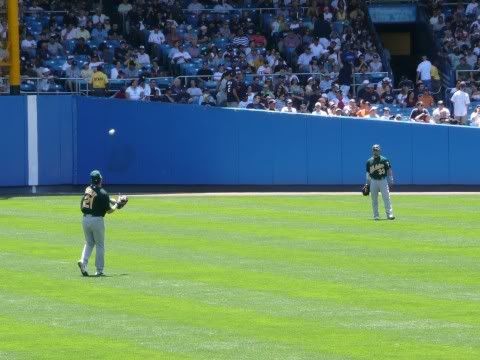 So when Kendall came up to bat, I decided to crack a little joke. I quickly said, "Ok Kendall, Home Run!" I turned to my friend who wasn't laughing cause she didn't get it and said, Man that would have gotten a good laugh in Oakland! Just then, BAM!! Off the Foul Pole! Kendall Home Run!! I couldn't believe my eyes! I thought all that New York heat had finally gone to my head! Holy Cow! I stood up and cheered like a crazy person. Fortunately no food was thrown my way!
Later in the game when things started to unravel for the Yankees, I was SHOCKED at how rude the fans got, to their own team!! They were booing and being cruel! I couldn't believe it. When another Home Run was hit, they were not booing the Home Run, they were booing the pitchers. The woman near me would curse up a blue storm every time a ball was thrown! I couldn't believe it! We will stand up and give our pitchers a warm reception even when they have given up a few too many runs, cause we KNOW that they are better than that and just had a rough day. We show our team we are still behind them and care about more than just the one game! The Yankees fans are by far the WORST fans in baseball. Yes, I said it! They are the WORST FANS IN BASEBALL!!
So after Chad came in and did a stellar job pitching, I got to see Rich Harden on the mound which is always a bonus, yet scary, moment in baseball for me!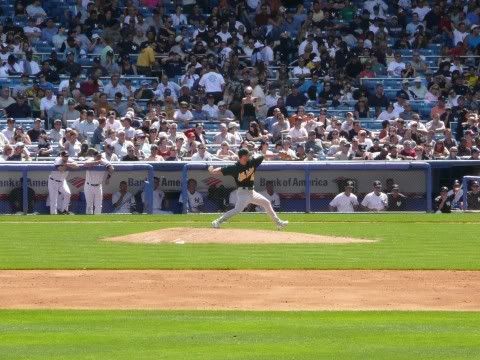 Yay! Love those One Hitters!!

Yay taking two of three from those horrible Yankees!!

We left for home the following day. We left the city in style. The guy at the front desk of our hotel arranged for a limo for us to the airport. This was our last view of the city: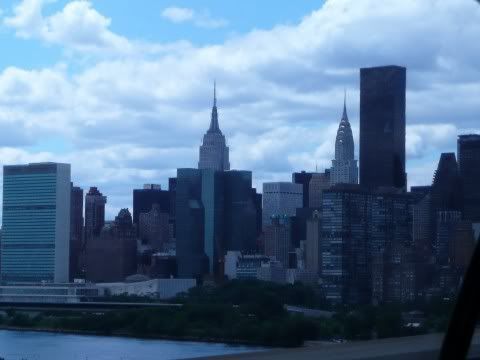 After a 4 hour delay leaving New York, I finally made it home to the Bay Area. I have never been so happy to be back in Cali! Not that there was anything wrong with New York, other than the fact that they don't recycle, it is dirty, and loud, and way too crowded, it is a good city, for about 3 or 4 days. I discovered that I was very ready to go home after Wednesday. If it wasn't for the tickets to the Yankees game on Saturday, I probably would have hopped on a stand by flight on Thursday morning.
I am certainly glad I went. I saw some amazing and moving things, things I will never forget! But it is going to be a very long time before I go back. Maybe once the new stadiums open, I will head back that way, but I know for sure that I will only stay for about half the time I was there this time. 10 days is just way too long! When Ray Fosse said, "It is good to be home!" On Monday night, I knew EXACTLY what he was talking about! I love California!