Well, it has been a while since I have posted pictures for ya'll, so I guess now is a good time after the weekend we have had.
I am posting a few pictures from the last two weekends of baseball. I went to all three games for the Indians series and Giants series. I am not taking as many pictures these days. I have kind of been in the mind set of wanting to enjoy the game not behind the camera lens. But every so often there are things that are just begging to be caught on film, such as a Bobby Home Run, a Jack Cust Walk Off, and a Mrs. Kendall Home Run! So here are some of my favorite shots from the last two weekends!
First off, Rich is Not Dead! Yay!

But Dallas Braden might be... This was the last official sighting of him.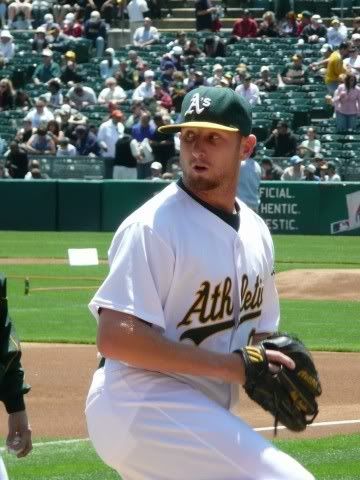 On Mother's Day, we had a bit of Pink Bat Magic. Bobby certainly did when he hit a SWEET Home Run! So here for your viewing pleasure, the steps to a Sweet Home Run:
Gear Up for Contact on a ball right down the middle:
Be sure to follow through after contact:
Admire the beautiful sight as you begin to run the bases: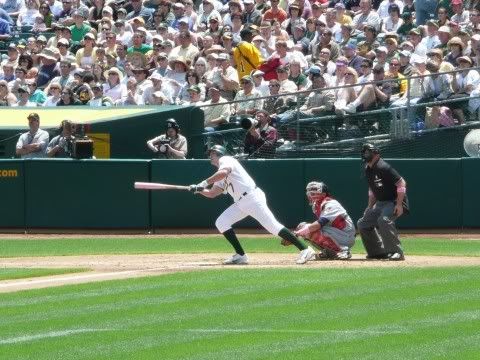 Be sure to touch Home Plate:
Let Swish Smack your Ass as you head into the dug out: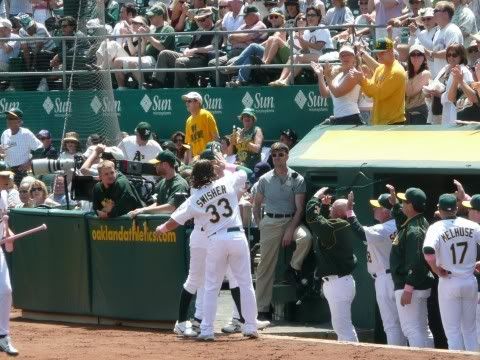 Be Congratulated by the rest of the team, no Ass Smacking required: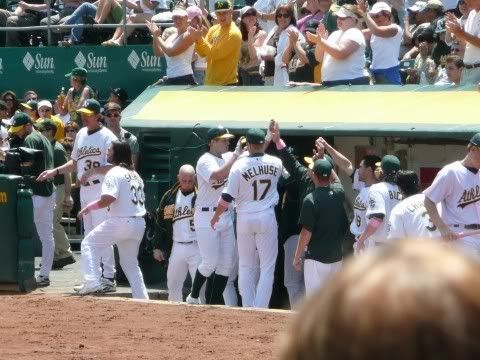 Not to be out done, Jack Cust had to go and show some Walk Off skills!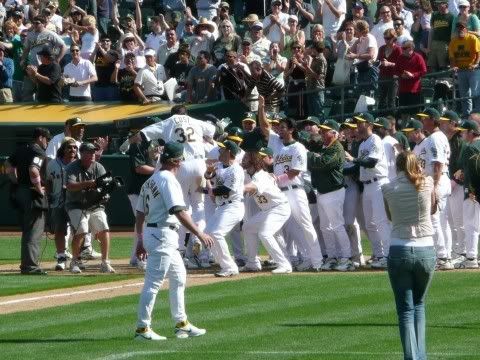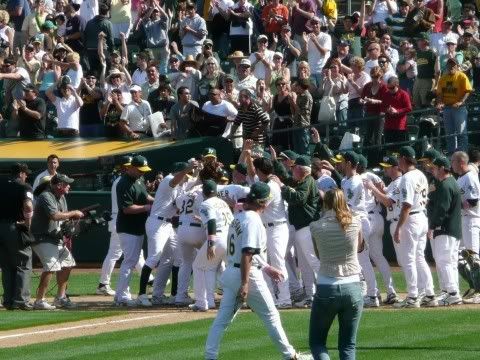 This Past weekend we faced the Giants. And even though I would have loved to take a sweep from them, I will settle for a series win any day!
Of course, knowing that Swish was going to cut his hair on Saturday, I had to get a few final shots of his beautiful hair! I will miss it, so very much!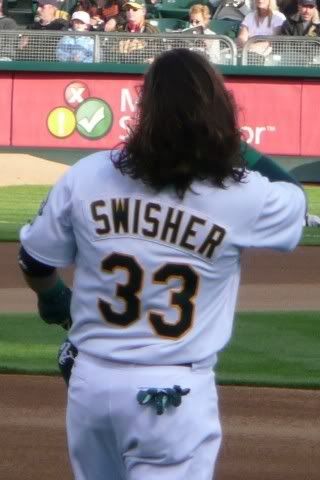 I think Swish will miss them too... He took a minute to play Cousin It for DJ.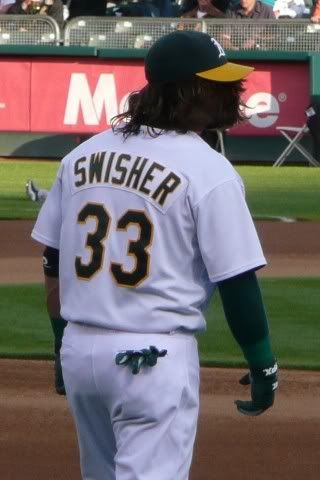 But the bigger story of the night was the return of Zito...

There were a few... Strong... Opinions about it.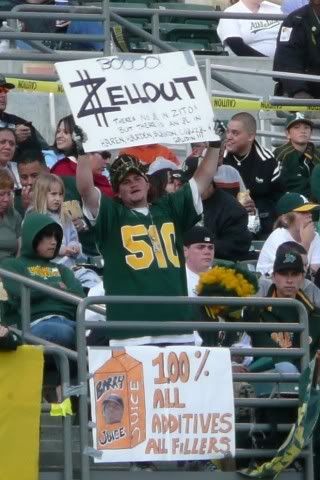 I am sorry, I am going to rant for a moment. In the first inning, Bobby hit a foul ball right to me...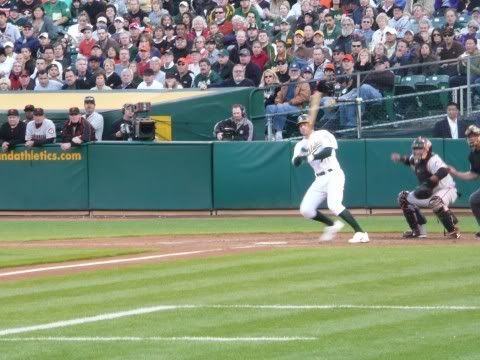 Well, technically it was to the ball boy sitting in front of the bull pen. Well, I was wearing my Bobby T-shirt that night and the ball boy saw me and tossed it right to me. He looked me dead in the face and tossed it to me. There was nobody in the two seats next to me and a Giants fan broad in the third seat. Well, as the ball boy tosses it to me, she reaches out and knocks it out of my hand. It lands in front of her friend sitting next to her. EW! I was so pissed! I just looked at her and was like, "Thanks, I appreciate you practically hitting me to get a foul ball that was intended for me!" and she says, "That's the game babe!" UM! Rudeness!! I was so pissed!! This was the second weekend in a row I was trampled for a foul ball. Last weekend the guy sitting in front of me pushed me over to get the ball that landed in the seat next to me that Chavey had tossed into the crowd. Then, when he was recounting the story, he sounded positively PROUD of knocking me over when he told his buddies what had happened! People are unbelievable!
Anyway, back to the game!
I caught a glimps of the newest Chavey on the staff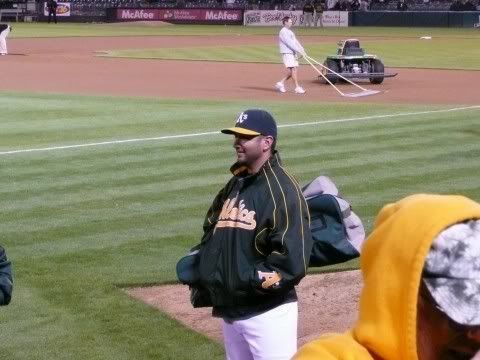 Ellis hit a sweet Grand Slam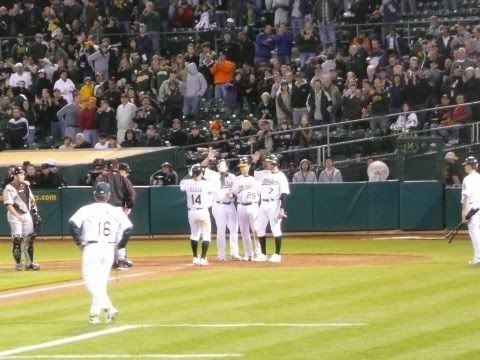 And the Ump tossed Bochi!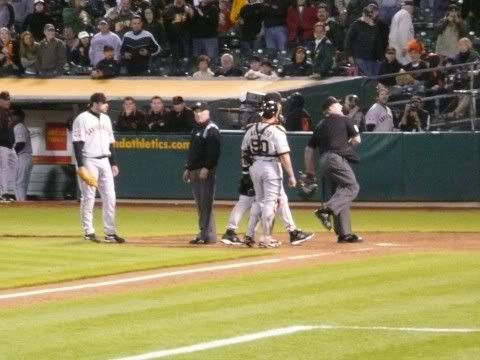 But in the end... It was so Beautiful!

But on Saturday, there was a bit of Giant retaliation...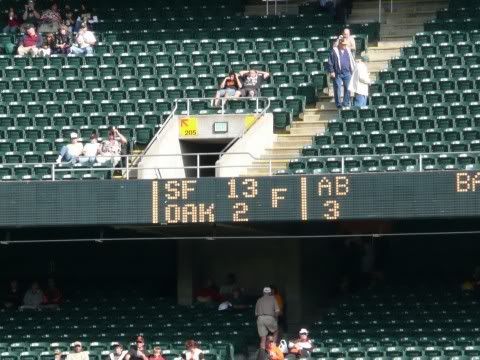 Too bad it was the wives who had to stand up for their men!
Here are some shots of the ladies I got. I am not entirely sure who everyone is cause I got there a little late and didn't hear the announcements.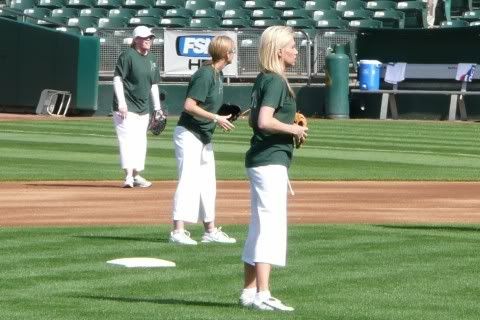 Mark Ellis with his VERY pregnant wife Sara... I really like her name!

And at least one Kendall has some Pop!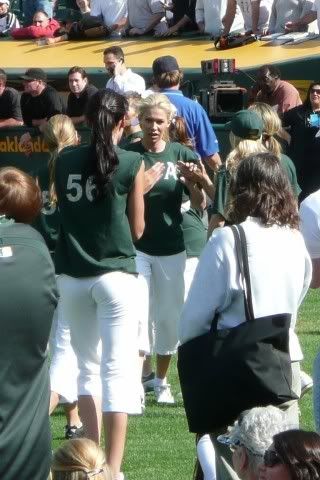 The Boys and their Babies:
DJ with Mini DJ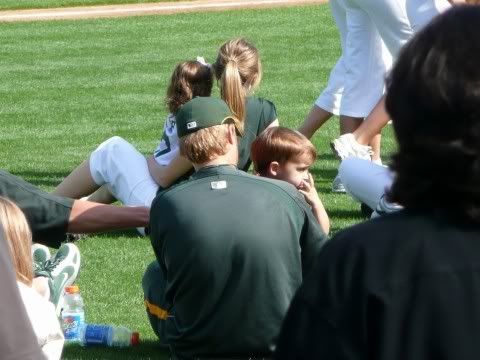 Duke with Mini Duke... He wanted to go play with Daddy on the outfield, but Big Duke told him to go sit with Mom. He didn't like that idea very much.

And Um... Joe... Didn't Michael Jackson get in some big trouble for doing that to his kid a few years back? You may want to be careful!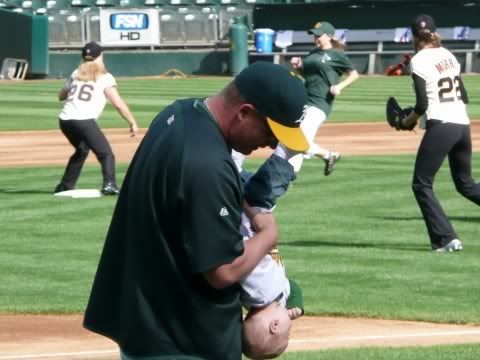 Following the Wives Softball Game, a tragic moment took place. I know, I know, it was for a good cause, but I did shed a tear when the first cut was made!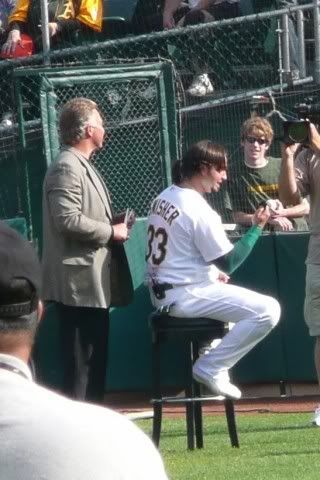 I think even Swish was a bit perplexed. I could almost hear him saying, "Oh man, what have I done!"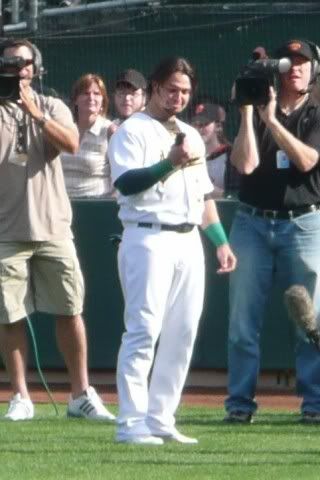 Ok, well that does it for this weekends pictures. I am in the middle of 9 solid weekends of baseball. This coming weekend is the only weekend of baseball that does not include the A's. My Man is taking me to a Padres Game. I have never been to that field before, so I am really excited. I don't know if any one cares about the Padres, but let me know if you would be interested in seeing my pictures from the third deck! The next 6 weekends I will be back to A's baseball, including a road trip to New York. Those I will definitely post!
I hope you enjoy!