Kotsay: So once my back is better, then they're going to fix my left arm, my right leg, both knees and elbows, and I should be back in the lineup in no time.
Bradley: That's great, Mark...
Piazza: Okay folks, gather round. It's May 15th and that's rookie card day.
Swisher: What?
Piazza: Rookie card day. It's when you have to show everyone your rookie card.
Swisher: ...you're serious?
Piazza: Oh yeah, all the veterans know about it. Right guys?
Stewart: Definitely.
Loaiza: Si
Chavez: Yup.
Kotsay: Huh?
Bradley elbows Kotsay
Kotsay: Ow, I mean, yeah, totally. (Dude, you pushed my rehab back...)
Piazza: Ok, I'll start.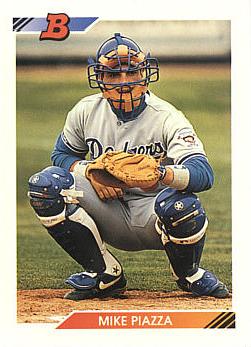 Piazza: That's me all the way back in 1992.
Swisher: We pretty much have to take your word on that.
Piazza: Hey, I was catching then. Catchers have their pictures taken with their gear on.
Kendall: Speak for yourself.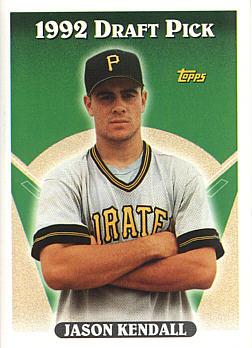 Piazza: Huh, they told me I had to wear the mask.
Kendall: To be fair I am much prettier than you.
Buck: Here's mine!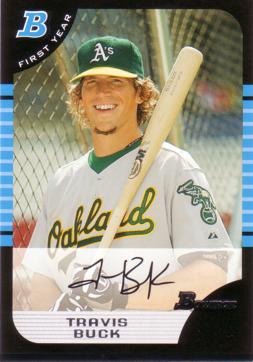 Kotsay: It's certainly...accurate.
Buck: Yeah, they took it last week.
Kotsay: I think the point of this is being missed.
Kendall: Let's see your card, Mark?
Kotsay: ...Fine.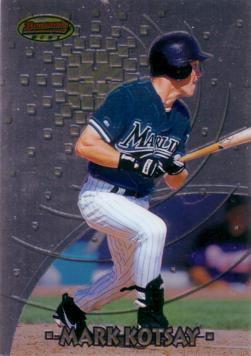 peals of laughter
Bradley: What the hell is that supposed to be?
Kotsay: Argh. They were trying to be artsy or something.
Kendall: You're holding that bat like it's a giant penis.
Kotsay: Maybe you should take lessons Mr. .400 OPS, or is that what you've been-
Piazza: Knock it off! Jeez. Milt, show us your card.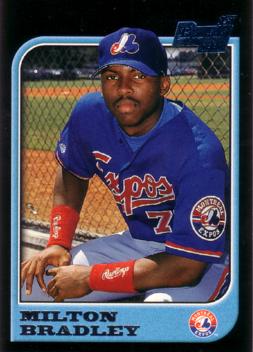 Swisher: You looked ticked even then.
Buck: What team is that?
Bradley: The Expos. I was drafted by the Expos.
Buck: blank stare
Bradley: The Montreal Expos.
Buck: blank stare
Bradley: In Canada.
Buck: I don't...
Swisher: He doesn't believe in Canada.
Bradley: He what?
Swisher: He thinks we're hazing the rookies when we talk about Canada.
Buck: Oh come on, I take the ribbing in good humor, but that doesn't mean I'm gonna buy these stories about a country full of people who like hockey.
Bradley: Where does he think Rich came from?
Buck: Rich is a cyborg.
Bradley: ...
Buck: He breaks a lot.
Bradley: That's...
Swisher: Danny, let's see yours.
Haren: Mine is awesome.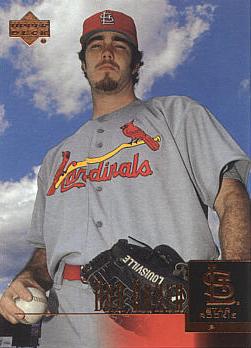 Swisher: You look like a mafia enforcer in a uniform.
Kotsay: You look like you're eight feet tall.
Kendall: What did you have to give the cameraman to agree to take the shot like that?
Haren: ...just some tickets. And a bat signed by Mark McGwire.
Kendall: You had a bat signed by McGwire?
Haren: Well, technically it just had a signature that SAID Mark McGwire...
Loaiza: Esta mi:


Swisher: Holy crap. Were you drafted when you were 15?
Loaiza: Diez y cinco. Diez y ocho. Es como...
Kotsay: Ok save it for A's Amigos there, compadre.
Loaiza: Puto.
Kotsay: Alan, let's see yours?
Embree: That's ok.
Kotsay: C'mon, it's your turn.
Embree: I'd really rather n-
Kendall steals the card from Embree's locker
Embree: HEY!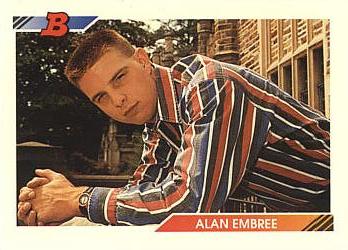 Kendall: What the hell?
Kotsay: Um, what is...
Embree: I misunderstood.
Kotsay: Misunderstood?
Embree: They said we had a photo shoot. I was thinking GQ.
Kotsay: ...
Bradley: ...
Kendall: ...
Loaiza: Cabron
Bradley: Ok, let's see yours, Swish.
Swisher: I...musta left it in my other pants.
Bradley: Nuh-uh. Show.
Swisher: Awwww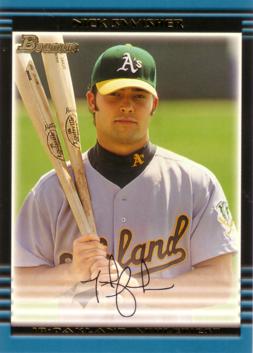 Kendall: ...
Kotsay: ...
Loaiza: ...
Embree: ...
Haren: ...
Crosby: ...
Ellis: ...
Chavez: ...
Piazza: ...
Geren: ...
Beane: ...
Bradley: We meant your rookie card, fool.
Swisher: Ah screw you guys.