Today, Thursday, April 19, 2007, was a momentous day. It was a day which started out quite peculiar, because I had a strange feeling in the pit of my stomach. I felt deep down that today was going to be significant in my life as a baseball fan. You see, three weeks ago, I made the decision to meet the god of baseball. I wanted to meet the one man who transcends all in the game we cherish and love. I wanted to meet Albert Pujols. Of course, the A's are playing the Cardinals in June, but I wanted to meet him sooner. I yearned for his autograph and his picture and a chance to speak with the one who rose above every player in the game. I knew the Cardinals were coming to San Francisco in April and I realized it would be the perfect opportunity to make my wish come true. However, I had a secret agenda. I, being the insane, manipulative, scheming girl that I am, knew there was another reason why I wanted to go to San Francisco. Crafty and cunning as I've come to be, I planned everything for going to the game on April 19 and kept my secret covered. Alas, I couldn't hold it in. I wanted to go to the Giants game for one reason that surpassed all other reasons.
I wanted to see Barry Zito.
I felt perfidious to my team. My Giants fan friends were never going to let me live it down. I swore I had gotten over Zito and the fact that he had gone to the Giants. I guaranteed everyone that I was going to let go and cheer for him from afar. I promised my friends that the Zito chapter of my life was over and I was moving on to Travis Buck, another Zito-esque story in my life as a fan. (This is another story for another day.)
I was wrong.
I skulked into AT&T Park today, creeping about with my green and gold Zito t-shirt jersey, my green and gold Zito dog chain and my A's blanket. I kept my copy of Aces deep in my backpack as I lurked about the stadium, trying not to get overly excited about seeing my husband once again.
"You've got the wrong shirt on, girl!"
My heart broke as I saw Barry on the cover of Giants Magazine, the orange and black publication that pushed my prowess in keeping a calm and collected face over the edge. I couldn't stand it. I stared at it for a good thirty seconds before I tore my eyes away from the face that brought me happiness.
"Go back to the other side of the bay!"
As my journey through the park continued, I passed by the Giants clubhouse store. Hesitantly, I walked in, terrified of what I would do when faced with constant reminders of where my love had gone to. Upon entering the store, the first thing that jumped out at me was.... Zito. Zito. Zito. Zito. My first instinct? Buy it. My second instinct? ORANGEANDBLACKICANTDOIT. Horrified, I ran out of the store. Literally. I thought I was going to trip over something and fall on my face.
"Who's got Zito now??"
I needed to get away from the Zito. I stumbled into the seating areas and headed straight to the visitors side. Players were throwing the ball around, playing catch, and just having fun. I got six autographs including Randy Flores, Jason Isringhausen and Randy Keisler. I was quite excited. I found several A's fans around me and sparked up a few interesting conversations, mostly having to do with me showing off my Zito knowledge. I got many pictures of the Cards players that were hanging around, and it brought joy to my soul that the players were signing every single fan's ball and pictures. It made me realize that most players really do care about the fans.
"Zito's a Giant! Get rid of the shirt!"
As if I was pushed to turn by the heavens, almost involuntarily, I lifted my head and looked towards the Giants bullpen. Oh, God. Warning! Out of body experience coming up ahead! Barry captivated me. He took my attention, my mind and my heart. In what seemed like a recreation of the times I would look out onto the Coliseum field and see Barry warming up with the rest of the boys, upon seeing Barry, my stomach dropped, my fingers started to tingle and a smile spread across my face as nervous giggles escaped my lips. It was happening. Barry Syndrome was coming over me once again, even though I fought to hold it in.
"Wrong stadium, sweetheart!"
I lost control of my legs. As if they had a brain of their own, they started moving, faster and faster, picking up pace as I got nearer to the Giants bullpen. Up and down the stairs, weaving through seats, I fought my way to the bullpen, anxious to see him. When I finally reached my destination, albeit two rows back from where I wanted to be, my jaw dropped. I regained control of my limbs and I swiped out my camera, prepared to take pictures of my hubby. I must have taken at least twenty pictures before he began to collect his belongings. I was disappointed because I wanted to get my copy of Aces signed, among other reasons. This was the moment I chose to reveal my deepest Barry Zito secret to the stranger next to me.
In the nine years I've been a Barry Zito fan, I have not once gotten a picture with him.
Hard to believe? Yeah, I can't believe it either. I wanted the picture. I could taste the picture. I could see it in front of me. Regrettably, he was putting his things away and I couldn't yell at him to come take a picture with a crazed fan. All of a sudden, everything started moving in slow motion as Barry made his trip to the stands, walking towards the fans, preparing to sign autographs. I froze momentarily, then, like a freaking jumping spider, I leapt over the two rows of seats and although I don't remember, I think I pushed two little kids.
How do you think the story ended?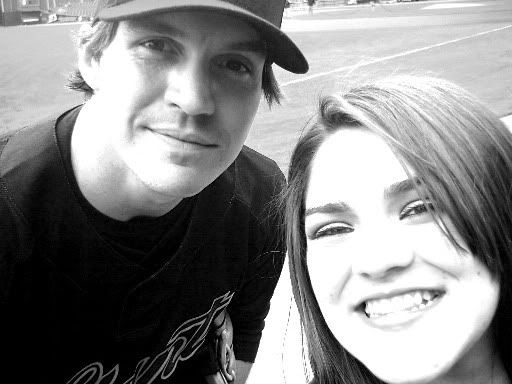 :)