Work has been kicking my ass past couple/few weeks so my AN time has been cut back more than any time I remember in the past couple years - only been able to skim through a few diaries every few days.
I have a few things I wanted to put in a diary so I saved them all up and put them into one - from Spring Training, to little league to Dirtbags to Extra Innings.  Without further ado...
Spring Training
I took the family out to Phoenix March 16th – 18th.  The wife and daughter are not big baseball fans so they came along to hang out at the hotel pool and shop while I took the boys to the games. Had a Marriott voucher and we drove so this was turning out to be a pretty nice, inexpensive trip until...
Got out of SoCal a little later than I was hoping and tried to make up the time on the 10...until Roscoe P. Coltrane pulled me over just on the 70 MPH side of the state line...as my speedometer hit 93.  Unfortunately, he hit me as I was sped up to pass another car.  Dude was a real a-hole.  Sort of reminded me of that cop who pulled over Chevy Chase in Vacation.  "Don't you know how fast you were driving?"  You had to of seen me?"  You looked right at me."  Dude, obviously I did not see you or I would have slowed down...and it would not have mattered anyway because he already tagged me.  He was better after writing the ticket but initially he was treating me as if I had been dragging a dog from my bumper for the past few miles.
After checking into the hotel, I took my older son to Phoenix Muni and we caught the second half of the night game (a beautiful night still in the 80's) against the D-Backs.
I love Phoenix Muni.  For those that have not made the trek, it is away from the city and pretty much away from any buildings – just off a two lane road between Phoenix and Scottsdale.  Beautiful landscape of rock formations around the stadium.
A few notes:  
·I was wondering why Byrnsie was wearing the wrong uniform until I realized it was Buck in our outfield (first time I had seen him)
·Great to see Piazza in an A's uniform for the first time
·The killer B's, Bradley, Buck and Barton, were swinging the bat
·Not much quit in our lovable muppets.  It was already 6-0 when we finally got to the game and we rallied for 5 runs with a chance to win late.
·The first of back-to-back sellouts.
St Paddy's Day was a scorcher – mid 90's.  I spent most of the game keeping my boys hydrated and happy.  Got a sweet St Paddy's Day A's cap.  We had great seats right behind the A's bullpen.  We had a great view of Marshall warming up.  You can see that he is going to kill lefties.  Very impressive with two shutout innings.  Also got to see a Piazza dinger.
Marshall warming up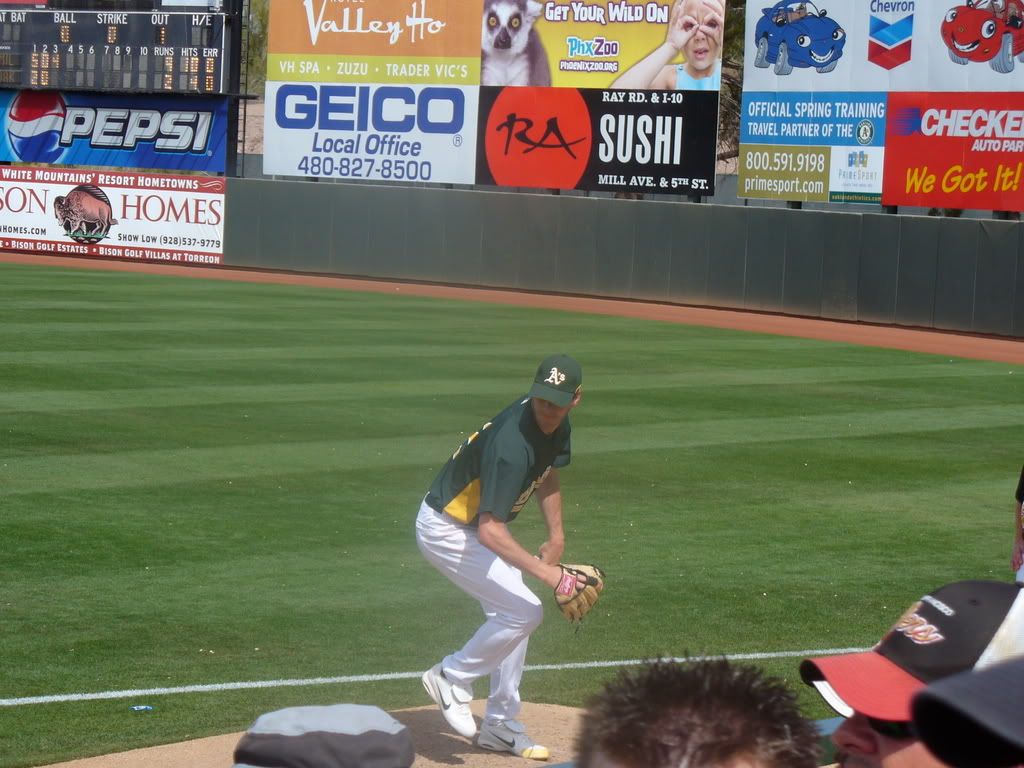 Fat Joe warming up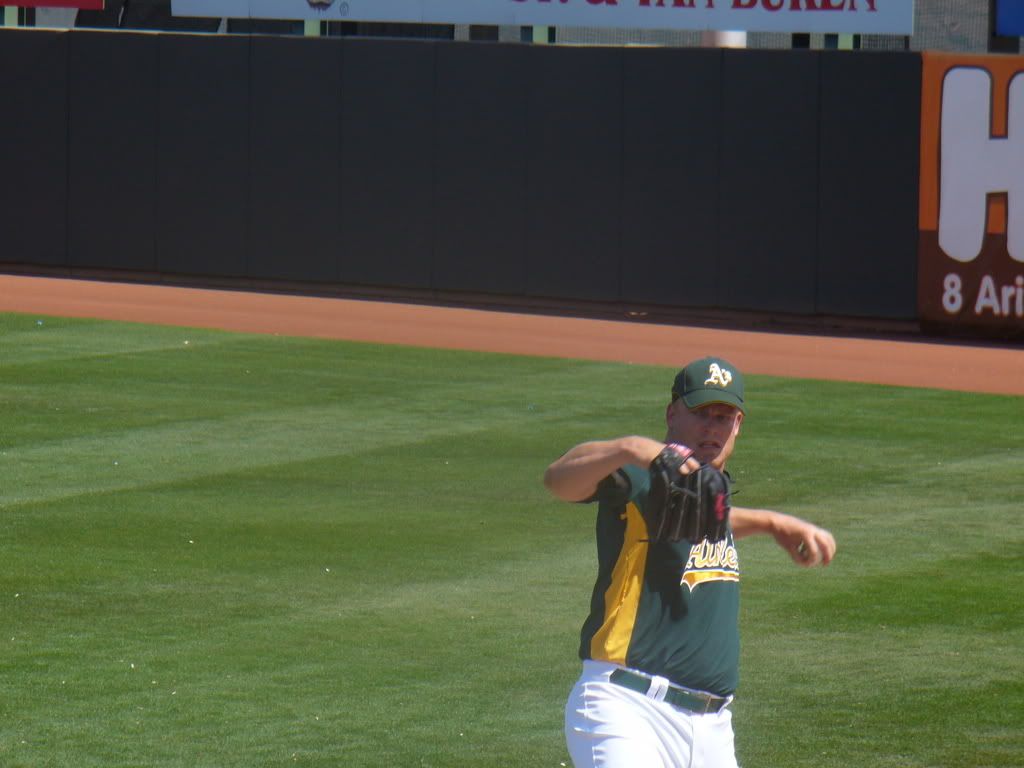 Buck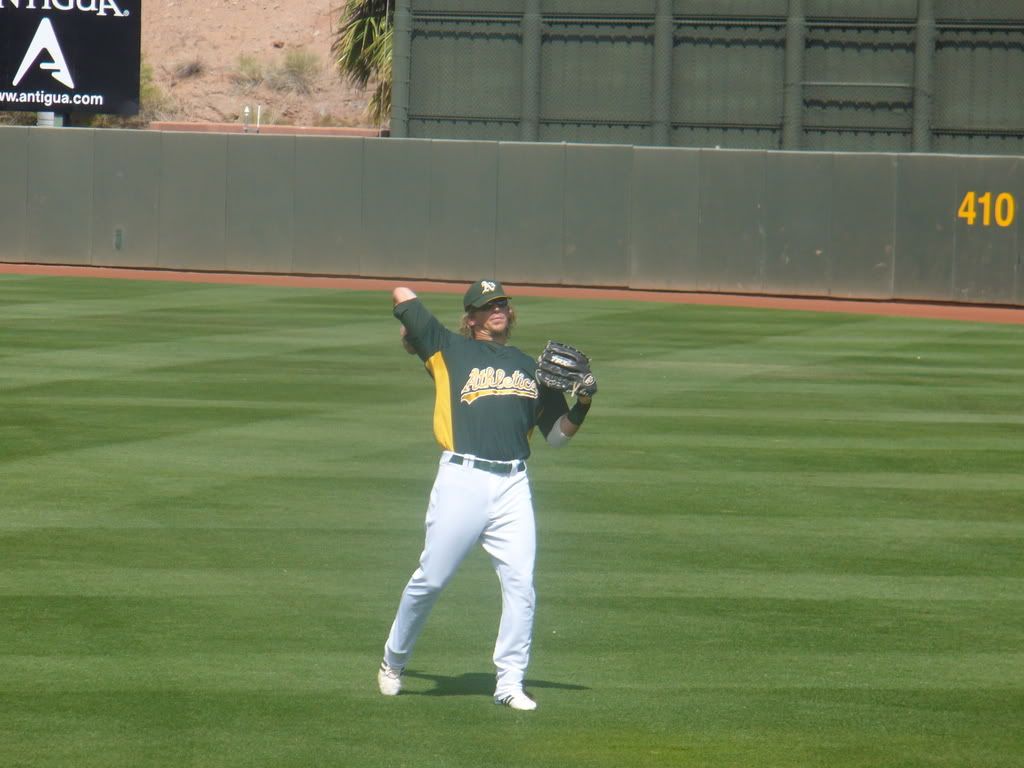 Me and the boys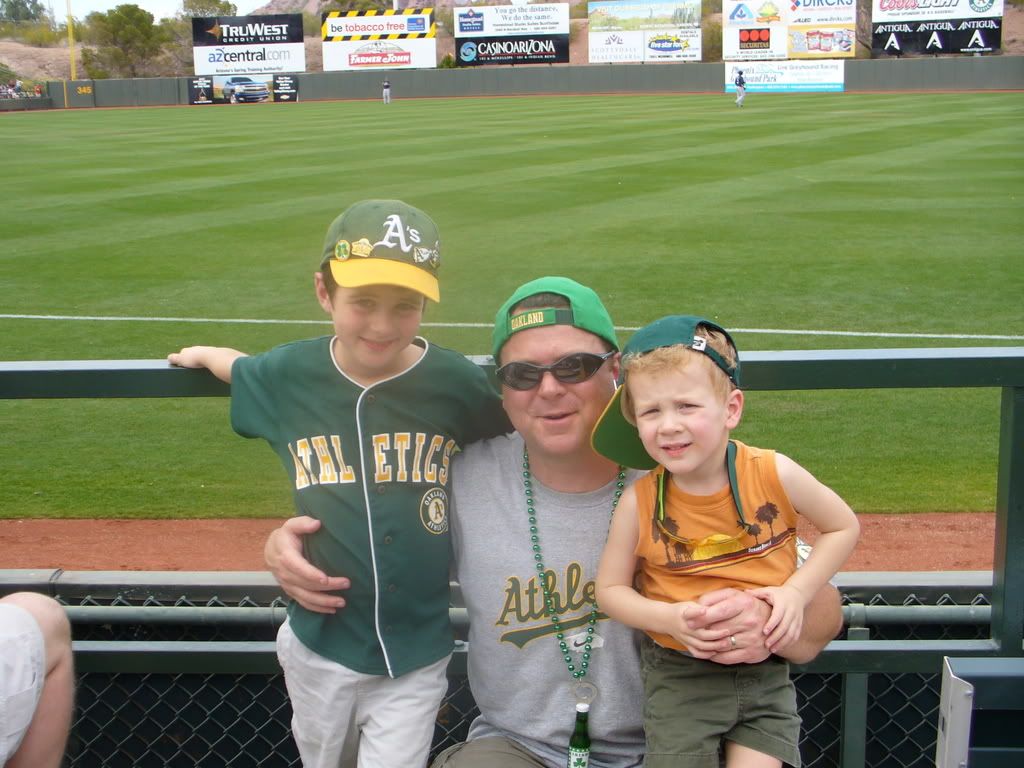 My older son getting Curt Youg's autograph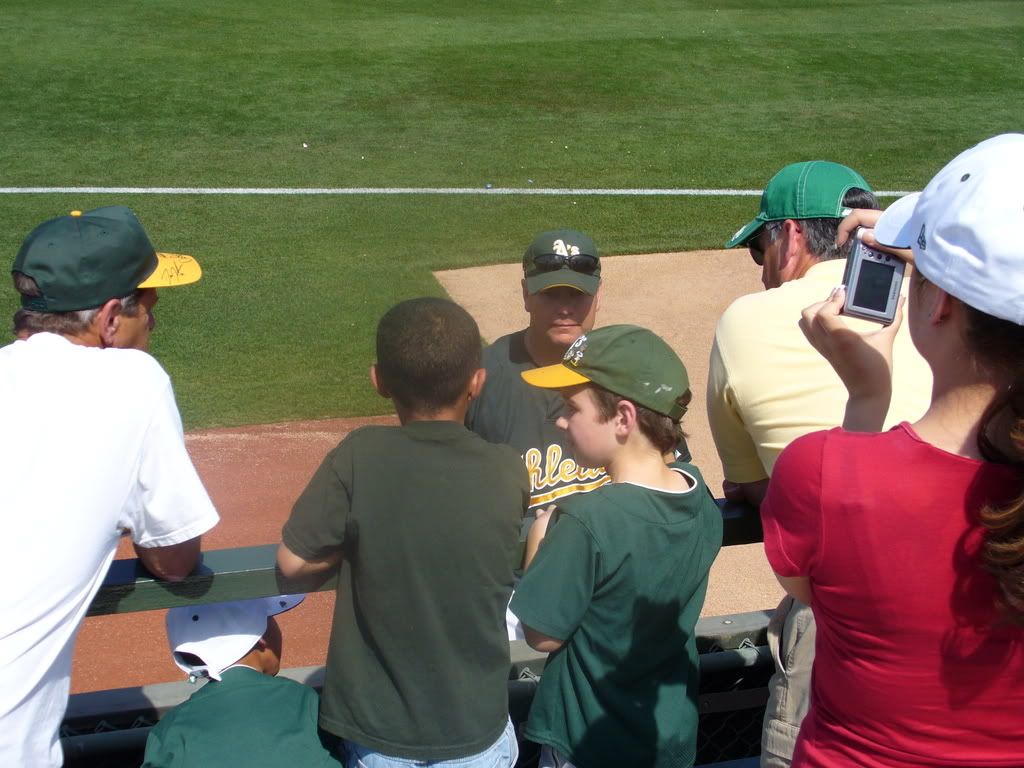 Little League
The season started recently and I was stoked to hear my son with be an Ocean View Little League Athletic.  After his coach called to let me know my son was drafted on to his team and that his team was the A's, I went over to my son.  "So, what do you think about playing on the Angels?"  He had a look on his face like I just told him the dog was dead, "Aww" he said.  I said, "Don't worry about it.  You are going to be on the A's!"   I wish I had a picture to capture the excitement on his face.  That's okay though, it is ingrained in my memory.  God, I love baseball.  He really loves to play and I love coaching and watching.  I am sure a lot of you on AN can relate.
More Baseball
Took the two little guys again to see the series finale between my alma mater, Long Beach State, and Fullerton last weekend.  What a rivalry.  These teams are great every year and produce so much major league talent.  And the games are always close – like the A's and Angels.  Definitely recommended for SoCal baseball fans.
The Dirtbags let one slip away by blowing a two-run lead with two outs in the ninth.  That's okay, they will both be there at the end of the season...as always.  And remember the name Danny Espinosa.  Dude will be following the path of other CSULB greats Crosby, Giambi, Jeremy Reed, Jared Weaver, seventh overall pick in 2005, Troy Tulowitki, and third overall pick in 2006, Evan Longoria...among others.
Extra Innings
Well, I am holding out until 4/1 but I may just end up switching over to Direct TV.  I have subscribed through InDemand (cable) the past few years and now I am not sure I can live without Extra Innings.  This is extremely inconvenient as I currently have the cable/high speed internet/phone package.
I thought about mlb.tv and after reading what Blez wrote about mlb.tv and not monopolizing the television in his house...well, I really appreciate my wife.  She buys me Extra Innings ever year for my birthday (pretty close to opening day) and puts up with baseball on our main tv...and, as I mentioned, she really is not much of a sports fan.  This year she actually took the initiative and started looking into Direct TV...even though switching over would be a pain...and she dislikes sports...just so I can have my A's baseball.  
I know I am lucky.  Trust me ladies, I do not take it for granted.