Stomper's "A Christmas Carol"

Stave 1: FINLEY'S GHOST
Finley was dead, to begin with. There was no doubt whatever about that. The earth on his grave had been pissed on by Bowie Kuhn, Catfish Hunter, fans of tasteful clothing and most of the local population of pack mules. William Beane had pissed on it. And in this business Beane's name was gold.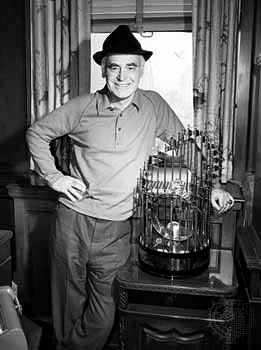 Beane knew he was dead? Of course he did. How could it be otherwise? Beane was Finley's successor, his acolyte, heir to Finley's eye for cheap talent and his death grip on pocket change, his executor, the sole residuary legatee to a franchise built on snookering its peers while quietly sneering at their foolish soft hearts.
Beane never painted out Finley's name. There it stood, pictured in the murals above the D Gate: Beane and Finley. Same garish green and gold. Same utilitarian concrete abode. Same sackcloth and ashes at the altar of perpetual revenue sorrow.
Oh! But he was a tight-fisted hand at the grindstone, Beane, a squeezing, wrenching, grasping, scraping, clutching, covetous old sinner! Hard and sharp as flint, from which no steel had ever struck out generous fire; secret, and self-contained, and solitary as an oyster. But what did Beane care? It was the very thing he liked. To edge his way along the crowded paths of life, putting a Milo on all human sympathy and feeling the richer for it.
And so it came one Christmas Eve, Beane busy running regression analyses in his office, I huddled in the antechamber, answering the occasional phone call, patching tarps, polishing the brass knockers, rails and his chamber pot, and otherwise filling the jobs of the dozen staff he'd laid off that very morning. At 10 bucks an hour the day laborers on San Leandro had priced themselves out of Beane's market; I came cheap.
Even in words was Beane miserly: "Answer the door, vile cur!" The cold had dulled my senses; I leapt to answer the pounding call. Two well-dressed gentlemen entered, their eyes alight with well-practised entreaty. Began the first:
"At this festive season of the year, Mr. Beane, it is more than usually desirable that we should make some slight provision for the Poor and destitute, who suffer greatly at the present time. Even men you yourself have known, sir. You recall Gil Heredia as a Game 5 starter; we know him as the wild-eyed fellow who calls himself 'Doctor' in the bread line. And Billy Koch, bankrupt and driven nearly mad from incessant itching. Would you help your less fortunate comrades?"
"Are their no prisons?" asked Beane. "The workhouses...are they not still in operation?"
"Plenty of prisons," replied the first gentleman. "And robust workhouses," continued the second. "I wish I could say it were not so."
Beane breathed an exaggerated sigh of relief. "'Oh. I was afraid, from your words that something had occurred to stop them in their useful course. I thank you for the reassurance."
The good-hearted men were undeterred. "But sir, I implore you. At this time of all times, when Want is keenly felt, and Abundance rejoices. Ben Grieve can scarcely rouse himself from bed each morn! Please sir, might I put you down for something? You may remain anonymous if you wish..."
"What I wish is to be left alone. I don't make myself merry at Christmas and I can ill afford to make idle people merry either. I support the prisons and workhouses...which cost enough as it is...and if some would rather die than go there, well, better to decrease the draw on the burdensome pension fund. Good day gentlemen."
Seeing clearly that it would be useless to pursue their point, the gentlemen withdrew. Beane resumed his labours with an improved opinion of himself, and in a more facetious temper than was usual with him. The sun was setting, and this was my chance.
"Mr. Beane, sir?" His countenance darkened. "It...it's past five, and...and the ballboys are counting on my merry holiday pruno blend. I gathered cloves from the ashtrays all year long. It's Christmas Eve, sir."
"What right have you to be merry? What reason? You're poor and miserable." I had no rebuttal. "And you'll be wanting tomorrow off, I suppose?"
"If it's quite convenient, sir."
"It is not convenient. And it's not fair, paying a day's wages for no work. Giving the ungrateful help the right to pick an honest man's pocket every 25th of December. Bah! Humbug! Be in all the earlier the next day." I hastened through the door before he could change his mind.
Later that night Beane donned his great-coat and guided his motor car past windows alit with holiday revelers to his sparsely appointed home, rooms kept darkened and cold. He ate his standard meal of thin gruel joylessly while entering the names of prospects into his service time calculator. "I wonder how Barton likes Sacramento in May?" he chuckled mirthlessly. Soon after he had donned his nightshirt and cap, brushed his teeth with pumice and repaired to bed with his well-thumbed biography of Thomas Malthus.
But before even a paragraph had crossed his eyes Beane sat bolt upright, as loud sounds emanated from the hallway: the scrape of heavy iron chain link, the clop of the hooves of the mule of the damned, and the grating patter of an insurance salesman. The bedroom door creaked open, and Charlie Finley's ghost was before him. And the mule he rode in on.
Finley's ghost appeared much as he had in life, dressed in the same rumpled cheap clothing he'd always worn. But his white hair swayed and curled up under the edges of his battered houndstooth fedora, as though an infernal breeze wafted up from below. His face was pallid, his cheeks sunken, and with each step he struggled with his burden, a 10 foot chain of iron with links the size of a man's fist.
"What do you want from me?" Beane's voice quavered.
"Much." It was Finley's voice, without doubt.
"But why are you fettered?"
"I wear the chain I forged in life,' replied the Ghost. 'I made it link by link, and yard by yard. Would you know the weight and length of the strong coil you bear yourself? It was full as heavy and as long as this, twelve Christmas Eves ago. You have laboured on it, since. It is a ponderous chain!"
Beane trembled. "Charlie, tell me more. What comfort have you for me?"
"I have none to give. In life my spirit never roamed beyond the narrow limits of our human trading hole; in death, ceaseless weary journeys mark each unending hour."
"B...b...but you were a good man of baseball business, Charlie," faltered Beane, who now began to apply this to himself.
"Baseball business!" cried the Ghost, setting his chain to a mournful clatter. "Mankind was my business! The community was my business; the players, the fans, the City, were all my business. The dealings of roster and profit were but a drop of water in the comprehensive ocean of my business!" Beane fell to shivering upon the hard floor. The Ghost continued.

"Stand up and hear me, Beane! I am here to-night to warn you, that you have yet a chance and hope of escaping my fate. You will be haunted by Three Spirits. Without their visits you cannot hope to shun the path I tread. Expect the first when the bell tolls One."
Finley's ghost turned his mule to go; the bedroom door slammed shut behind him. As Beane shivered behind his bed curtains without succor, the clock struck midnight.

Stave 2: THE GHOST OF SEASONS PAST
Finley's Ghost has bothered Beane exceedingly. It felt as real as a Scutaro walk-off, yet he hardly believed hauntings to be a repeatable skill. A dream, surely. He resolved to lie awake until the hour was passed.
The minutes dragged by with exquisite languor, such that more than once Beane was convinced he must have sunk into a doze and missed the clock. But at length the hour chimed upon his listening ear. Beane was exultant: "The hour itself and nothing more!"
His relief was premature. As the bell's toll faded a flash of light enveloped the room, and the curtains of his bed were drawn aside, I tell you, by a hand, and Beane found himself face to face with the unearthly visitor who drew them: as close to it as I am now to you, and I am standing in the spirit at your elbow.
Death had left Jeremy Giambi curiously unscathed, as though he'd found the provenance of some elixir of youth. A yellow numeral seven adorned a dark green jersey supported by broad shoulders; a polished batter's helmet topped a ruddy, still youthful face. There had been no slide here. Beane was momentarily emboldened. "I dispatched you once, vile spectre!"
The apparition answered with a low chuckle. "But I am your reclamation, sir. I am the Ghost of Seasons Past. Would you win back your soul?" Beane nodded assent. "Then rise, and bear but a touch of my hand, and you shall be upheld in more than this."
As the words were spoken, they passed through the wall, and stood in the infield of a small ballpark. A late fall game was underway, and as a ball was struck in their direction Beane flinched. "Mind not the obstruction," chided the Ghost, "for these are but shadows of things that have been, and they have no consciousness of us."
"I know this place!" Beane exclaimed. "Those are the Little Falls Mets! There on the bench...that's Mike Davis, and Lloyd McClendon!" A callow lad strode to the right hand batter's box, good face full of bravado. "That's me!"
In short order the young Beane's knees were bent by a curveball which crossed the plate for a perfect called strike three. The lad's shoulders slumped, and he left bat and helmet behind in the box, the rally gone the way of so many others that year. "I was overmatched; Just 18, and the wood bat felt strange in my hands, the pine of the bench an unfamiliar resting place for far more innings than I feared." Said the Ghost. "Let us see another."
They stood now on a new diamond in the morning, the air sickly Florida sweet. The twenty-four year old Beane had filled into the frame which bore him, now, on the spring field of the Minnesota Twins. Here they watched as the new Twins manager Tom Kelly beckoned the Beane of 1987 aside. "He's sending me down," whispered Beane. "I was in the show for most of '86, finally started to settle in, and then they fired Ray Miller and brought in Kelly. Still, I was sure I'd earned my spot for '87." The face on the former Beane grew dark, his eyes downcast, as his fate was laid out for him. The older Beane felt the wound torn fresh anew, twenty years later. "Kelly...red-ass...told me I needed to work harder, that I had the skills, but not the will. He sent Ron Washington packing that spring too! Bastard...what the hell did he know?"
The Ghost cleared his throat. "The Twins did win the Series in '87." He paused to let the scene settle in. "One shadow more."
"No! I cannot bear it!" But Beane's plea had no effect. Florida faded into Oakland, the Coliseum a tumult of color and sound, a full house on October the 13th. The spirits stood on the first base line; a grey-clad pitcher stood in the stretch; a runner a few cautious steps off of first base. A young Oakland outfielder, potential not quite yet o'erwhelmed by failure, stood in and laced a shot up the line. "Fair! It's heading for the corner! Run!" Beane could not restrain himself. The visiting right fielder dug the ball out and sent it looping back towards the plate, missing the cutoff. "Faster! Hurry!" Another grey specter drifted towards them, the shortstop, the hero...why was he here? "C'mon! Slide!!!" With a pirouette the matinee idol grabbed the ball and willed it to the catcher's outstretched glove. The baserunner pranced. The catcher tagged. Out.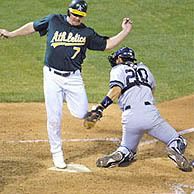 "You bloody bastard! Slide...why didn't you slide?" Beane forgot himself and lunged at the throat of the Ghost; he grasped nothing. The Ghost remained placid while Beane fell to his knees sobbing. "Spirit, remove me from this place."
"I told you these were shadows of the things that have been,' said the Ghost. 'That they are what they are, do not blame me. Fasano? Saenz? Santangelo? It was your roster; if curse you must, curse the lack of a pinch-runner."
Beane sputtered, words of rage and blame and failure colliding into an unintelligible wail, and silence. When he re-opened his eyes, he found himself back in his bedroom, chilled to the bone with cold sweat.

Stave 3: THE GHOST OF SEASONS PRESENT
Beane again cowered under his bedclothes, eyes tightly shut against all manner of gruesome visions he conjured of what might come next. So it was several minutes before he came to notice he was bathed in a pale blue light, which cast his skin with a sickly pallor...more than usual, even. The light came from the crack underneath his door. He approached it.
"Come in!" exclaimed a voice both strange and familiar. "Come in! and know me better, man."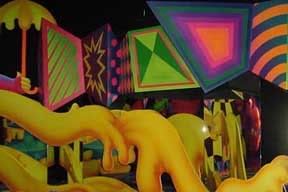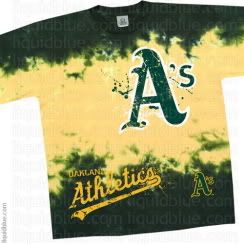 The door opened into his own room. There was no doubt about that. But it had undergone a surprising transformation. The walls and ceiling were hung with tapestries swirled with garish hues. Smoke clouded the air, rich with the scent of incense and sweet burning leaves. A cacophony of colored lights blinked. And heaped on the floor, piled high to form a kind of throne, were all manner of foodstuffs: turkeys, geese, suckling pigs, great joints of meat, long wreaths of sausages, pies and puddings and cakes, cherry-cheeked apples and juicy oranges. Kine veggie burritos and grilled cheese sandwiches. Mushrooms. And in easy state upon this couch, there sat a jolly Giant, with florid face and walrus moustache, clad in yellow and green tie dye, bearing a fanny pack. Larry Davis spoke:
"I am the Ghost of Seasons Present. Look upon me, man!"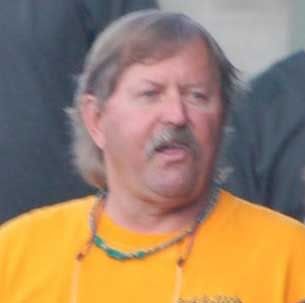 "Spirit," said Beane submissively, "conduct me where you will. Where I joined you predecessor only by compulsion, I learned a lesson which is working now. If you have aught to teach me, let me profit by it."
"Touch my garb." Beane did as he was told. The festooned room vanished instantly, and Beane found himself drifting 'oer the East Bay at the Ghost's side. The streets of Oakland bustled with joyous humanity, calling out to one another in greeting, crowding the shops and markets packed with the bounty of the season. The smells of fireplaces and roasting meats and spiced drink mixed together in an olfactory symphony of the season. The Ghost elbowed Beane's midsection. "Ouch! My ribs!" "My apologies, Mr. Beane. But can you not verily imbibe the good cheer?"
Beane winced that he could, yes. At that the Spirit guided them at a quickened pace, turning North, cresting the hill and down towards Walnut Creek. Presently they reached a lovely home in the hills, with a freshly engraved doorknocker bearing the legend "Haren."
Inside they found a home in some disarray, careful holiday décor contrasted by stacks of boxes and tape. Dan and Jessica Haren sat at a table strewn with the leaving of a sumptuous repast. Glasses filled with rich red wine set before them. Joining them on a cushioned chair of his own was the wee dog Bernie, his brave pug face belying a body ridden with sores. Dan stroked the dog closely, as though he wished to keep him by his side, and dreaded that he might be taken from him.
"Spirit," said Beane with an interest he had never felt before, "tell me if Bernie will live."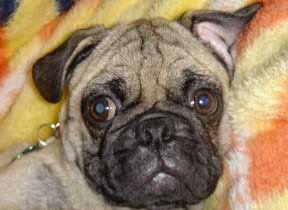 "I see a home in Phoenix, its habitants stricken with unrelenting anguish. I see a vacant dog cushion, carefully preserved for no one. If these shadows remain unaltered by the Future, Bernie will die."
"No, no," said Beane. "Oh no, kind Spirit! say he will be spared!"
"Better to decrease the draw on the burdensome pension fund?"
Beane hung his head to hear his own words quoted by the Spirit, and was overcome with penitence and grief.
"Man," said the Ghost, "Will you decide what is burdensome, what men shall live, what men shall die? It may be, that in the sight of Heaven, you are more worthless and less fit to live than millions like this poor man's dog."
The scene faded to ash as the Ghost conveyed Beane towards his next appointment. Too close he trod, though, and the crunch of bone drew a foul oath from Beane: "Goddamn it, you broke my toe!" The spectral Larry Davis replied "Again my apologies, sir; lost in my duties. We must hasten."
Again now Beane found himself within the somber walls of the Oakland Coliseum, as the Ghost and he looked in on a merry band gathered in the shadows of the grey buttresses which frame the Stomper Fun Zone. Yes, dear readers, though at the moment I knew it not, it was I and my party from whom Beane now had been brought to learn.
"OK, pony up. Who's holding? I brought the mulled pruno." I love holiday potlucks.
"I've got some ammonia," said the intern from the grounds crew. "I brought a freon compressor," said the malt guy. The motor pool lads had degreasing fluid. The office gals bore white-out. One of the clubhouse attendants came huffing in, heavily laden. "I scored the tank from the sundae station! Booyah!" Huzzahs and felicitations rose up among the crowd.
A ballboy arose. "Mr. Beane!" he declaimed. "I'll toast to Mr. Beane, the Founder of the Feast!"
The mood became dour. "The Founder of the Feast indeed!" I cried, reddening. "I wish I had him here. I'd give him a piece of my mind to feast upon, and I hope he'd have a good appetite for it."
"Dear Stomper," said the ballboy, "the season. It's Christmas!"
"It should be Christmas Day, I am sure," said I, "on which one drinks the health of such an odious, stingy, hard, unfeeling man as Mr. Beane. You know he is, fellows. Nobody knows it better than you do."
We imbibed the toast. It was the first of our proceedings which had no heartiness. Beane was the Ogre of the family. The mention of his name cast a dark shadow on the party, which was not dispelled for full five minutes.
Beane stood so ashamed at the ill-regard in which he was held that even the Spirit felt compassion, so that he sprinkled some of his essence of cheer about the downcast GM. "Ow, my eye! It burns!"
And with that the Ghost conveyed them back to Beane's room, returned to its normal dour state, the trappings of festival removed.
"Oh, Man! look here! Look, look, down here!" exclaimed the Ghost. From the foldings of its robe it brought two children, a boy and a girl. Yellow, meagre, ragged, scowling, wolfish. Where graceful youth should have filled their features out, and touched them with its freshest tints, a stale and shrivelled hand had pinched and twisted them, and pulled them into shreds. Where angels might have sat enthroned, devils lurked, and glared out menacing. No change, no degradation, no perversion of humanity, in any grade, through all the mysteries of wonderful creation, has monsters half so horrible and dread.
"They are Man's," said the Spirit, looking down upon them. "And they cling to me. This boy is Ignorance: he knows profit only, and knows not what it is to be a fan. This girl is Want: she cannot afford tickets. Beware them both, and all of their degree, but most of all beware this boy, for on his brow I see that written which is Doom, unless the writing be erased."
"Have they no refuge or resource?" cried Beane.
"Are there no prisons?" said the Spirit, turning on him for the last time with his own words. "Are there no workhouses?"
Beane looked about him for the Ghost, and saw it not. He remembered the prediction of old Charlie Finley, and lifting up his eyes, beheld a solemn Phantom, draped and hooded, coming, like a mist along the ground, towards him.

Stave 4: THE GHOST OF SEASONS YET TO COME
The Phantom approached slowly, gravely, shrouded in a drape of darkest green. The garment—my God, tarps!—concealed its head, face and form, leaving nothing visible save one outstretched hand. Beane was filled with a solemn dread. "I am in the presence of the Ghost of Seasons Yet To Come?" he asked.
The Spirit answered not, but pointed onward with its hand.
"You are about to show me shadows of the things that have not happened, but will happen in the time before us," Beane pursued. "Is that so, Spirit?"
The upper portion of the tarp contracted for an instant in its folds, as if the Spirit had inclined its head. That was the only answer he received. The Phantom then moved away as it had come towards him. Beane followed in the shadow of its dress, which bore him up and carried him out, again. Wasting neither moments nor breath upon the quaking Beane, the Spirit took them through visions in rapid order, as though time once precious were now desperate indeed.
A succession of strange National League cities emerged. In one, a forlorn Mark Ellis roamed unfamiliar second base dirt, his lookalike sister and wife in alien stands, cheering of perfunctory necessity, dismayed. In another, Joe Blanton sat in a dugout alone, disengaged from team and self, sorrow drowned with food, waistline expanding.
They stopped next at a nondescript townhome in the sterile Phoenix suburb where the Harens now dwelt. Where their former abode had been tenderly appointed, with a caring decorator's eye for style, the accoutrements here were haphazard, as though left at the spot they were unpacked from boxes, and not considered since. Jessica sat on the couch, eyes unfocused, swilling glass after glass of barely palatable Merlot.
"Where is Danny?" Beane asked the Spirit; a silent arm extended towards the back door. In the yard Dan Haren knelt before patch of freshly turned earth, marked by a rough wooden cross, crude, what hands more used to splitters than splinters might make. His 6'5" frame seemed broken and small, his beard not so much rugged as haggard, his eyes, well, bloodshot, as he mourned his fallen pug.
But the tarped Phantom had no time for sentimentality, and his craggy finger beckoned Beane to one final vision.
The people on the streets of Fremont walked quickly, hands in pockets, eyes down, minding their own business. The ways were foul and narrow; the shops and houses wretched. Alleys and archways, like so many cesspools, disgorged their offences of smell, and dirt, and life, upon the straggling streets; and the whole quarter reeked with crime, with filth, and misery. The Ghost led Beane down blocks of shuttered storefronts and vacant condos, rooms for let gone begging, until at last they stopped at a squalid tavern with lit window. The Zircon Lounge saw few strangers, and there the spectral visitors tarried.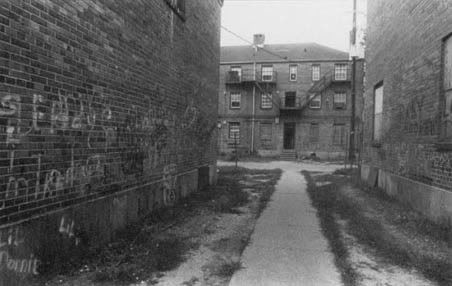 "The A's rot," said the proprietor, a great fat man with a monstrous chin. "And would it kill one or two of those 8,000 fans to stop in here and support an honest local businessman?" Throats cleared and eyes averted; it might actually kill a fan to stop here, thought Beane.
"What has the team done with its money?" asked a patron.
"I haven't heard," answered the barman. "Disbursed it to the partners, perhaps. It's not out on the field, that's all I know." He punctuated this with a prodigious inhalation of breath, gurgling wetly through nasal cavity, and then spat thickly upon a yellowing picture on the wall.
This was received with general bitter assent. He continued. "Makes you wonder why they built a park in a miserable little slum to begin with. Fans need somewhere to linger, to spend their coin, have a meal, congregate in good fellowship. Ah, hang it all! Someone lend me a hand with the sandbags...the tide's coming in."
Beane was distraught. "Am I the man that brought forth this woe?" he cried. The Phantom's bony finger pointed from the soiled picture to him, and back again.
"No, Spirit! Oh no, no!" The finger was still there.
"Spirit!" he cried, tight clutching at its robe, "hear me! I am not the man I was. I will not be the man I must have been but for this intercourse. Why show me this, if I am past all hope?" For the first time the hand appeared to shake.
"Good Spirit," he pursued, as down upon the ground he fell before it: "Your nature intercedes for me, and pities me. Assure me that I yet may change these shadows you have shown me, by an altered life?" The hand indeed did tremble.
"I will honour the Season in my heart, and try to keep it all the year. I will live in the Past, the Present, and the Future. The Spirits of all Three shall strive within me. I will not shut out the lessons that they teach. Oh, tell me I may sponge away the expectorant on this wall!"
In his agony, he caught the spectral hand. It sought to free itself, but he was strong in his entreaty, and detained it. The Spirit, stronger yet, repulsed him.
Holding up his hands in a last prayer to have his fate reversed, he saw an alteration in the Phantom's tarp. It shrunk, collapsed, and dwindled down into a bedpost.

Stave 5: THE END OF IT
Yes! and the bedpost was his own. The bed was his own, the room was his own. Best and happiest of all, the Time before him was his own, to make amends in!
"I don't know what to do!" cried Beane, laughing and crying in the same breath. "I am as light as a feather, I am as happy as an angel, I am as merry as a schoolboy. I am as giddy as a drunken man. A merry Christmas to everybody! A happy New Year to all the world! Hallo here! Whoop! Hallo!"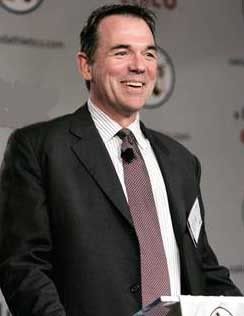 Really, for a man who had been out of practice for so many years, it was a splendid laugh, a most illustrious laugh. The father of a long, long line of brilliant laughs! Running to the window, he opened it, and put out his head.
"What's to-day?" cried Beane, calling downward to a boy in a jersey of gold. "What's to-day, my fine fellow?" asked Beane.
"To-day?" replied the boy. "Why, it's Christmas Day!"
"It's Christmas Day!" said Beane to himself. "I haven't missed it. The Spirits have done it all in one night. They can do anything they like. Of course they can. Of course they can! I must hie me to the Coliseum at once, to begin to set matters right!"
In a flash Beane was out the door, down the roadways, and dashing up the Coliseum steps. But not to his offices, no, not today. Beane instead took a sharp left on the Plaza concourse and made for the Stomper Fun Zone. I and a dozen furloughed peons lay passed out in the folds of the uninflated bounce house, which we'd punctured in the vain hope that useful gas was therein contained. Beane saw the chance to play with his newfound sense of humor. He roared out:
"Hey there, Stomper, and the rest of you louts! What's the meaning of this...trespassing? Stealing club property? Crapulence?"
I rubbed the crust from my eyes and the congealed pruno from my trunk. My head reverber'd like the peals of Big Ben itself, but in my haze I realized still the slender thread from which my station dangled.
"I am very sorry sir," I sputtered out. "We were evicted from the BART tunnel and could find no other refuge. We..."
"I will not stand for this sort of thing any longer," Beane boomed, in his best imitation of his former self. "and therefore...I am doubling your salary effective immediately!" I disbelieved my ears. He continued. "All of you, you're back on the payroll, with big raises. Now go home! It's a paid holiday!"
This extraordinary show was followed by perhaps the least likely sound I could have imagined. Beane was heaving belly laughs, great huge infectious guffaws to raise a smile in even the most stonefaced sabermetrician.
"My boy, my boy. If you could see your face..." He slowly regained as much composure as he felt he required. "Stomper, a very Merry Christmas to you. Do be in early tomorrow, though, as we have much to do. We have extensions to sign with Blanton and Street. And I must call Ellis and tell him to unpack. And invite he and his lovely sister and wife to dinner. And get Forst to figure a way to void the Haren deal..." Beane trailed off in word and body, bound for his office in near full sprint, with a lifetime to catch up upon.
He had no further intercourse with Spirits, but lived upon the Golden Rule ever afterwards; and it was always said of him, that he knew how to keep the Season well, if any man alive possessed the knowledge. May that be truly said of us, and all of us! And so, as Bernie the Dog observed, God bless Us, Every One!