Baseball is back! Oh how I have missed thee! Fan Fest is like a fix for a drug addict. You don't get the full taste for another few months, but it is just enough to wet your lips and hold you over until you can get to your dealer!
Last year I ran around like a crazy person trying to get autographs. I was able to get my hands on two autograph sessions and ran into a good handful of the players throughout the day. But I was so focused on getting the autographs that I didn't really enjoy the day and just soak in the baseball. So this year I decided to not worry about the autographs, I tend to get plenty during the season, and just go with the flow of the day.

When I got the schedule I noticed that the only thing I really wanted to do was the Q&A with My Bobby and Swish! So my friends and I decided to start the day off with the tour of the clubhouse. I had been on the tour once or twice before, so most of the posters on the hallway walls I had already seen. But there were a few new ones, including these: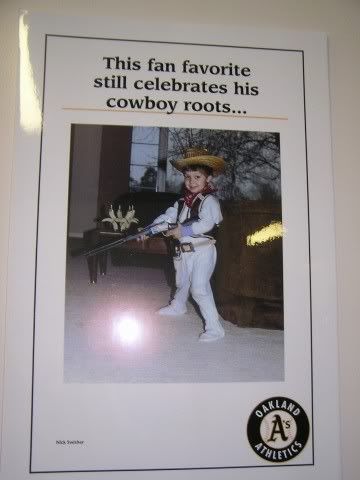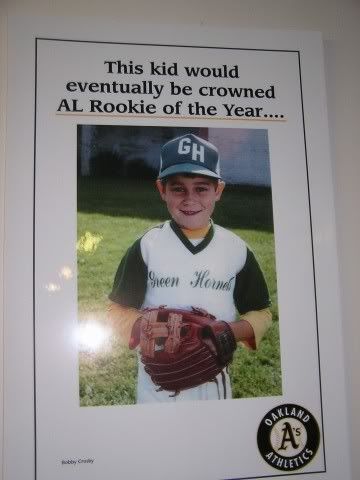 Aren't they cute!!
Then we got into the clubhouse and got to see a bunch of their lockers!
Swish's Locker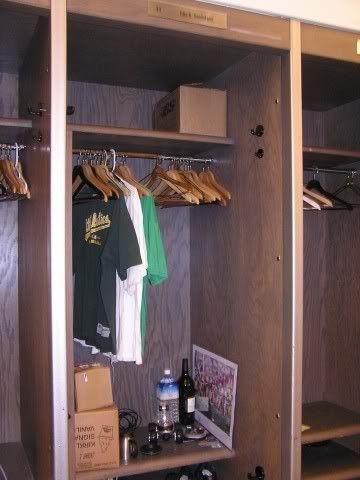 Swish's Bobbleheads!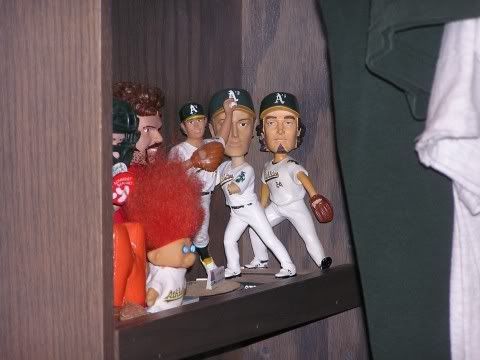 Rich Harden's Locker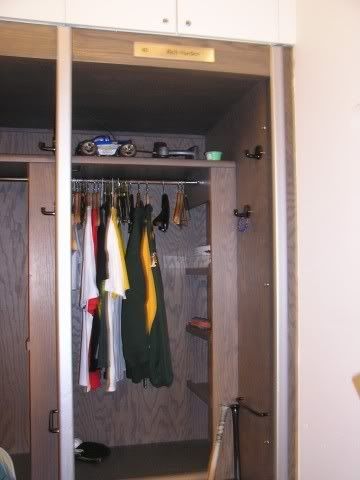 Kotsay's Locker and Family Photos!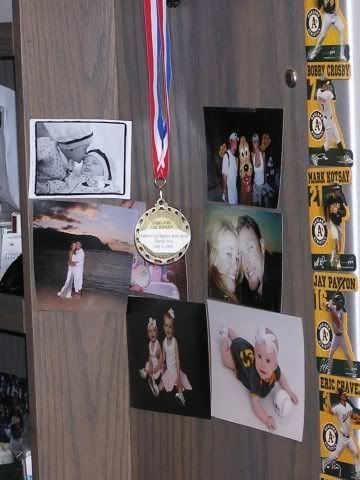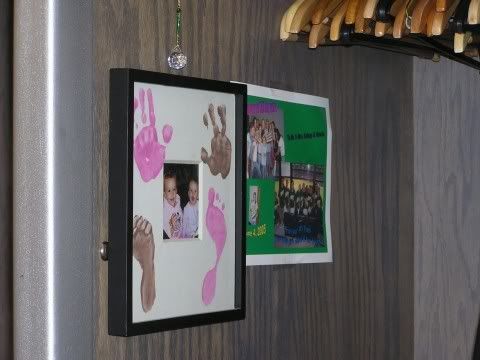 The Giant TV! I wish I had one of those in my house!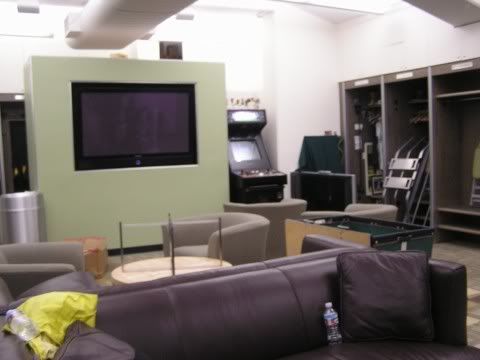 As we were walking out of the clubhouse, Billy and Geren were on stage right in front of us!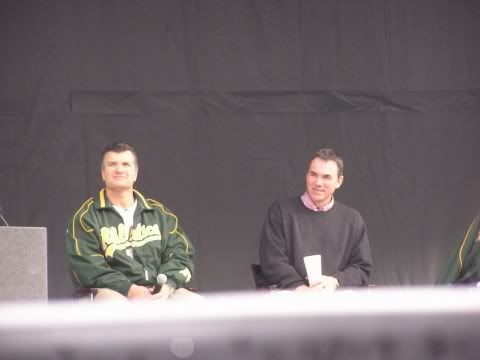 And then I parked it in the Dug Out. Those benches are actually really comfy! And I couldn't help but think of all the amazing ball players who had been sitting in that exact same spot!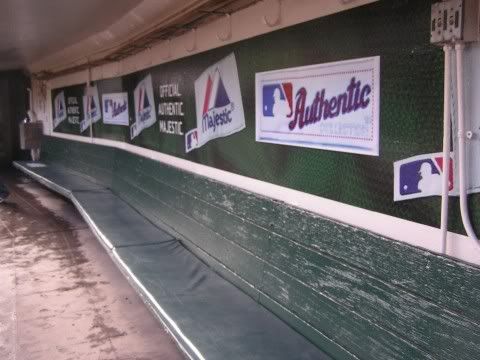 After that we decided to walk down onto the field and walk around a bit. One of my friends had his son with him so of course he wanted to go play. All I cared about was that I was on the field. Now, I know that the field looked terrible and all those lines we just depressing! But one of my friends was ready to lay down and do grass angels! He just couldn't believe he was on the Raiders field, standing on the logo! It was really cute!
Anyway, so while we were standing there, Billy, Geren and Mike Piazza were finishing up their session and I managed to get a quick peak at Piazza as he left the stage!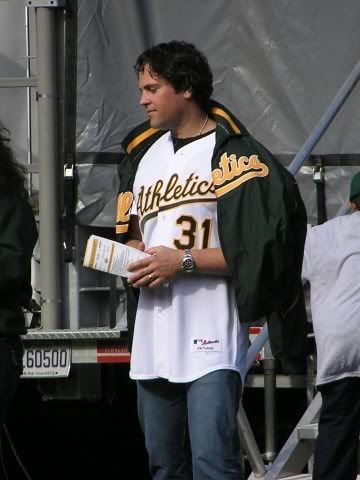 After this we walked around a little bit and decided that we really just wanted to go watch the Q&A sessions. We got there just in time to see Danny and Rich arrive!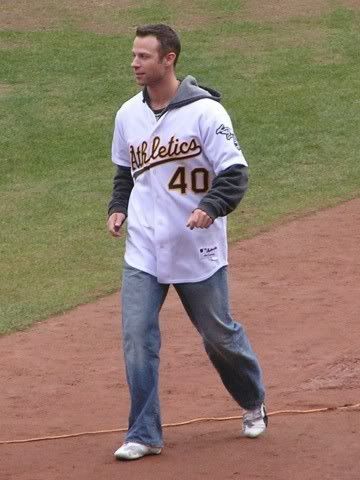 They started their Q&A and my friend had her heart broken when Danny was announced as no longer being an eligible bachelor! She knew he had gotten married, but I guess that made it real for her. I was very pleased to see that Eck was also participating in this one. I always like hearing him! And you know, his enthusiasm for moving to Fremont was wonderful too! So here are my pictures from that session!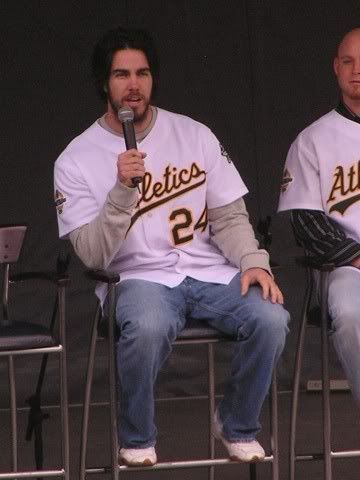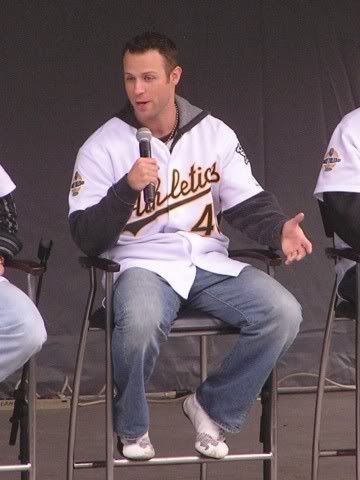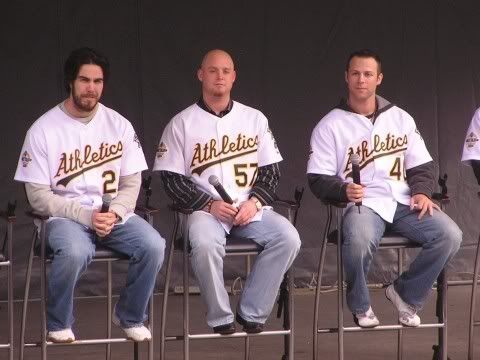 We had some pretty good seats and didn't want to move, so we just hung out for the next session. My friends were all making fun of me cause I was getting more and more excited by the second to see Bobby and Swish! I just couldn't help myself! It had been way too long since I had seen either of them live, especially Bobby! And then they appeared!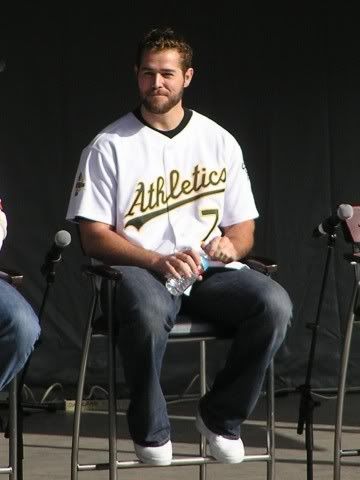 And yes, I totally thought he looked just like McSteamy!! Good GREIF!! I thought I was going to die!
Then there was Swish with his Samurai Swish look! Freaking Loved it!!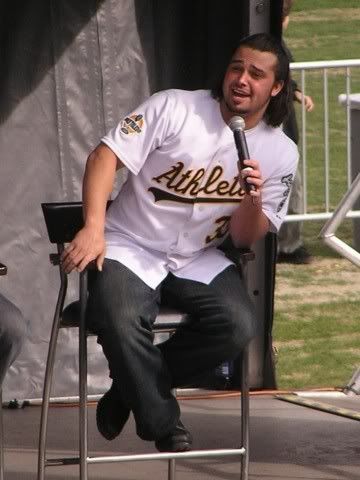 Now why did 18 people have to ask him about his hair! He explained it once and yet, people obviously decided not to listen!
And what is up with these crazy girls asking them to marry them and telling Swish they TPed his house! Holy Cow! If I was him, I would move, IMMEDIATELY!! Anyway, one of those crazy broads asked my man to marry her. First off, EW! Second, that is when my heart broke! My boy is Engaged!! BAH!! Sigh... He is still my boy in my heart!
Well some fool decided he really needed attention and started ragging on Bobby and Huston. I really don't need to repeat what he said, point is, the guy was a jerk and Swish was hiding his head, trying to not get involved!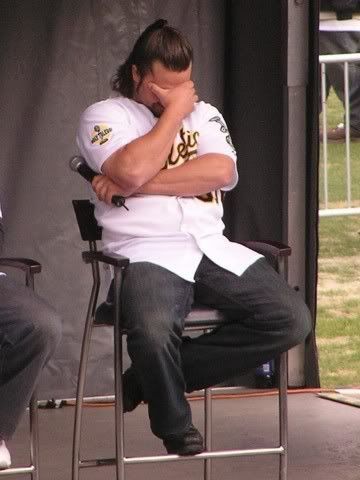 There was one very lucky little boy in the crowd that day. He was pretty brave too! He asked if he could do the home run dance with Swish, and Swish was very good about it. He brought him up on stage and quickly taught him the dance. It was so cute!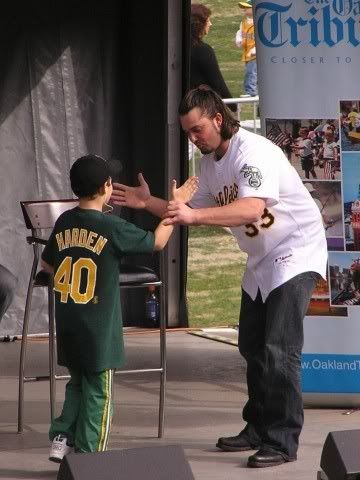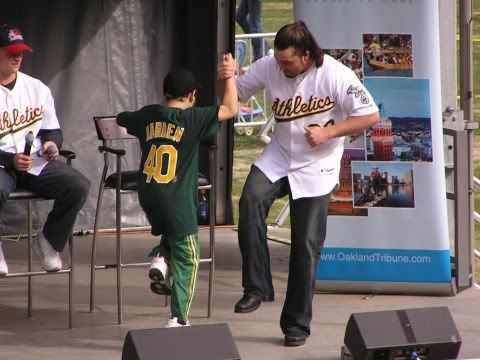 Anyway, the Q&A for this group was really odd! A lot of random questions, and awkward ones, followed by moments of embarrassment!  They all handled it very well! But my new idea for a little change to Fan Fest, they really should have someone screening the questions before people go to the microphone. People should not be asking for autographs and pictures. The rest of us wait in line in the rain and cold and PAY for it, you should too! I don't care how cute your kid is! Anyway, point is, these guys are really amazing and should be given a freaking metal for the way they handle the crazy fans!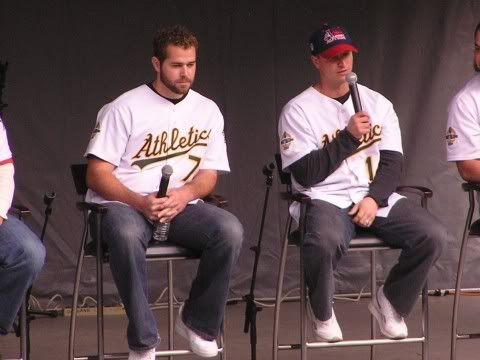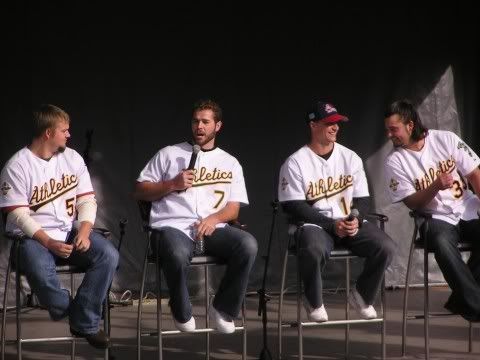 Some of my favorite moments from the session include; Swish saying Big Mac should be in the HOF and he was the new 33!! Damn Straight! Big Joe saying "Huston's Pretty!" Bobby saying that they are working on getting Melhuse a woman! And of course, Swish talking about going commando!
After this, our day was pretty much over. We wandered around a little, looked at some jerseys, and decided it was time to head home. I was very happy with the day. It felt like I was getting my baseball brain back. I felt at home! I didn't get any autographs, but I got loads of pictures and my fix for the off season! All in all, a very good day! Oh! And I got a new Swish poster for my room! <drools>
17 Days: Pitchers and Catcher Report!
1 Month, 3 Days: Spring Training Begins!
2 Months, 4 Days: Opening Day!!