I think everyone who attended the first of two AN Days: the Angelheim Edition, would agree that it was the best time we've ever had watching the A's lose. In the end, the score mattered less than our ability to drown out the surrounding Angels fans, and, oh yeah, the fact that the division is ours. TO THE CHAMPS! And we got to celebrate that in the 'Little A.' Of the 40,000 who supposedly bought tickets, I'd estimate that no more than 20-25,000 of them bothered to show up to see Slingblade pitch a gem (albeit against our A-/B+ team), and Tim Salmon get a chance to hit number 300.
The rowdy Oakland crew made this a fun game, doing the "Let's go, Oakland!" chant, among many others. We were very loud and we definitely annoyed a lot of fans in red, although they were pretty friendly and a lot of them were nice enough to congratulate us on winning the division. After a while, however, the Angels fans started doing a "Go back to Oakland!" chant, but then Erik being Erik shouted out, "I live here, BITCH!" which made everyone laugh. I almost turned around to tell him "LOL," but then I realized I could actually laugh out loud, which I did.
For those driving to any of the other games in this series, I recommend parking at National Sports Bar, right across the street, totally free, no hassles, and a 5 minute walk. I grabbed a quick Firestone Double Barrel Pale Ale -- a great SoCal brew -- and walked towards the oversized Angels helmets, that are supposed to protect the oversized heads of our hated foes.
We were sitting about where the left field stairs would be in Oakland, and the bullpens were easily accessible, so I got a couple of cool shots of Zito and Slingblade warming up:
Zito: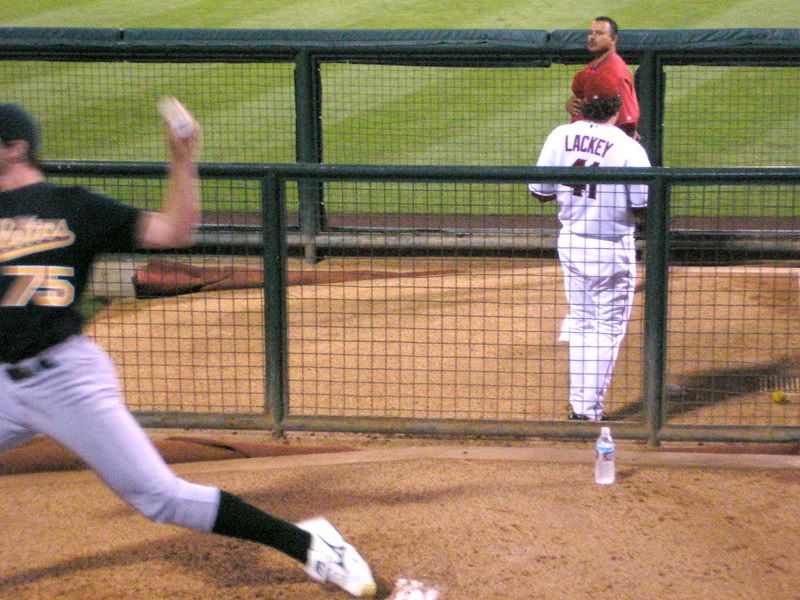 Even though Frank was getting some well-deserved rest, it was nice to see his face!
Frank: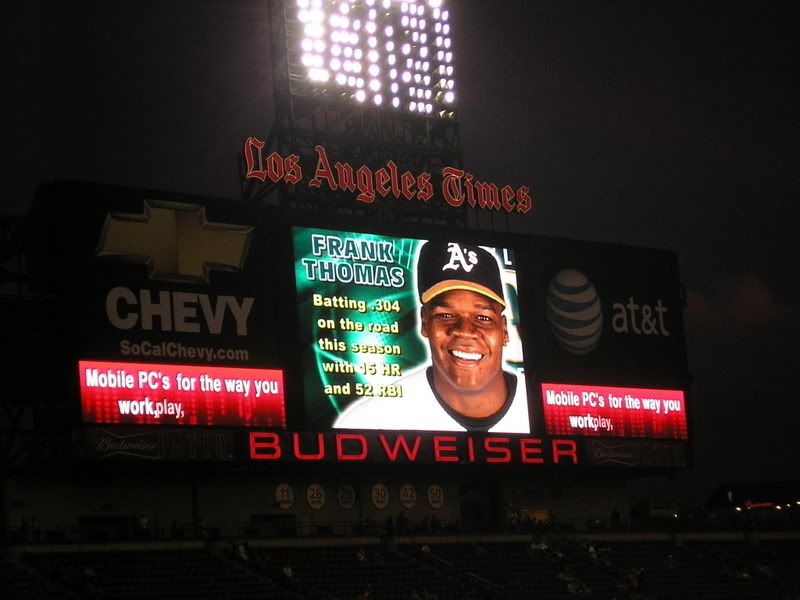 Here's a shot of most of the AN folks at the game, including Amnesiac and Erik Being Erik, among others. Please identify yourself, those of you whom I didn't meet (or remember your login name). The staff was nice enough to let us hang up some green banners. My favorite part of this pic is the couple in red in the bottom right, who patiently put up with the jeers, cheers, and catcalls coming from the ATHLETICS NATION. The crew: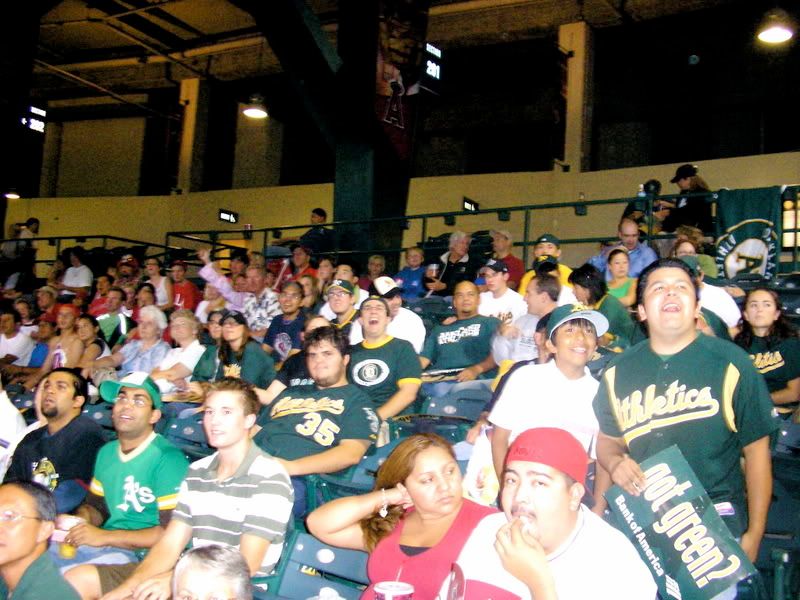 As I promised, I brought along the rally monkey hog-tied: