An unauthorized and unadvertised miniANday Sunday at Banner Island Ballpark saw the Stockton Ports (our class A affiliate) stage a comeback win 8-6, against the Texas Ranger's Bakersfield Blaze. Actually, we were looking forward to the last start this season of  19 year old Jared Lansford. Unfortunately, Jared did not last through 2 innings..Carney was in the crowd of almost 3,000!
Ports reliever Steve Obenchain looked sharp in relief and closer Steve Sharpe got his 7th save.
Skigurl, JohnE, Kathy, Greg, BigDave and Bev and I enjoyed the easy drive down from the EastBay and the amenities of the sweet little ballpark on the river. $9 walkup tickets got us seats 3 rows up from the field, close enough to chat with the visiting team as batters waited on deck. $1 tickets got just fine picnic seating on the outfield berm. All kinds of fun going on, good food, give aways ( Casey at the Bat bobblehead)and a Team Store that had all kinds of Ports gear for sale.
Did you know Class A guys still play pepper? BigDave watched one guy fumble around and commented that he must be able to hit. As it turned out Luis Perez did hit - 3 for 3 with a HR.
Lots of fun. Now if I can just get up to Rivercats and visit the Blez family at the ballpark!
Note: This morning's SF Chronicle featured "Pray Ball" on Faith Nights at ballparks near you. We just missed the Moses bobblehead giveaway at the Ports on Saturday. Banner Island Ballpark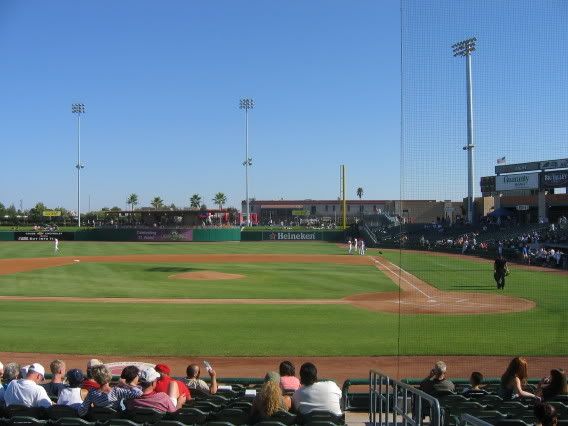 Jared Lanford