Thanks to Kaiser99, I was able to play hookey on Wednesday (hence, you will not see any pics of myself in this thread to avoid incriminating myself).  I took copious pics of the Wives and Girlfriends of the Green and Gold (or pink as the case was).
Lacey Larson (Street's GF), Brandi Payton, Michele Duchscherer.  I told Michele we were glad to have him off the DL (she said 'thanks') but forgot to mention I thought he got squeezed by the ump the night before.


The scoop needs to be this fuzzy ...


Brandi instructs Lacey on the finer points of float construction.  'You scoop out the ice cream like so ...'


'Focus Lacey, just like Huston'


I had to keep my distance from Zito and Swish to stay out of the range of their heat vision.


Alexa Chavez sans Diego (who was down in the kids zone) and a rapidly moving Jamie Kotsay


Jamie is much hotter when she stays still for a picture :)


Kristin Sarloos, Sarah Ellis, and Megan Thomas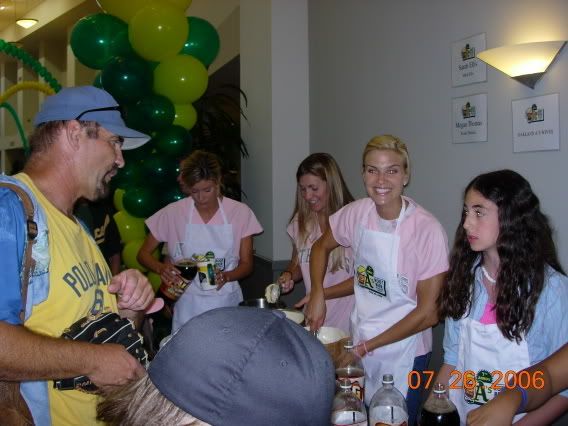 For the record, it wasn't easy trying to figure out who was who.  I mentioned to Alexa and Megan that there was probably a market out their for a calendar of the A's Wives and Girlfriends.  Amusingly enough both of them cracked a joke about Anna Benson and her proclivity towards being scantily (if at all) clad.  I did say though that it didn't have to be a swimsuit calender, that their pink jerseys would be just fine (I kinda like the pink jersey look).
I bought the $25 32oz unlimited refill cup signed by Crosby (unsigned was $15, regular cup was $2 + $2 per refill)  I think I refilled 3 times on the floats until I couldn't handle anymore.  I had the mug signed by Gina (Crosby's girlfriend), Alexa, and Stomper.  Kaiser99 and I sat in the second row in the bleachers seats in the far left section (I pinch-flag waved several times).
The most memorable part of the game was (and Kaiser99 can back me up here) in the bottom of the fifth when up strolled Big Hurt with 2 on after Bradley walked (who walks Bradley to get to Thomas?!) ... I called audibly to the regulars around me - 'Stairwell shot' ... A couple pitches later, Thomas launches one high and DEEP, headed right towards us ... hoooking slightly ... right into the stairwell between the bleachers and the left field field level seats. :D  All ended great with the A's winning and it was a good time out.