We had both today at in Oakland.  Thank Heaven.  I really couldn't handle being swept by the Red Sox right now.  
I am sick as a dog and, let me tell you, it is really frustrating to be at a game and not be able to cheer for your team.  Especially when they're winning.
Missed a bit of the Float Day festivities and didn't take a whole lot of pictures.  What a great day for baseball:
the floats tasted yummy

Danny and the pen pitched a helluva game

it wasn't too hot

The nonbaseballplayingalien that's been inhabiting Chavy's body was gone (at least for one day)

$40,000 was raised for juvenile diabetes

Frank Thomas was Frank Thomas

and - oh yeah - the A's won baby!
Loved Danny's high socks! Hot. But I really don't get why he and Swisher think they have chicken legs. Perhaps we should start a letter campaign to lobby for the wearing of high socks.
View on for pictures...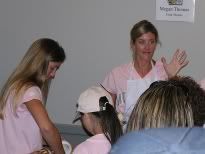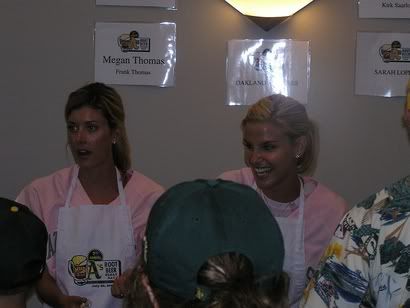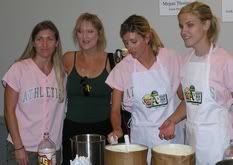 Huston's GF is very pretty.