How time flies. Baby Winexp was born September 3rd and she could barely do anything at the time. She could read a Yahoo Sports game log and figure out where baserunners are. How she has grown, and now that she is nine months old, she has just gained the ability to pound out simple graphs comparing player contributions over time. It is damned fun to play with.
These pictures show for every date what a player's TOTAL contributions to the team have been this season, so their graph will dip after bad games and go up after good games. Staying level is not a terrible thing. If a whole team played at win expectancy contributed = 0.000, they would play .500 ball, which is not something the A's can look down on this year.
(What is win expectancy contributed? Also, search the archives for diaries on Winexp.)
So when the year started, we were hoping Chavy, Bradley and Thomas would rake. Here's what's happened so far.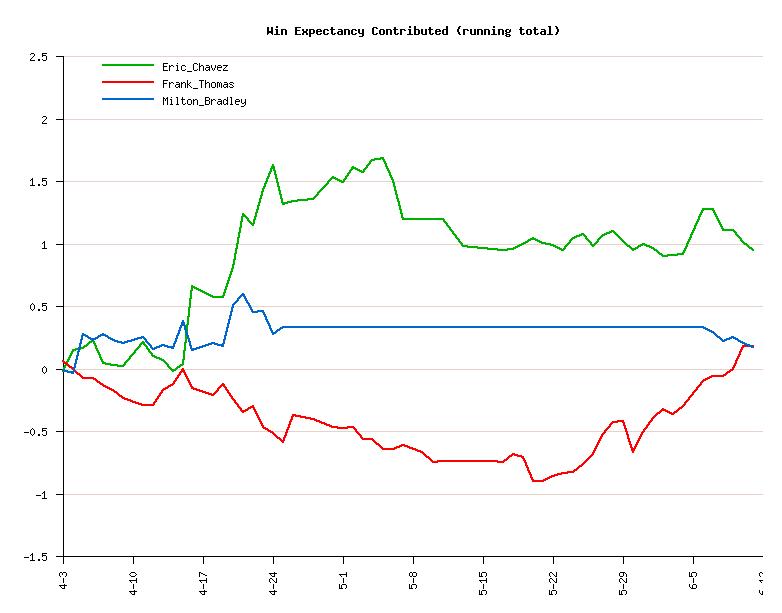 Indeed, Chavy finally had a stunner of an April (to be exact, the last half of April) everyone wanted. Unforunately, ever since then Chavez has actually been a slight drag on the team. Milton hasn't made much of a mark so far, and The Big H steadily sucked until the end of May when he went crazy and made up for all his suckitude by entering the positive side of the chart.
We also were counting on Swisher, DJ and Bunnies Crosby to mature.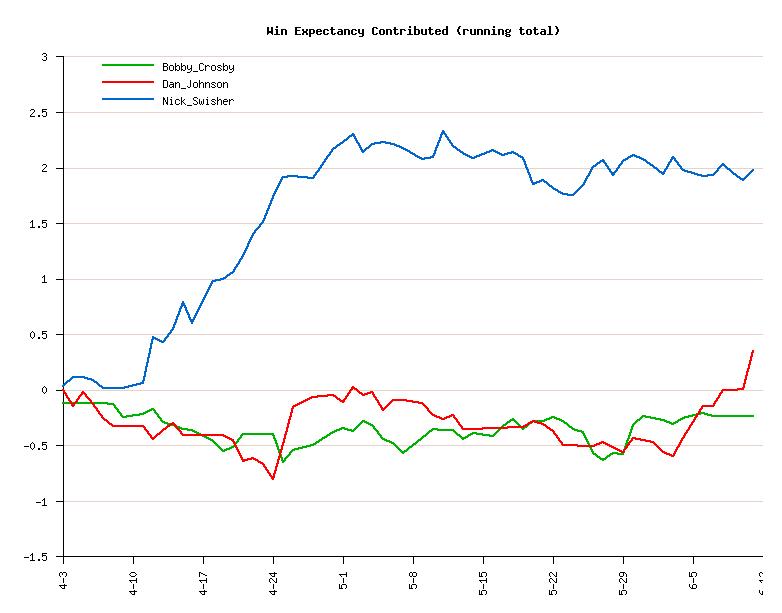 Well this year, of course Nick Swisher's world-beating April jumps out at the eye. Along with Chavez, he was the reason the A's didn't collapse in April. Indeed, Baby W estimates his contribution at his peak at ~2.2 WXC, which is worth about 4.5 games above .500. Unfortunately, since the start of M*y, he's levelled off, but at least he hasn't gone in the tank. Bunnies has had a so-so year, and DJ saved himself a trip back to the farm with his recent streak. Indeed you can see from the graph he's been a consistent drag on the team except for one great little burst at the end of April.  Let's hope Good DJ stays.
In contrast, here's how our starting pitching has been this year (Harden omitted to avoid uncontrollable sobbing from me).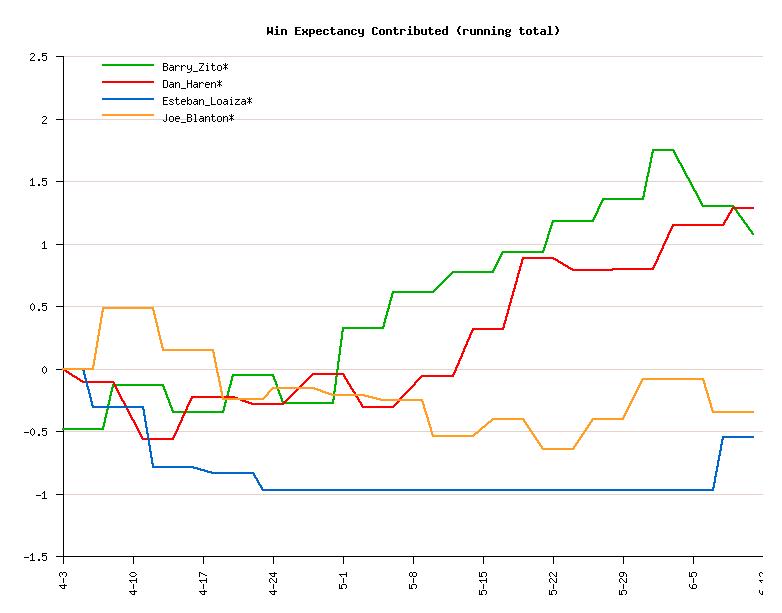 Cupcakes started fast, then drifted below par until the end of May when, threatened with demotion, he made up for most of the harm he'd done by nearing the 0 mark. Loaiza we all know about, stinking it up hideously and then possibly beginning a comeback recently.  While Cupcakes and Loaiza treaded water in May, Zito and Haren turned on the afterburners to keep us afloat while the hitters were stinking it up.
Finally, whatever happened to our bullpen?  We were counting on Street with Kiko, Duchscherer and Kennedy setting up.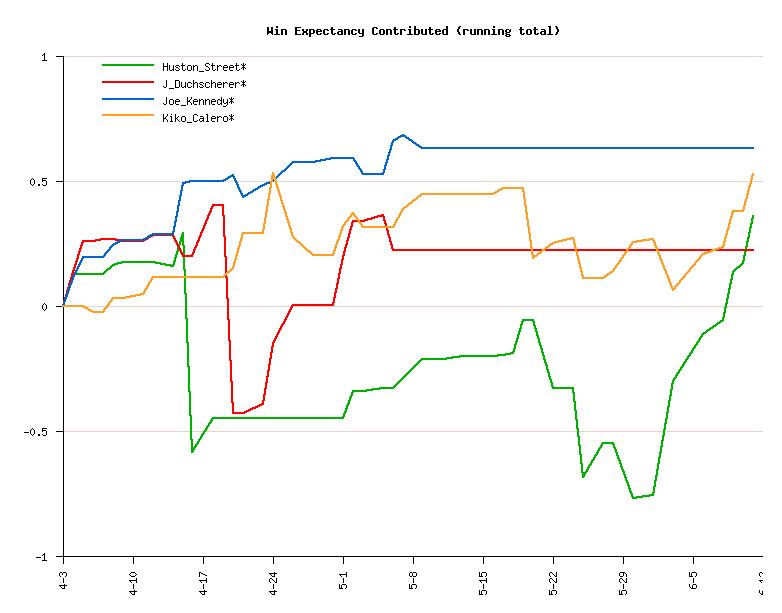 Well, Duke and the terrifying but effective Joe Kennedy flatlined on the graph due to injuries, and Calero has ups and downs but ends up treading water in value. In reality, it's Street's performance that has most closely tracked the team's play. A so-so April went out of control with a game Huston singlehandedly lost, followed by a so-so May that went down the tubes with Huston's bad stretch, followed by handsome Good Huston returning in June just in time to beat the world (and most satisfyingly the Yankees).  Huston's contributions to date total about .4 WXC or 1 game over .500, which is exactly where our puzzling, maimed, exasperating, thrilling team is today.
--
By now, Baby Winexp should be called Toddler Winexp, but that's an awful name and I just like the ring of Baby W.
This has been a rollercoaster time in the Apricot clan, with illnesses, a funeral, weddings left and right. Indeed, Baby W's recent growth spurt was the result of Papa Apricot's ongoing fight with strep throat. (Welcome to amoxicillin, mf!)  But the most important event of June has been baby Hopey's first birthday.
Somehow in one measly year, she grew from
to
.
I realized pretty soon she'll be asking me awkward questions like why can't she go on dates yet and how exactly do you calculate a Win Share. So I better go and start prepping.