Have to post this.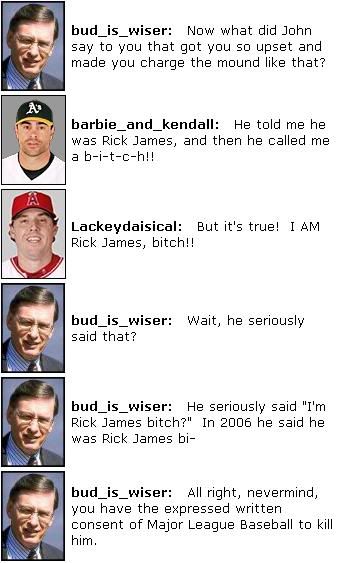 Click the photo for the full thing. It's funny, trust me.
Oakland Trib on the uniform conspiracy
"It would be smart to purposely -- even if they are not -- to be wearing the (green) Athletics jersey," said Kirk Wakefield, chair of the sports sponsorship and sales program at Baylor University. "You want people as far away as possible to identify with the team, not the city."
Building a team's fan base is a top priority for every professional sports franchise. Not only does it put more fans in the seats, but it also helps generate sales of team merchandise.
As a result, many teams introduced a third jersey in the 1990s to boost sales. In doing so, experts said, they dictated when and where a certain uniform would be worn.
The third jerseys are typically darker than anything else in a team's wardrobe and spell the team's name, not its home town, experts said.
"Teams make a conscious decision when to wear the alternative jersey, when to have the throwback jersey. These are decisions made by management," said Dan McKenna, senior account executive with The Point Group, a sports marketing firm. "Usually, the players will walk in and see what is hanging in the locker and that is what they wear."
As Mets SP Carlos Zambrano is gone for the season, many pundits speculate about his replacement. Translation - this gives ESPN more fodder for Zito trade talk.
Today is an off day, and that is sad. Occupy your time with this.
I know today's poll question is painful.