Ok, given that our A's are depleted by injury right now and are struggling I thought that I would post a diary about my time this week attending A's games at the Skydome (errr... Rogers Centre).
Tuesday night:
My wife and I attended taking advantage of the $2 ticket promotion sitting in the upper level.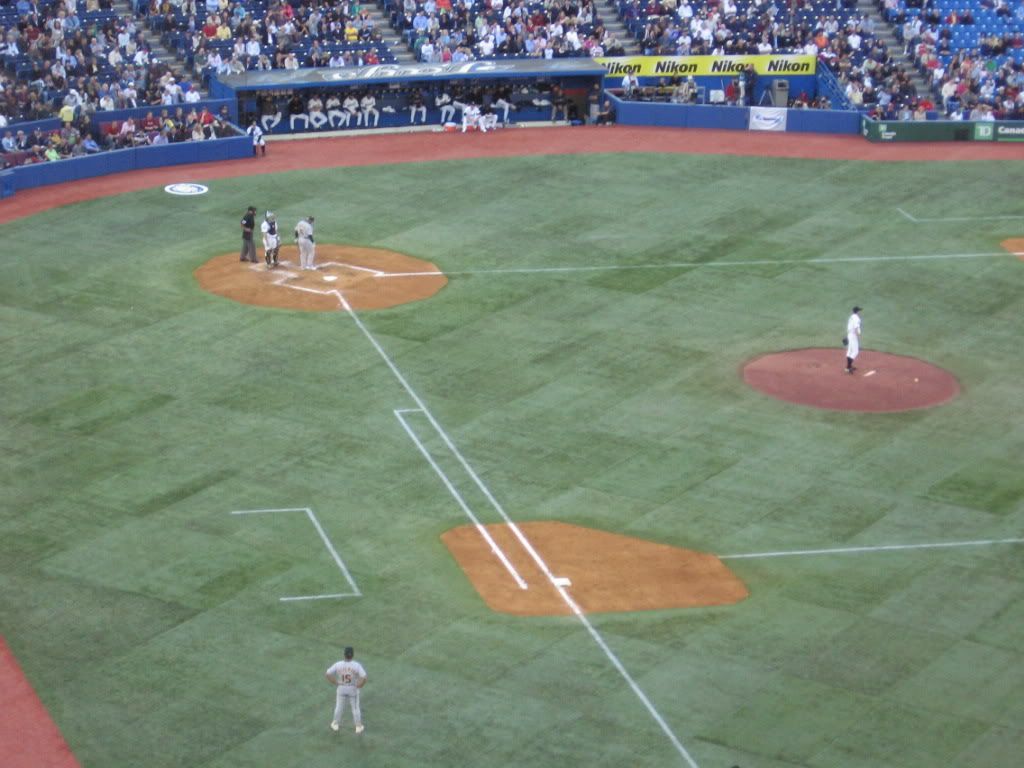 The view was nice: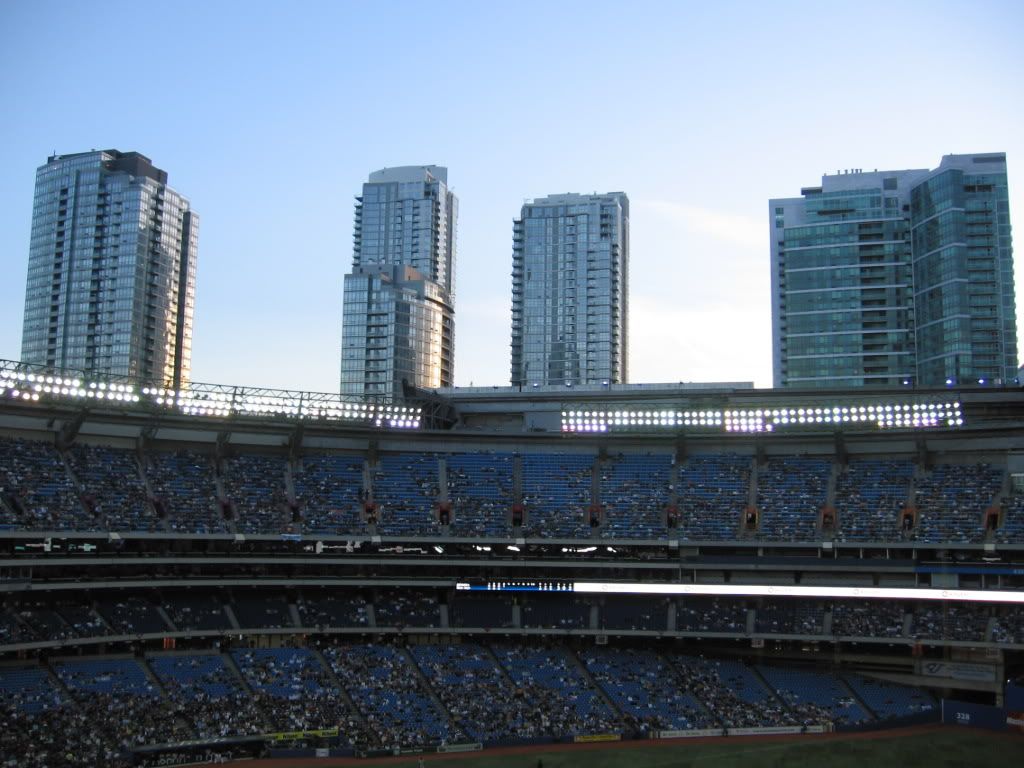 I wore the road grey jersey under the hunch that the A's would wear it and they did!  Much more importantly my wife and I took our son to his first baseball game.  He was very excited to go earlier in the day: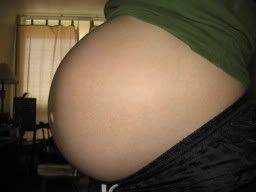 And then at the game he had a great time: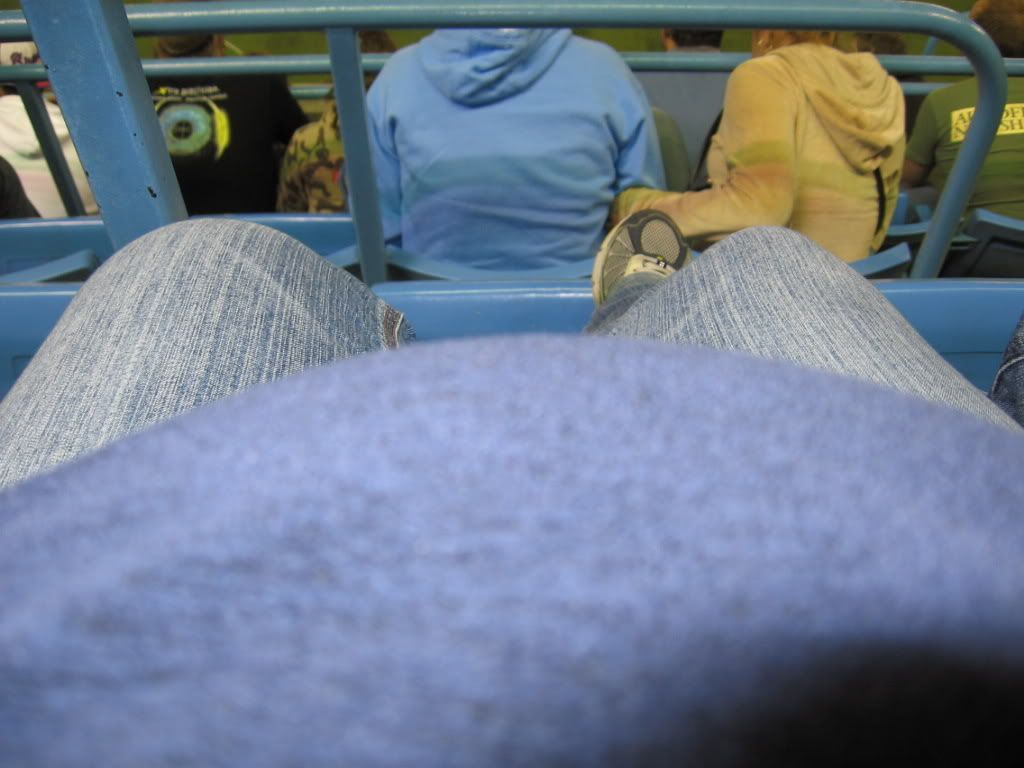 It was great to see the A's win and it was fun giving the drunks in the section that suggested that I sucked nothing to talk about.  I also enjoyed seeing Brown step onto the field before the game for the first time as a major leaguer.  
On Wednesday I spent the mid morning at the hockey hall of fame with my hockey player friend who has season passes:
He also had free first level tickets to the game that night and that came in handy.  We watched BP.  We paid particular attention to Thomas chatting it up with swish:
And not to leave the ass fans out I got a shot of J.Brown's jean selling ass before the game: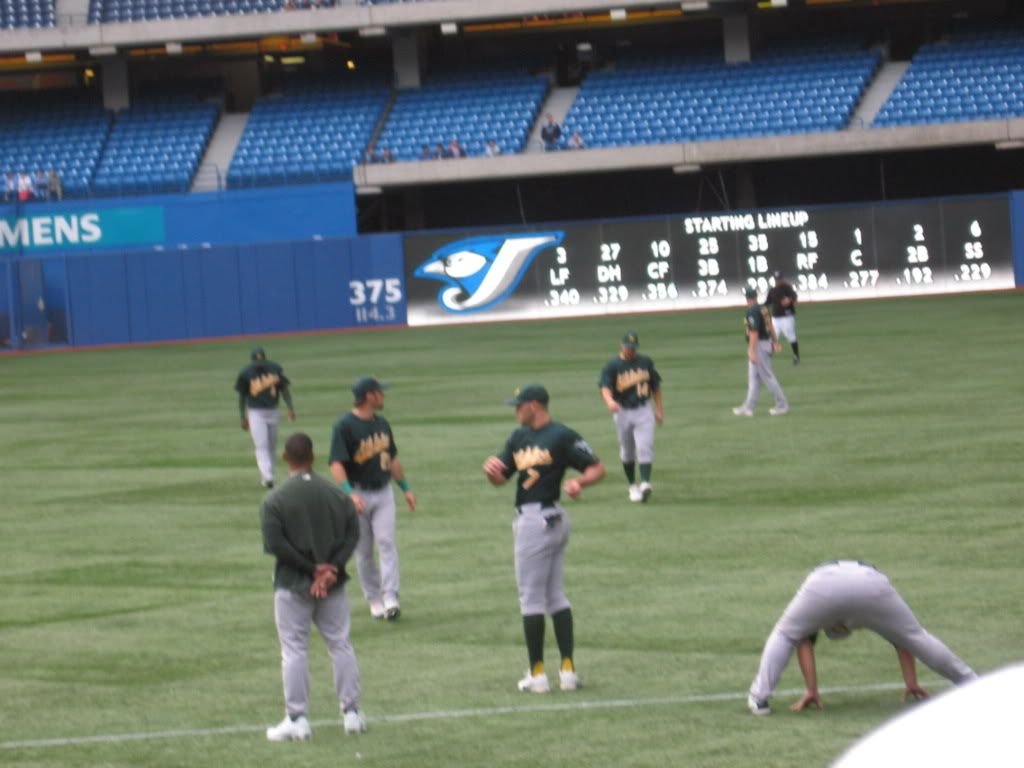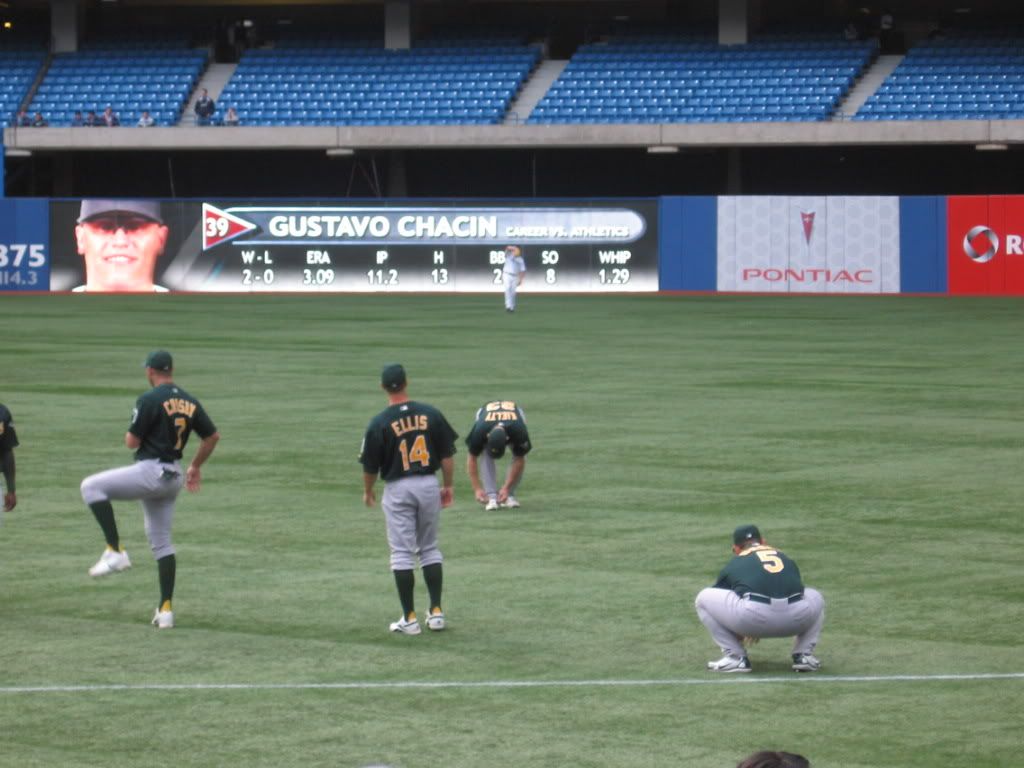 The poor guy was so nervous that he fell over while running one of his pre game sprints.  I do not have a picture of that.
I had joked with Toronto A's fan that since he was missing the game that his favourite pitcher Mr. Cupcakes was going to threw a shutout and that the bug hurt was going to hit a dinger.  Well, we got half of that.  It was good to see the offence wake up for a game but it was a frustrating game to watch.
Thursday we toronto A's fan was there and we got to admire thomas' size up close: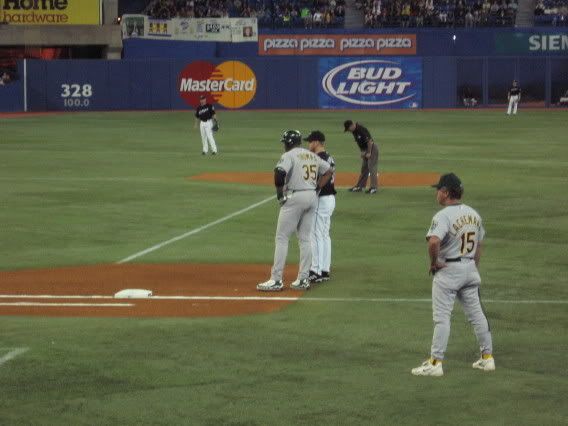 The roof was closed and I find that the park seems very boring and unballpark like when the roof is closed.  The game felt the same, unball game like.  Only Swish's two dingers kept it somewhat palatable to watch.  It was ugly.  It got worse when Thomas pulled up lame halfway between second and third on Kielty's double to left.  I had commented before to TAF that they should pinch run for him given that the game was out of hand.  It was just ugly on all counts.
The highlight of the game had to be because of Rene Lachemann.  All throughout the game he had been coming out every inning and giving a ball to a young person in the stands right behind first base.  Normally he had given baseballs to kids under the age of 8 or so.  Throughout the game I had been making eye contact with him and giving him a thumbs up sigh.  I was wearing a home white A's jersey and I stood out among all of the jays fans in the section.  Before the start of the 9th inning he pointed at me and threw me a ball!!!

That was the highlight of the game.  
I had fun but I would have loved to see more wins.
Melhuse hit very well but I wonder how well he called games given that there was only one quality start in the three games that he caught in Toronto.