Hello All,
The A's Won!! Then the lost... and lost again. =(
I went to all three games of the series. There were a lot of positive moments in the series. I know it is really easy to focus on the negatives, so I am going to try and stay a bit positive.
On Friday, I discovered I may be a game or two away from fully converting a friend of mine to an A's fan. She was born and raised a Giants fan. (not her fault, she lives in San Jose. Her Boyfriend is an A's fan, so there is hope!) This weekend she actually uttered the words "Hey, nobody asked ME if I wanted to be a Giants fan!" The best thing was she saw a Rich Harden fast ball LIVE for the first time. I do have to say she was impressed! I would hear "DAMN!" fly out of her mouth every so often and a small smirk would cross my face. It is so nice to show people the light that is the Green and Gold!!
Rich pitched fabulously. He is so damn sexy out there, it just kills me! Oh yeah! Bobby got a sweet RBI double...BY THE WAY!! Of course, I noticed Scutaro get up in the hole and my stomach sank. BOBBY!! YOU ARE KILLING ME!! I love you, don't ever doubt that, but please, do me a favor, wrap yourself in bubble wrap every so often. If you need assistance, give me a call and I will be happy to help! ;)
Saturday was an awesome day. Yes, we lost, it sucked. But I got to go to the game with my Dad for the first time this season. He was very impressed with my new seats and the view. He freaked me out a few times with his psychic abilities. In the first inning when Haren threw the third ball, he actually said, "Great, Haren is going to walk him and he will score." Now, I know this was probably 90% baseball knowledge flying from his mouth, but it was a bit eerie.
Nick Swisher's Grand Slam was one of the best things I have ever seen in my life! I thought Payton's last year was hot! But it just didn't compare to Nick's first Career Grand Slam!! It was so beautiful. I felt very lucky to have been there for it!
So yes, we lost, but all in all it was a good day for me personally.
Next was Sunday's game. I went with my friend who goes to most of the games with me. She was so excited to have Chavey's ass in front of her again. She was very sad that Huston wouldn't be playing, and I said, "Welcome to my WORLD!" Swisher hit a Home Run, AGAIN! And made a few spectacular catches, AGAIN! Swisher is on fire and I love it!
I discovered on Sunday that I am very protective of my boys. You see, to me, it is one thing for a fan of the opposing team to crap on my boys. But for a fan of the A's to sit there and crap on them, especially with false information, is just too much for me to handle. I almost turned around and socked a guy right in his face for crapping on DJ yesterday. He kept saying, "He can't hit shit, He is terrible, He hasn't had a hit in a month!" Well, that is when I just couldn't take it any more. I whipped around (he was 2 rows behind me) and said "HEY! Did you watch YESTERDAY'S game??" "uh, no, I wasn't here and it wasn't on TV." "Well, yeah, DJ went 3 for 4 yesterday, so shut the hell up!" "oh, uh, Ok, that is why his average is up a bit." "You know, if you are going to talk crap, try knowing what you are talking about!" It was rather amusing. I kinda surprised myself. I mean, DJ is not playing well. But I didn't want anyone saying things about my boys that simply were not true. It is one thing to say "Kendall hits into too many DPs." That is truth! But to say someone hasn't hit in a month when they had a multi-hit game just the day before just got my blood boiling. (FYI, he was talking like this all day. He was saying a LOT of stuff all day long that wasn't true. This was just the last straw.)
So after the game, I heard the interview with Macha. Someone asked him if he looks at the game as half full because they had the winning run on base in each loss. He said, "A loss is a loss. No half full about it." Well, I have to disagree. These games were all very close. The A's kept their heads above water until the very last second. There were a lot of great moments in each game. Yes, when it comes down to it, the fact is that they lost and that is all that will matter in the long run. But you can look at the games and see that there were a lot of things working. They didn't bow their heads in defeat. They kept right on fighting, right to the very last out. There was potential for an amazing ending. It was right there within reach. The way I look at it, that is a great sign of things to come. The team is not hot right now. They are in April and we all know what that means. But if they are doing this in April, keeping us in there, fighting, coming within inches/centimeters of success, I can't wait to see what they are going to do when they get hot! It will happen, and it will be AMAZING!!
So here are my pictures from the weekend.
Friday:
Rich Harden Warms up for his third win!!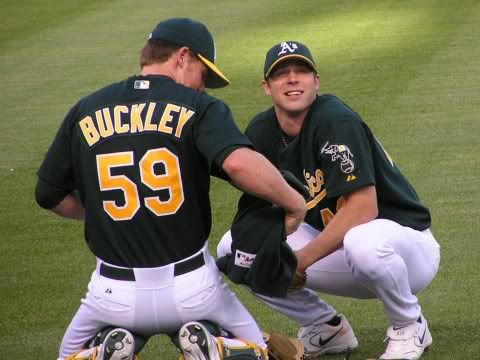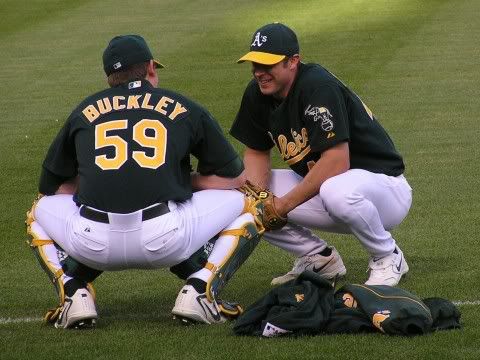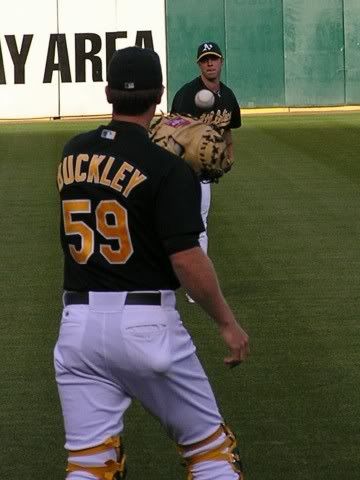 "See, I am just as hot as Huston!!"

Kotsay showing off his assets!

Bobby! Why aren't you wrapped in Bubble Wrap?!?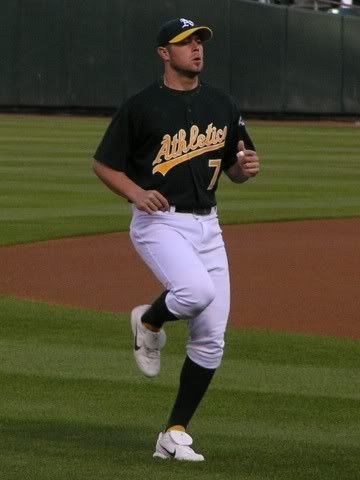 Ok, so just as I say to my friend, "Bobby never looks at me. I never get pictures of his face, Don't get me wrong, I love the view I have been getting, but I would really like a pic of his face once in a while." He turns and looks at me!! He totally heard me! I am sure of it!

Swisher: Just the beginning of lots of Swisher Love!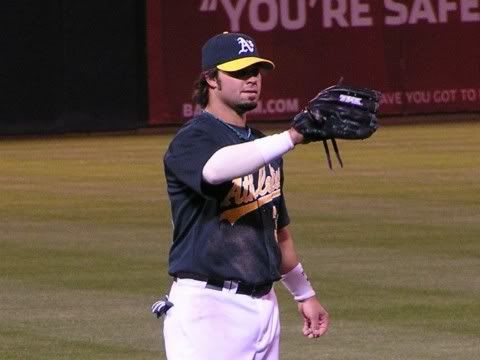 Chavey Scores! WOO!!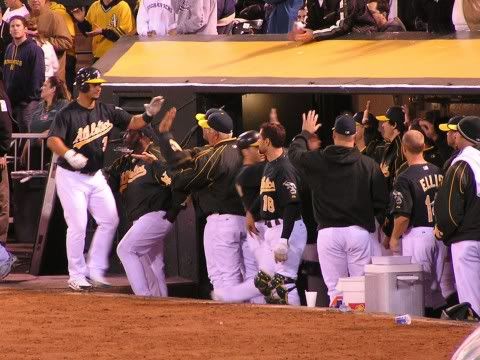 They WIN!!

Saturday:
It was Umbrella Give Away day at the Colesium

Batting Practice with High Socks, All is right with the world.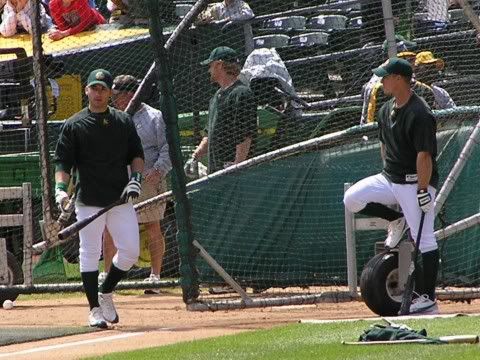 Blanton warms up then goes to sign a few autographs.

Macha shows off his foot work, showing Chavey how it's done!

Zito Warms up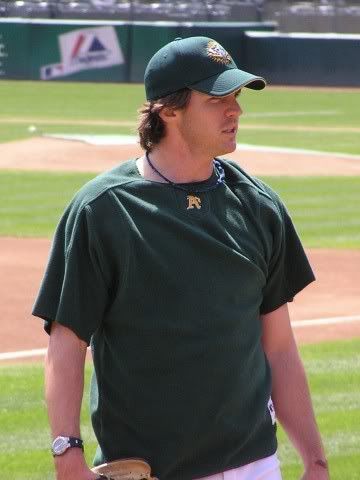 Zito actually signed autographs. I couldn't believe it, the one day I don't bring my pictures for him to sign. I was so mad!!

Then he went and got his Dave Stewart Award!

Swisher and Calero get a ride.

I went to the game with my Daddy, and Melhuse had his Daddy there too. (At least I think it is his dad. It sure looks like it could be!)

Buckley Love!!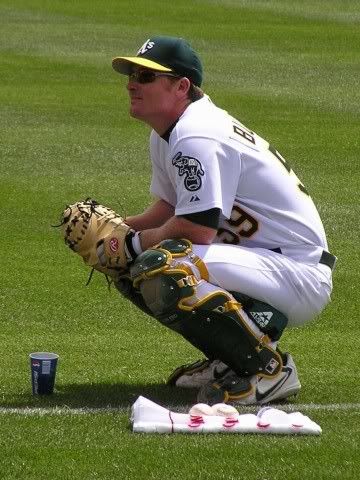 Some Latin Love: Scutaro and Chavey Warm up

Kotsay in High Socks!!! Is there anything Sexier!?!

Wait, No, Something is Wrong here!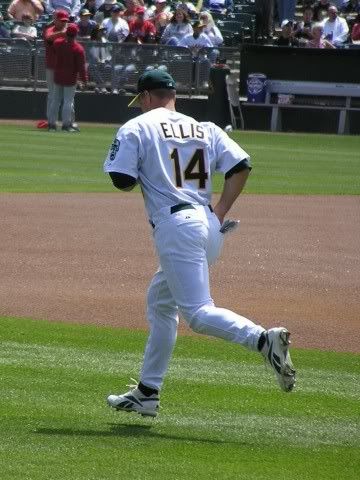 No, this can't be happening!! Our Middle Infield should have High Socks! We need the power of the High socks up the middle! It is Just WRONG!

Oh, Kotsay makes it a little better!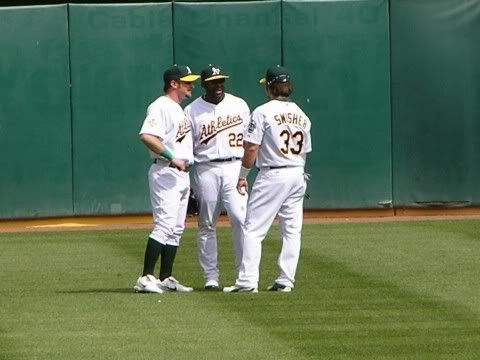 More Swisher Love!!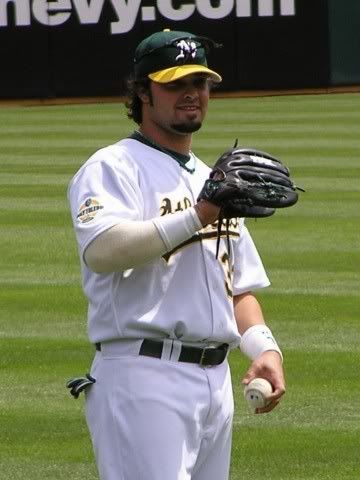 Swisher's Grand Slam!! I am so Proud of him!!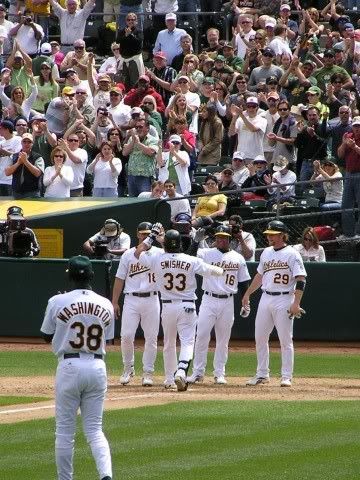 Sunday:
Calero signs autographs for some Little Leaguers

OH! LOOK!! All is right with the World again!! The High Socks are back!!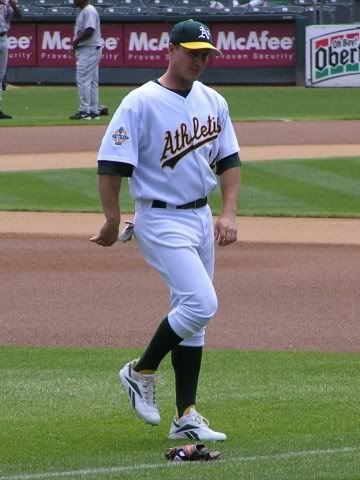 Unfortunatley, he obviously traded with Kotsay! Seriously guys! Why can't you both wear them!

That's ok Kotsay, you are still hot!

Especially on Second!

ESPECAILLY when you Score!! (Look, Bobby!)

And Even when you are doing your interpretation of a Frog!

Showing Bradley some love!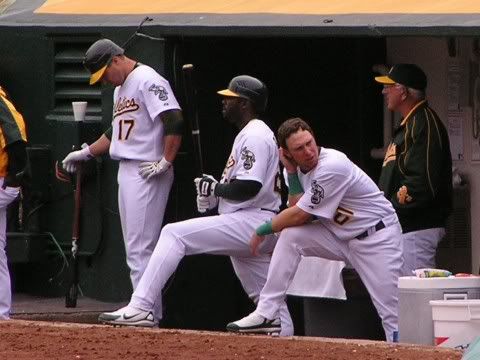 Poor Melhuse, the victim of the F$#%ed up Strike Zone!

Chavey got a piece of one, even if you had to reach for it!

Captain Kirk to the Rescue!!

Stomper Shows his love to the Left Field Bleacher Crew!

Last but Certainly not least, EVEN MORE SWISHER LOVE!!

Look, The Man is HOT, and he is HOT! So I am just going to keep taking pictures of him. Not only that, but I am making up for all the pictures I DIDN'T take of him last year since he was out in Right Field! Besides, I don't have Bobby to point my camera at right now, so Swisher is a perfect subject!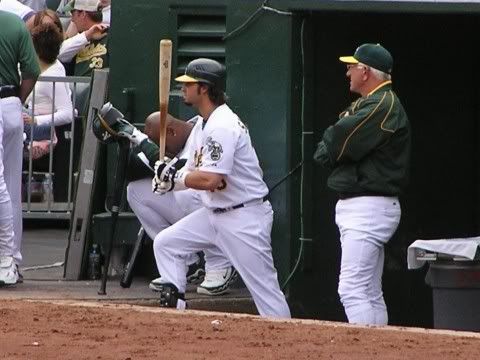 Another Home Run for Swisher!!

Love that All Aboard Cheer Boys!

Ok, so we didn't win, but as you can see, there were many great moments from the weekend. I hope you enjoyed!
If you want to see more of my pics, I have posted them on Myathleticspics.com. I have also posted a link to my albums in my sig line. I have organized them by player so you can easily find your favorite boy! Thanks for taking the time to check these out!