... for the Tigers, Angels, Rangers, Mariners, Cubs, Dodgers and Giants, that is.
A's Ps and Cs report Saturday.
But still, this is the kickoff to Spring Training.
As for the biggest OAKLAND-related news...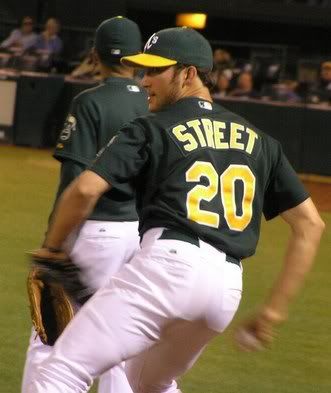 Huston Street will be lacin' em up for the red white and blue in the World Baseball Classic.
Street's success while wearing the red, white and blue was among the factors that led USA Baseball, in an announcement made Tuesday afternoon by general manager Bob Watson, to include Street on the United States' 30-man roster for next month's World Baseball Classic.
"That definitely played a role in it," Watson said on a conference call. "He's pitched in some big games for his country."
Street is the only Athletic on the roster, which won't become official until the team gathers in Phoenix for its first workout on March 2. Third baseman Eric Chavez is on the 60-man provisional roster, and according to Team USA manager Buck Martinez, has enthusiastically volunteered his services in the event of an injury.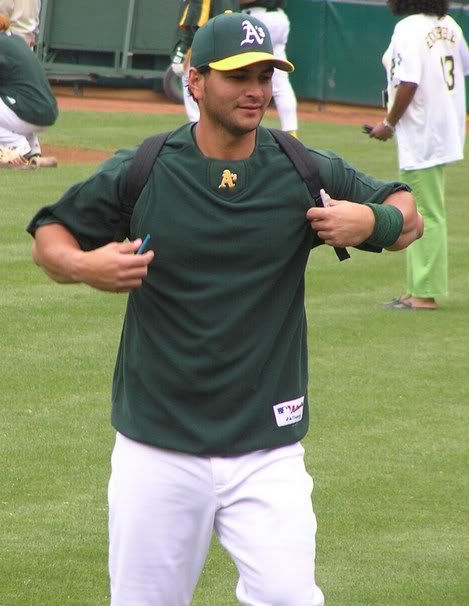 In other A's WBC news, Chavvy may play south of the border.
His father, Cesar, is from Mexico, and both sets of Chavez's grandparents also came from Mexico. While Chavez's first choice would be to play for his home country, he likes the idea of the WBC so much that he's exploring the possibility of playing for the Mexican team.
"There's a chance I will," Chavez said. "Some phone calls are going around. We'll see if it all works out. You never know, (Alex Rodriguez) could change his mind, and I'd love to play for the U.S., but if not, this would be something different, a way to get some quality at-bats in a real competition situation.
"The idea of the WBC is unbelievable. Even if I don't play, I'm looking forward to seeing what happens."
Other A's on WBC rosters:
Esteban Loaiza, RHP - Mexico
Kiko Calero, RHP - Puerto Rico
Dan Haren, RHP - Netherlands
Kirk Saarloos, RHP - Netherlands
MARCO! SCUTARO!, IF - Venezuela (his twin is also on the Italian roster)
I know Haren and Saarloos have pulled out, but not sure about the other three.
The Tribune's Jon Suchon... kind of tells us what we already know.

Will there be enough at-bats to keep everybody happy? Depth is great in case of injuries, but it's manager Ken Macha's job to keep everybody fresh and productive.
Jay Payton, for now, is the odd-man out of the starting lineup as the fourth outfielder. There won't be 600 at-bats for him, but 300 seems easy, 400 is possible, 500 isn't out of the question.
It's unlikely Thomas starts more than 100-120 games. That's 42-62 starts for somebody. The most likely scenario is Dan Johnson as the designated hitter, Nick Swisher moving to first base, and Payton playing left field.
As usual, A's rule, Giants drool

A primary source of the A's anticipation is their rotation of Barry Zito, Danny Haren, Rich Harden, Joe Blanton and Loaiza, a contingent any team would envy. "We're going to run out a starting pitcher every night who has had success in the major leagues," Manager Ken Macha said.
By contrast, Giants Manager Felipe Alou coated his typical optimism with a layer of seriousness as he addressed the crowd. "I can't take another losing year," said Alou, whose injury-wracked club finished 75-87 last season.
Alou explained his gravity to reporters afterward. Mentioning the likelihood that his son, 39-year-old outfielder Moises Alou, might retire after this season, Alou said, "I know Mo and a lot of guys feel the same way. We have a lot of people at the end of their careers -- including the manager. Whatever happens, you'd like to go out with a good situation -- playoffs and a possible World Series."
Alou also mentioned that he has a constituency to satisfy.
Non-A's news, but...


ES LIMA TIME in Queens, why is Pedro worried?
And nothing new, but in ESPN's Cold Pizza's poll of what team will win the AL Pennant...

Angels

Indians

Red Sox

White Sox

Yankees
<coughBIAScough>