[EDITOR'S NOTE: Well, hopefully I'm not setting a bad precedent of forgetting birthdays. Holy moly, I forgot that yesterday was AN's third birthday. Some nearly six million visits and 21.5 million page views later, AN's grown into quite a healthy toddler. Thanks to everyone who helps make this site so freaking successful. And thanks to BCG for remembering what a neglectful parent forgot! - Blez]
Happy Birthday Athletics Nation!!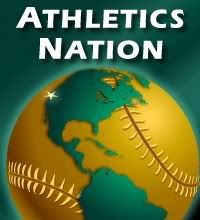 Today Athletics Nation turn 3 years old. I can't believe how quickly they grow up! <wipes away tear>
Actually, I am really surprised that it has only been around for 3 years. I feel like AN has been part of my life for much longer than that. Honestly, I don't know how I was an A's fan with out it. Maybe AN fueled my A's addiction! Wait, there is no maybe about it!! It definitely fueled my addiction.
I have learned so much about my team from AN. My day just doesn't feel right if I haven't checked into AN. I may not comment as much as I would like, and I often don't have time to be as involved as I would like to be. But I am always reading it. I am always checking in and making sure I haven't missed anything.
I know that if there is ANY breaking news, AN will be the first to know about it. If someone says anything to me about my team, usually I will go to AN to confirm it! If AN hasn't heard it yet, then I know it is just someone trying to ruffle my feathers!
I love the fact that everyone has an opinion and a right to that opinion. I don't always agree with everyone. In fact I disagree more often than I agree with most people. But I know that this is a place where those opinions can be debated and truly discussed. When you go to a game and bring up your opinions, you are often faced with a drunk/passionate person who doesn't know how to censor themselves or talk in a rational manner. Here, just about everyone understands that everyone is unique and has a right to their opinions.
I consider myself rather knowledgeable about baseball and especially my team. But I have to admit, a large portion of that knowledge came from the good people here at AN. I have learned a lot from everyone here, even if that lesson was simply tolerance. But most of what I have learned has been about the game and the players.
One example, it was AN that encouraged me to read Moneyball. I was told once that I shouldn't read it, that it would taint my opinion of the team and especially Billy. Then I turned to AN and I was set on the correct path. All the discussion and debate on this site has really expanded my perception of my team. I have been forced to think outside the box more often than I can count. And it has made me really appreciate and understand the game on many different levels.
But mostly, it is the sense of community that keeps me coming back. From Alameda Greg's Baseball 101 Diaries to Apricot's Moneybutt, everyone has something special and unique to contribute to this site. Which is what makes AN so special. This truly is a community, a home. I feel close to the people on this sight, like they are my family, even though I don't know most of them in real life. And I have often been lucky enough to meet many of these people in real life and have come to call them friends.
I really feel that I have been blessed to have this place in my life. It has added so much to my life, beyond baseball. The relationships and memories that have come from this site are precious and should be treasured. There are so many moments in A's history that we have experienced together. We have rejoiced together and cried together. We held each other up when the earth moved under us and our team was rocked. And we rejoiced in the victories our team experienced. But we also support each other when our personal lives are rocked, and rejoice in our personal joys as well.
This community is very special. We are all very lucky that we are part of it and we should treasure the gift that we have been given in this site. Today, I hope everyone takes a moment to give thanks to Blez for creating this site, and thanks to every person here for contributing and making this a wonderful place.
Normally this is where I would post pictures. But since AN is not one single person, I figure this would be a good place for everyone to reflect on some of their favorite diaries of the past. Post links to some of your favorite moments, whether it is a whole diary, or just a tiny comment, feel free to post a link to it here so everyone can reflect.
Some of my favorites:
Brokeback Stadium by Monkeyball
Baseball Rules 101 by Alameda Greg
These are just a few of the things that I can think of at this moment. I want to hear everyone's favorite moments. Anything from the origin of Unicorn MaEl to flinging Monkey poo! What ever you feel makes this site special and gives you warm, green and gold fuzzies, please add them here. This is our time to reflect on the wonder that is Athletics Nation.
Thank you everyone for making this a home and a vital part of my baseball universe! I appreciate each and every one of you. And thank you Blez for giving birth to such a wonderful world for us all to share!
Happy Birthday Athletics Nation!!