I am ok. Losing and seeing the end of your season is a very sad moment. Watching the Tigers have a party right now is not the most fun thing in the world. But honestly, I am ok. Maybe I am in a bit of denial or disbelief, but I am ok.
There are several things that I am looking at for my reasons why this it ok with me.
For one, I consider myself lucky to be watching my team play ball in October. The last two years, October 1st was as far as I got. October is borrowed time, every day, every game is precious. So to be watching my team on October 14th, makes me smile. Knowing that the Angels fans have been watching football for the last 2+ weeks, makes this feel pretty ok.
Nobody expected them to get to the ALCS. The "curse" was finally broken. Nobody can say we choke in the first round anymore. And really, nobody can call us Chokeland A's anymore. When you get to the ALCS you are one of the top two teams in the league. I know second place isn't ideal, but in this situation, I am ok with that.
The Tigers played perfect baseball. Plain and Simple. They out played us. But you know what, that is ok! They have been out playing the whole league all season long. And for our team to get to the point where we are considered to be on that level, that is a pretty dang good thing.
I am very proud of our guys this year. I am very proud of everything they have done. They have played their hearts out. They fought tooth and nail to get here. And they fought all the way to the end.
Many people here started saying their goodbyes for the season last week after we won the ALDS. I didn't do that because I figured we had a lot of baseball to play. But the general mentality was that "We won the ALDS, we did what we set out to do, we can go home now!" I don't particularly like that mentality, but at this point, I am ok with that.
I will be happy that we won the ALDS. I will look back on the 2006 season and smile. No regrets, no sadness, just pleasure and happy memories!
A couple of other random reasons why I am ok with this outcome:
Since we are not going to the World Series, I will not have to figure out how I am going to afford Season Tickets next year, I have a credit coming my way.

I can start today planning for Spring Training and that little trip I plan to take next season.

I am officially starting a diet tomorrow! No more Beer and Hot Dogs for me!

I won't have to ask for any more time off from work, at least not until March! ;)

I can officially switch over to Hockey Brain and enjoy the Sharks games that I watch!

I was starting to run out of room on my TiVo and was getting concerned that I wouldn't have space to record the World Series. That problem was solved today.

I have an excuse to become a National League fan for a week. Both teams that are in the NLCS I enjoy watching. They are both teams that deserve to be in this place and I certainly hope that which ever team wins KICKS TIGER ASS!!

But the biggest reason I am ok with this is: I won't have to deal with Bandwagoners any more. I had this terrible fear going into the post season. It started at one of the last home games of the regular season. There were a LOT of bandwagon fans at the games. There were a lot of chicks there who were just there so they could look at hot asses. (I don't blame them, but SERIOUSLY!!) There were a lot of people walking around in A's gear that I had never seen before. Suddenly the letter A was everywhere!
I was terribly afraid that next season we would have a lot of people who suddenly became fans. Who decided they wanted to jump on that train just because we were winners. It makes me really sick to see fans like that. It makes me angry because I am a fan who is there through the good times and bad. We were there in May, still spending our money, still investing out time, and still giving every bit of our hearts to a team that was less than stellar. Where were they? Across the bay watching some guy that they probably knew nothing about, just knew he was hitting the ball out of the park. I don't want these fans at my park.
I almost feel like a jealous girlfriend when I think about it. I don't want these fans near my man! I don't want my man spending time with these fans! And every time I see this, I want to take the bitch out! It is silly, I know! But the thought of going to Spring Training next year and being surrounded by people who know squat about my team, made me sick to my stomach. Now, Detroit can have that problem! I am too much of a loyal person who values loyalty in others, to let these fair weather fans enjoy the moments I have waited years to enjoy!
I am sad of course that I have 4 ½ months before I get to enjoy my team again. I am sad that I didn't get to see another Barry Zito start. That is probably my worst thought. All day I was praying, "Please, just let Zito get another start! PLEASE!!" I am not ready to say my goodbyes to him just yet. I am still holding out a little hope that we will see him again next year. I know it is a slim hope, but it is that same part of my brain that was hoping we would pull out an ALCS win from being down 3-0! But I do have to accept the fact that I may have been at Zito's last game in the Green and Gold. And that is the thought that really sends me into tears.
Speaking of tears, I am a huge cry baby! But I told myself I have no place to cry after this loss. This season, this year, 2006, has been one of the best years of my life. There is no reason to be sad. The only reason to be sad is because the thought is starting to sink in that it is over. When I log on to OaklandAthletics.com tomorrow, there will not be starting pitchers on the right side of the page for tomorrow's game. There will not be new pictures for me to download off the internet from last night's game. There will not be new Swisher moments and comments for me to smile at in the mornings. Those are the things that are making me sad. Not the fact that we did badly in this series or that the season was terrible just because we didn't make the World Series. That I am ok with. I am just sad that this wonderful, perfect season is over now.
But, on the other hand, there is a lot to look forward to. We only have a little over 3 months to wait for Fan Fest! Only a little over 4 months till Spring Training. And only a little over 5 months till Opening Day 2007. Our boys have tasted the Champaign. They have seen the things that are possible with this team. They will be hungry for more. I think 2007 will have a lot to offer us! And personally I can't wait!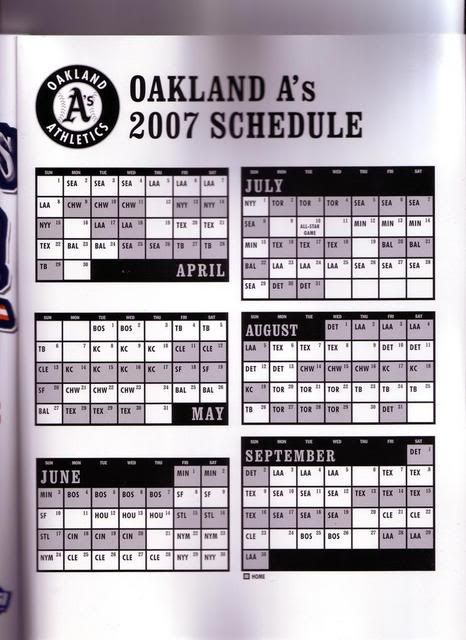 Please pay special attention to June! I am very much looking forward to June! I will be attending baseball EVERY weekend in June. I will be at all the home games, obviously. But I plan to go to the Giants games too.  Then a friend of mine and I were planning a trip to New York for a week. When we saw this schedule my immediate thought was, BAM!! We are SOOOO Going to New York in June! I can't wait!!
You see, this is why I am ok with this! The season being over allows me to get excited for next season! And I am very excited for next season!!
2006 was fabulous! I couldn't have asked for much more than I got from our guys! I appreciate every moment that I was blessed with this year. From being present at Nick Swisher's first career Grand Slam, to Big Franks Walk Off against the Angels, to Bradley's walk off against the Blue Jays, to Swish's first career stolen base, to Captain Clutch Marco Scutaro coming through on way too many occasions to count, and to attending the Sweep IN Seattle in August!! There were so many moments this year that I will always look back on and smile. Way more moments than the sad ones like I experienced tonight. And for each and every one of those moments I feel blessed and thankful!
Thank you to everyone involved with the 2006 A's! You have made it a very memorable year for me and the rest of the fans. This is one year that will not be forgotten!