Well it has been a while since I have posted pictures. I have about 8 games that I would like to post pictures for eventually, but I haven't had the time. It has been a pretty crazy month! I will probably create a slide show or something for the other games, and post those later. But I felt like I wanted to share these ALDS photos with you all first cause, well, I am pretty freaking giddy about tonight and going a little stir crazy at work right now.
So I went to the game with my Daddy! Seems fitting that I went to my first Post Season game with my dad, since he is the one who got me wrapped up in baseball in the first place. He kept telling me about the play off game he went to in 89, rubbing it in! =P

Anyway, so it was my first Post Season Game and I was WAY excited! I thought I was going to burst! I was trying really hard to just take it all in. Soak it up! Let myself FEEL it! I was just loving it. Everyone was involved, everyone sat on every single pitch, everyone was NICE!! Usually you get the jerk or two sitting around you who have had one too many to drink, and that just wasn't the case! We did have one Twins fan sitting in our section, but he just turned into comedy! After the score was 8-2 and one of the Twins (sorry, slipped my mind at the moment who) hit a home run, he bolted out of his seat and cheered! Everyone in the section just started laughing and kinda cheered with him. (Then they booed bim) It just turned into a really funny moment that everyone in the section enjoyed.
Anyway, so I was just trying to take it all in and even though I had been to 50+ games this year, I was SHOCKED how different this one felt. Right from the start, as Danny walked on the field to warm up, the cheers and clapping went up! The only time I heard that kind of cheering for a pitcher as he walked out for warm ups, was the last time Zito pitched at home! It was like the whole stadium started cheering for Danny, it was amazing!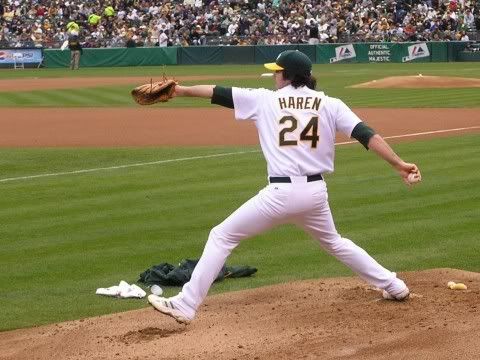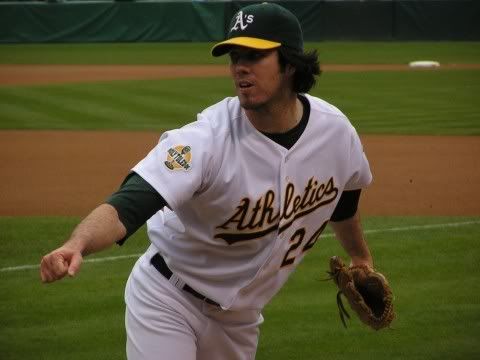 Then the rest of the guys came out to warm up!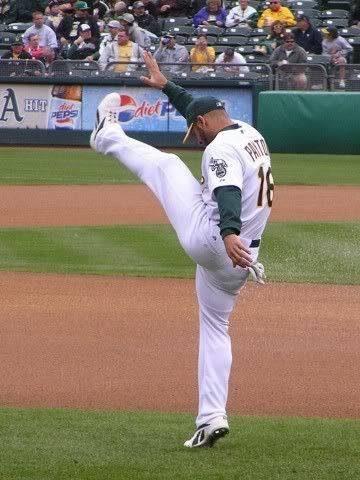 Sudden appreciation for a little Bradley Ass!!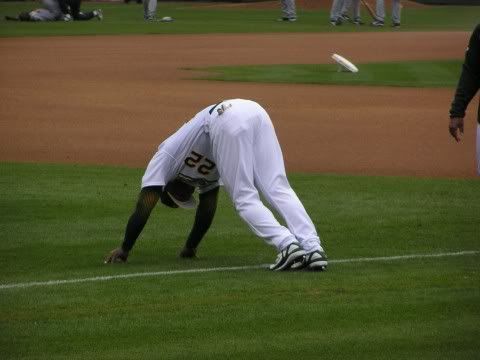 For all those who thought they wouldn't open the third deck, they lied! Of course they opened it for the Press I believe! I thought it looked kinda neat!

It sort of felt like Opening Night, but MUCH better!!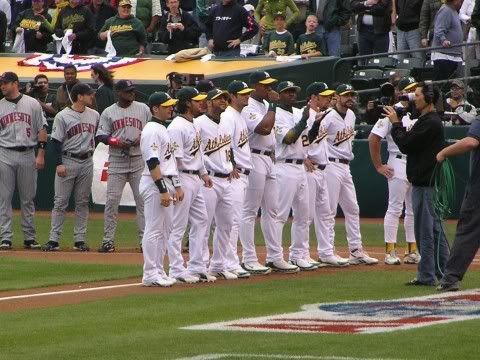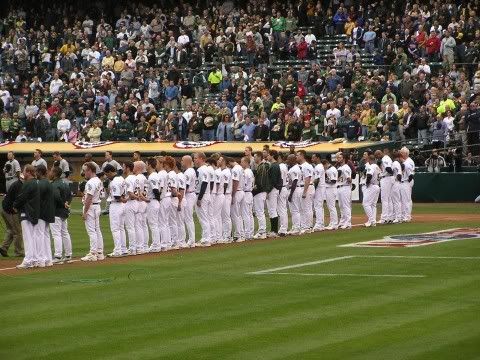 I caught sight of The MAN!! Lew!! And actually got a decent picture of him sitting there, none of my other pictures have EVER turned out!! Love that guy!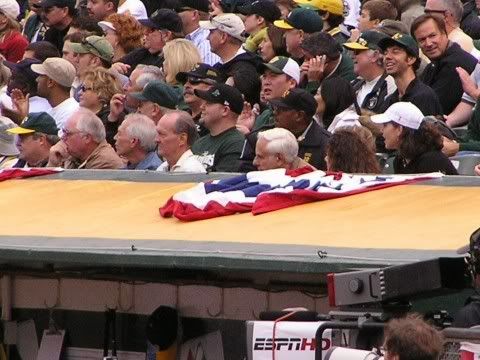 Ricky threw out the first pitch! Someone said he was like the Pope as he moved through the crowd, I saw the crowd all stand for him as he went to his seat. It was an awesome sight, especially from the opposite side of the field. The pictures didn't come out too well, but I love this picture of him waving to the crowd just before throwing out the first pitch!!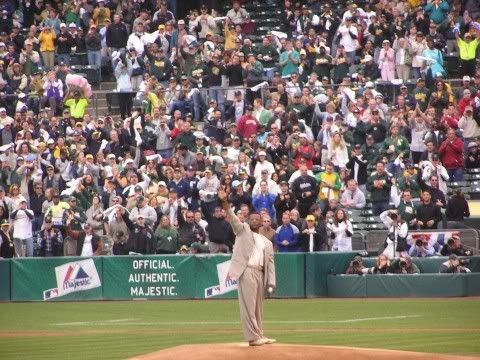 I got chills as they showed the video on Diamond Vision and then the team ran out onto the field at the end, so awesome! Then I caught sight of this sign and I just loved it!!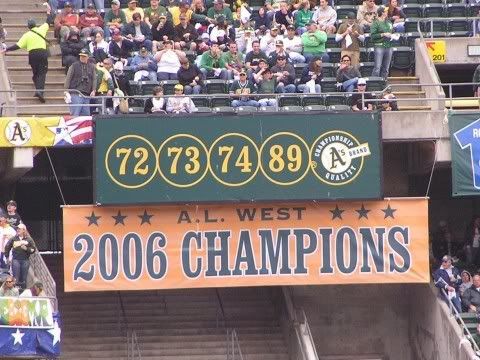 Of course my favorite sign of the day was made by a woman sitting a few rows in front of me! Love that Marco!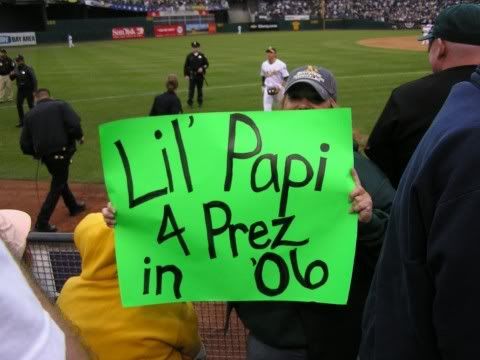 And the Game Started!!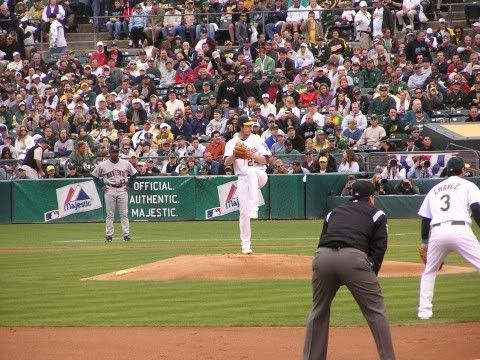 Melhuse wants to play!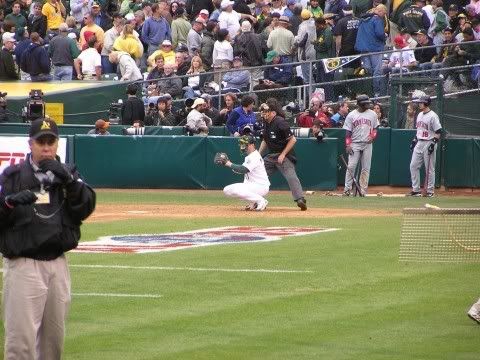 So does Bobby!! <sobs>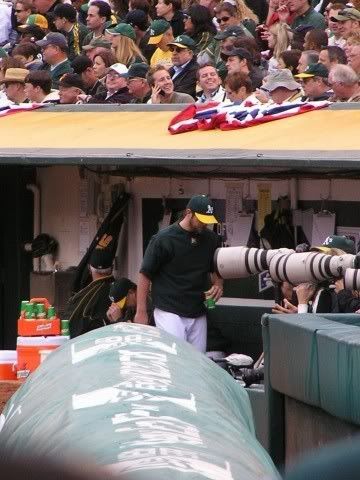 Bradley and Perry show a little Man Love!

Ok, excuse me for a minute as I vent about the ridiculousness that is ESPN! They TOTALLY blew that whole thing out of proportion! I was appalled! IT WAS A FREAKING ACCIDENT!! It was obviously not intentional, and whatever was said between Bradley and Perry is their business. I kinda see them as father and son, like, they fight, sure, but there is no love lost! You have two head strong guys and they are going to butt them every once in a while, so what! And I love the comment Bradley made about how he insulted Perry's momma! I thought that was hilarious!! Anyway! Point is, Bradley Rocks and anyone who does see that and only wants to start crap is crazy! (ESPN, I am looking at YOU!)
Ok, so on to a little more Man Love!! Do I really need to say for the 50,000th time on this site, just how much I loved the MARCO!! SCUTARO!! Chant? No, I think it has been covered, but it was certainly a magical moment I will never forget!!
Swisher shows his love of Venezuelan Man Candy!!

And there is lots of love to be had when they WIN!!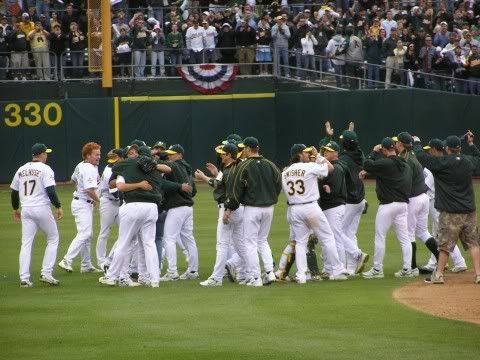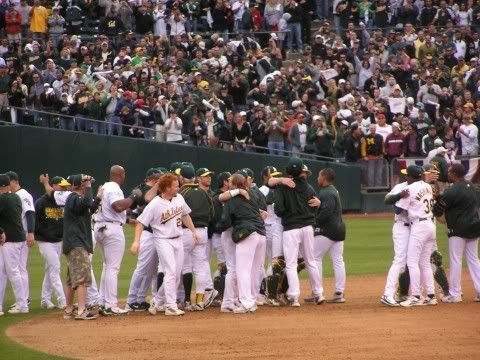 This is my favorite picture! In Zito's Blog He said:

When Jay Payton caught that last out and everyone went to the pile, I don't know if anyone noticed, but I just kind of hung out on the fringe of the pile, walking around it. It was a pretty cool vantage point, but I hope I get to be in that pile in a couple weeks or so.
Well I noticed, and I actually caught a great picture of it!!

 I am so going to miss Zito!! I have not quite come to terms with the fact that Z may not be back next season. I am really hoping for some kind of miracle! Maybe, just Maybe he will see the love and devotion that the fans here show him and he won't want to leave for that scary city of New York!
Well, whatever happens next year, I know I am going to enjoy every minute of his start tonight. I am going to try and soak it up, just like I did with the ALDS, and appreciate every single moment of this series. I mean, it has been a long time since A's fans have had the opportunity to enjoy this sort of thing, so who knows when it will happen again! So I know I am one of the lucky ones who gets to see this moment live and in person. And I know there are a lot of A's fans who can't see it for whatever reason! So I am going to enjoy it for each and every one of them! This season has been pure magic, and I have been lucky enough to enjoy it first hand! I don't want it to end! I am LOVING October Baseball!!