Hey everybody--
It's been incredibly slow lately, so I thought I would submit Oversea Ball #3 featuring Hanshin Tiger ace Kei Igawa.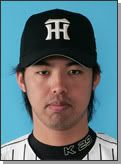 2001 Hanshin Tigers 9-13, 2.67 ERA
29 G, 192.0 IP, 171 K, 3 CG
2002 Hanshin Tigers 14-9, 2.49 ERA
31 G, 209.6 IP, 206 K, 8 CG
2003 Hanshin Tigers 20-5, 2.80 ERA
29 G, 206.0 IP, 179 K, 8 CG
2004 Hanshin Tigers 14-11, 3.73 ERA
29 G, 200.3 IP, 228 K, 6 CG
2005 Hanshin Tigers 13-9, 3.86 ERA
27 G, 172.1 IP, 145 K, 2 CG
Igawa has repeatedly requested to be posted via posting system. The front office of the Tigers has said they will agree to this once Igawa "has one last exceptional season." So far, Igawa has "not met their expectations," and Igawa has realized this. He is not eligable for FA until 2009, when he will be 29 y/o.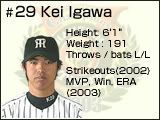 Vitals:
Jul. 13, 1979 DOB, 26 y/o
BIRTH PLACE: Ibaragi, JP
T: Left B: Left
6'1, 191 lb.
#2 draft pick by Hanshin Tigers in 1998.
Igawa is reported to have fastball low in the 90s, a good curveball, and a very good changeup (his best pitch). Igawa is considered also to be one of the top young pitchers in Japan.
Personally, I think the best thing to do about Igawa, is to wait it out (well, that's all anyone can do). His somewhat decline in performance, after a very good start as a young pitcher (ERA is the 2's when he was 23/24 y/o), is something to watch. This could cause some teams to be overly cautious when signing or bidding for him, but I definatly don't think it is anything to worry about. He could be going through a "Zito Blues" type of thing.
I think he would look really good in an A's uniform, with the shag and all (Zito/Haren type of look).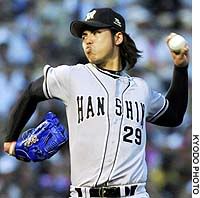 Hope you are well well.
I hope to report with some Korean or Taiwanese players next.
Resources:

Kei Igawa Official: Iron Nerves.

Hanshin Tigers Official (JP).

Japan Ball.

Japanese Stats (JP).
I'm not sure if a poll would have much value, considering there isn't enough information to act on with Igawa, and it might be a while until teams are able to act on. Based on his record and poise though, he is definatly one to keep an eye on.
(Possibly replace Z...? I hope we can have both.)
-CO
Poll
Should Oversea Ball continue?
2%
No, because... (1 vote)

85%
Yes, they are fun to read. More A's scouts overseas! (29 votes)

11%
Hmm, we have nothing else to read. (4 votes)