Two game write-ups plus A's Report:
Key quotes: He left for a pinch hitter in the bottom of the seventh after feeling pain while playing defense that inning. But trainer Larry Davis said after the game Crosby's removal was precautionary.
"Every once in awhile, he's going to hit a base, and it's going to hurt," Davis said. "This is ongoing, so don't react to every time he's taken out of the game."

Macha said he may not be available before the season-ending three-game series in Seattle from Sept. 30-Oct. 2, if even then.
"He's been on the edge of getting healthy for awhile, but he's not healthy,'' Macha said of Harden, out since Aug. 19 with the shoulder ailment. "I kind of hoped we'd have better news."
Bobby Kielty (strained left oblique) thought he'd be ready to swing the bat this week, but maybe only from the left side. ...
---
Okay, because I know you all want to vomit after the injury update, I've got a special present for you.
That's right. It's an epic comic. When I was your age, television was called comics. And this is a special comic. It was the comic my father used to read to me when I was sick, and I used to read it to your father. And today, I'm gonna read it to you. It's got Fencing. Fighting. Torture. Revenge. Giants. Monsters. Chases. Escapes. True love. Miracles. Don't worry, no kissing.
You can catch up on the first two episodes: Episode 1 and Episode 2.  Once you've caught up to the story, you can fully appreciate Episode 3:
The Adventures of Diego Chavez 3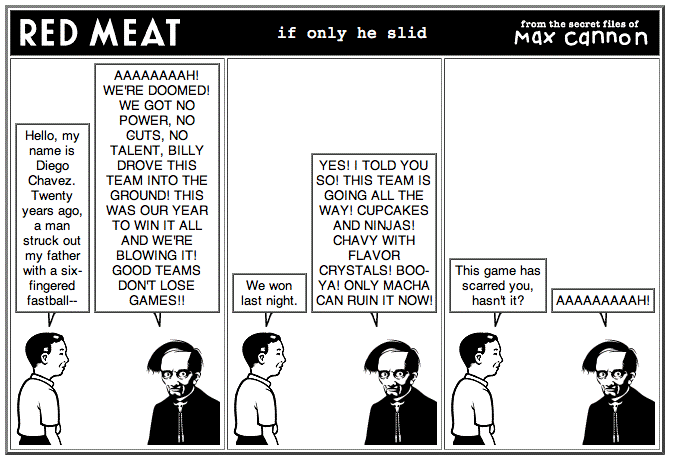 See, that wasn't so bad, right?  The next time you get sick, I'll read you more from the book.  Good night now.