Last night's event at the Oakland Museum, Latin Legends, was cohosted by the Museum and the Hispanic Heritage Baseball Museum. It featured a panel of broadcaster Amaury Pi-Gonzalez, writer Glenn Dickey, and former Giant Tito Fuentes and former A,  Diego Segui.
Glenn Dickey commented about the spirit of Latin players..and the flair and intensity they bring to the game.
The discussion was wide ranging from the hardships of being a Latin player back in the 70's, salaries then $6000 a year, having no English, having to play winterball to make ends meet, racism from owners and managers, the trials of working for Charlie Finley, and playing with or for Alvin Dark. One of my favorite comments was made by Segui when asked if he threw at a batter after someone hit a homerun off him.
He said, "No, I knew it was my fault, I made the bad pitch".
Fuentes was very chatty and very funny. He said guys gave him a hard time cause he always slept late..that was, so he said,  cause he only had $1.50 meal money, so he got up late and only had to buy lunch..then he could eat later at the park.
Great stuff, you would've enjoyed it. Nothing like hearing baseball stories! I wish I could remember more to share with you.
The next program at the Museum in on Sunday, November 20 and looks at the Globalization of Baseball. These programs are free with entry to the Museum..and you don't want to miss Baseball as America while it is here.
Diego Segui in grey, Tito Fuentes in orange, Tito Avila(Hispanic Heritage Baseball Museum) on far right
<
Amaury Pi-Gonzales, Fuentes, Glenn Dickey, Segui
<
<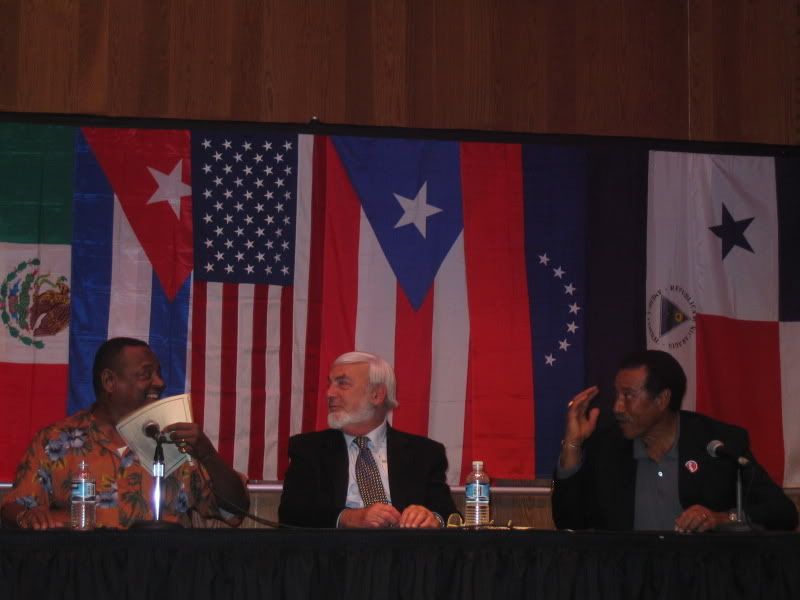 AN fans/friend, and Latin Legends
<