ChiSox Beat Angels With Pitching, Big Bats (AP)
At long last, the Chicago White Sox seem to have figured out how to make it back to the World Series: great pitching and big home runs, with lucky breaks from the umps sprinkled in.

The White Sox became the first team to pitch three straight complete games in the postseason since the New York Mets' Tom Seaver, Jon Matlack and Jerry Koosman in the first three games of the 1973 NLCS against Cincinnati.
And I note that Contreras in Game 1 was two outs away from a complete game. Awesome display of pitching.  And also the reports (thankfully) do not talk about small- or smart- or abdomenal-ball.
Predictable first article Piling on Vlad.  
It's confusing because it looks like Vlad is getting "soft" and lacks "intangibles" but Ersty would never let anyone on his team get soft. It's like a battle of the cliches.
Update [2005-10-16 4:32:39 by Apricot]: I just got turned on to this annoying puzzle Petals Around The Rose. If you want to waste some time in a row, you can check it out.
The Adventures of Diego Chavez (Season Two)
(Season One: 1,2,3,4,5,6,7,8,9,10,11,12)
(Season Two so far: 1,2,3,4)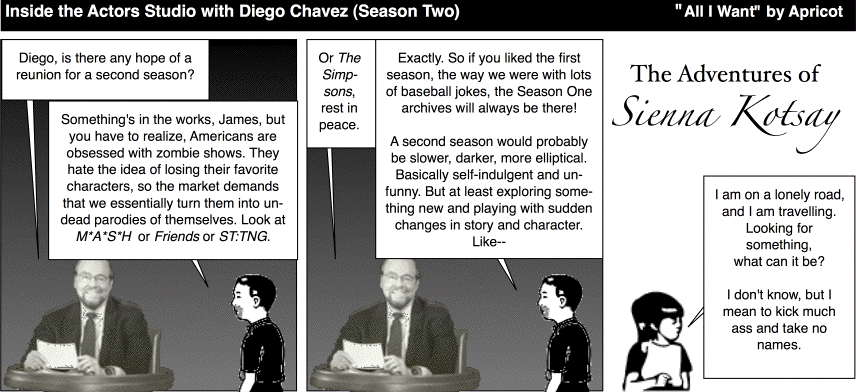 Next: she'll tell you her troubles if you'll go her way.